Lookie!  A breakfast that doesn't come a kiosk or a vending machine!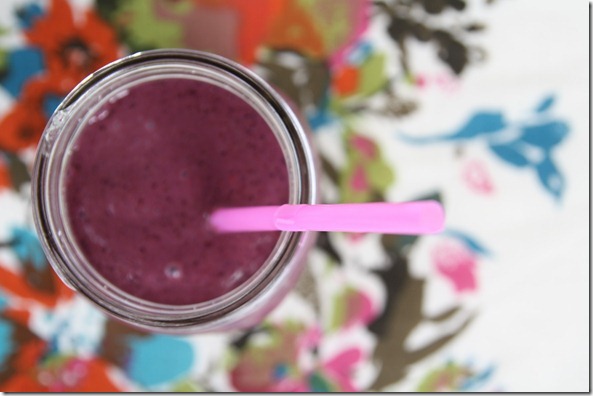 Traveling is officially done!  No more flights until post baby now.  Part to normal… and I'm so happy about it.
Part #1 of breakfast was this delicious smoothie:
Rice milk
Frozen blueberries
Frozen raspberries
Scoop of sunflower butter
And Part #2 was toast and hardboiled eggs.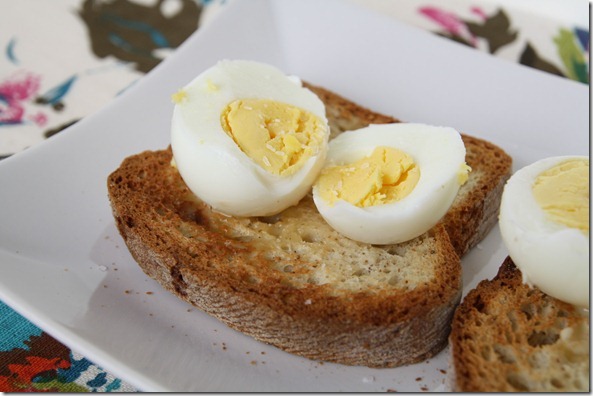 While I was away, the Husband figured out how to hard-boil eggs.  He's a really good cook, but since I'm the primary cooker in the relationship, he always ask me how to do things ("How should I cook these sweet potatoes?" or "Should I boil this pasta on high or simmer it?").  So I was pretty surprised that he actually figured out hard-boiling eggs all on his own while I was gone!  He said he read a blog post about it – now he's a pro!  I'm gonna ask him to hard-boil all the eggs for the rest of our lives now.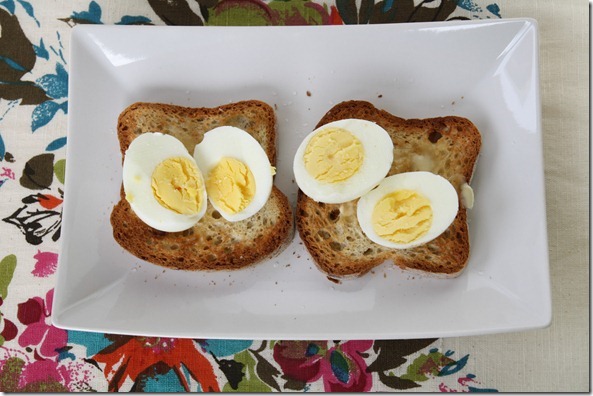 Speaking of eggs…
A few days ago, I asked for protein snack suggestions, and boy – did you guys answer!  Here are some great protein snack ideas from The Protein Plane post.  You can check out the comments for even more ideas.
Alina said, "Spicy roasted chickpeas! They're so good and SO easy.  What you need to do: Put a pan of about a T of olive oil in a hot (400F) oven for about 3 minutes. Rinse and pat dry chickpeas, then put a teaspoon each of coriander powder and ground cumin seed into a bowl with them and mix. Take the hot oil out, pour the chickpeas on the pan and bake for 13 or so minutes. Let cool and use a slotted spoon to move onto paper towels."
Mary

said, "On my last trip to the store I picked up

roasted edamame

. They are crunchy and have a slightly nutty flavor."
Khushboo

said, "

Greek yogurt with protein powder stirred in

is my face protein snack."
Jaclyn said, "How 'bout a banana slices and peanut/nut butter roll up wrap, celery sticks stuffed with cream cheese and topped with pumpkin seeds, individual (or big bags, packed in to-go containers) trail mixes, almonds mixed with dried fruit, or make a batch of protein muffins (nut butters, pro powders, seeds or nuts, etc.).
Charise

said, "I'm a fan on

chickpeas or lentils

mixed with some diced veggies, lemon, olive oil, and a little parmesan cheese for an easy veg plane snack/meal."
Tammy said, "Chia seeds! You can sprinkle them on anything — yogurt, salad, put in protein shakes, etc."
Leila

said, "I like to

mix cottage cheese and salsa together then eat it like a dip with celery

. I've also been enjoying peanut butter on graham crackers or caramel rice cakes for a sweet protein treat."
Yum!