Check out  So You Wanna Do a Triathlon: Swimming, So You Wanna Do a Triathlon: Cycling, So You Wanna Do a Triathlon: Running, and So You Wanna Do a Triathlon: Transitions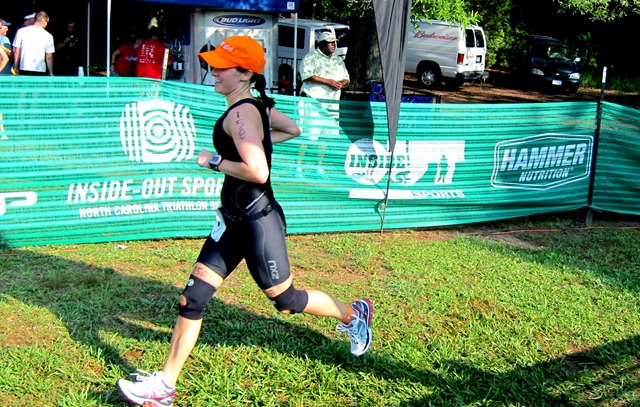 I've really enjoyed writing this post series.  It has kind of made me feel like I'm currently gearing up for a triathlon.  Hah.  This post – on training – concludes the series.
First things first: If I can do a triathlon, you can do a triathlon. I may have a dozen or so triathlons under my belt, but the first time I stepped up to a tri starting line, my knees were shaking because I was so scared.  And then I ended up getting disqualified from the swim because I had a panic attack.  I've flipped out in the water, I've crashed my bike, I've tripped during the run.  If I can do a triathlon – and LOVE IT – then so can you, if you want to!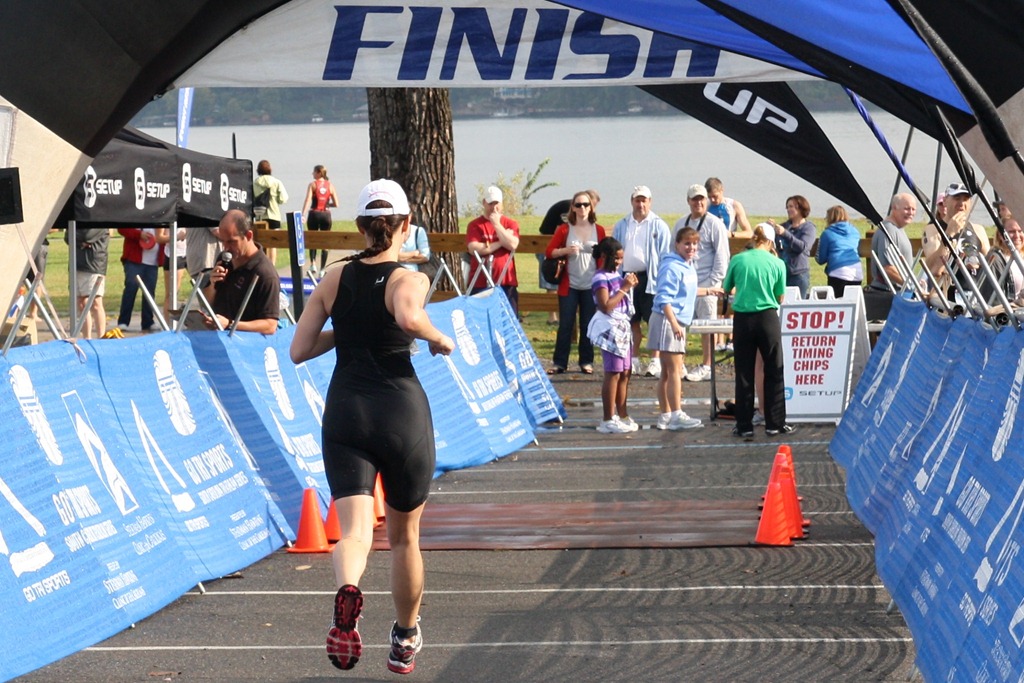 Second, I can only speak to training the way that I have trained, so I'm hoping that readers will weigh in with their training advice and feedback.  I've only done a sprint and Olympic triathlon – never anything longer like a Half Ironman – so bear this in mind when reading my training tips.  Training for an Ironman obviously looks very different than training for a sprint.
Third, I came into triathlons with a strong cardiovascular base, having completed my first marathon a few months before.  I was also already comfortable on a bike. I don't think it's necessary to be a great runner, cyclist, or swimmer before training for a tri, but you'll want to allow yourself a few more months to get into shape if you're truly starting from nothing (i.e. do something like the Couch to 5K plan before tackling an introductory triathlon training plan).  I must say that I think that triathlon training is a GREAT way for a beginner to get started because you're really challenging your body by engaging in three different sports.  I felt stronger when training for a sprint triathlon than I did training for a marathon.
Fourth, if you've been reading for a while, you know that I tend to create my own training plans.  My plans are based on a strong understanding of my body and what I need to do to get race-ready for the speeds that I race at.  What works for me may not work for you.  That's why I've summed this post up with links to training plans from other sites.
Step #1:  Determine Your Weak Sport and Your Pocket Sport.  Before you jump into training, think about what sport – the swim, bike, or run – is your weak sport.  It may be your weak sport because 1) you've never done it before or 2) you can do it, but you're really nervous about it.  For example, my weak sport was swimming.  When I did my first sprint tri, I had to learn how to swim for fitness.  Then, I had to learn how to get over my fear of open water (more on swimming here).  You also want to consider your 'pocket sport' – meaning the sport you've got in your back pocket.  Running was my pocket sport.  I'm not a particularly fast runner, but I know I can trudge through a 10K if I have to even if I haven't been running regularly for a while (pregnancy not included, obviously).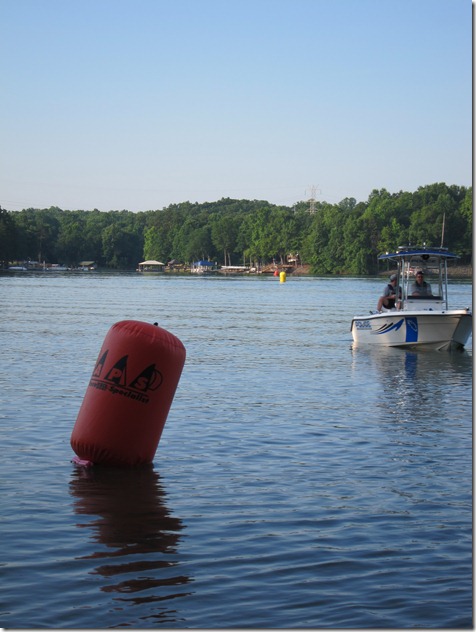 Step #2: Use Your Weak and Pocket Sports to Determine Your Training Breakdown.  Triathlon training plans break down into five general styles:
Heavy on the Run:  You run more often than you swim or bike.  Usually, you run three times a week and do the other sports twice a week.

Heavy on the Swim:  You swim more often (three days) than you run or bike (two days).

Heavy on the Bike:  You bike more often (three days) than you run or swim (two days).

Two Timer: You run two times a week, swim two times a week, and bike two times a week. 

Threesome: Similar to the two timer, but you engage in each sport three times a week.
Generally, I favor triathlon training arrangements that allow me to focus on my weak sport.  Another thing to consider is that if you're prone to injury in a particular sport (like running), you may want to do it less than the other two sports, even if you consider it to be your 'weak sport' in need of improvement.  For example, I rarely run more than three times a week, and I try to never run back-to-back days, because my body does not like it.  The average length of a sprint or Olympic training plan is anywhere from 2.5 – 5 months and requires 3 – 13 hours of commitment each week.
Step #3: Do the Brick.  You may be thinking, "Running twice a week?  Swimming twice a week?  Biking twice a week? That's six days of exercise!"  However, it's not really six days of exercise a week because you need to do bricks, which is when you do two sports on one day.  I wrote about brick workouts in the Running post, but here's a summary:
A brick workout refers to tackling two sports during the same workout, with minimal interruption in between.  When triathletes talk about doing a brick, they usually refer to a bike/run, but a brick can also refer to a swim/bike or a swim/run.  Personally, I find bricks that simulate race conditions as much as possible are the most effective, both mentally and physically, so sandwiching sports in the order you'll perform them is best… It is certainly not necessary to do bricks for every workout (of course, I can only speak to training for a sprint and Olympic triathlon, so I hope readers will weigh in on bricks for half and full Ironmans).  However, I try to do at least one bike/run brick a week, especially in the month before the event.  Ideally, for sprints, my bricks will consist of biking 5 – 10 miles and running 1 – 2 miles, and for Olympics, I'll bike 8 – 15 miles and run 3 – 5 miles.  Some triathletes (who are probably faster than I am!) choose to do longer and more intense bricks.  This website has some examples of brick workouts.  But – and this is very important – everyone should always slowly integrate bricks into your workouts.  Maybe your first brick will be a 5 mile bike and a 1 mile run.  Just like all workouts, it's important to eaaaase in so you don't injure yourself.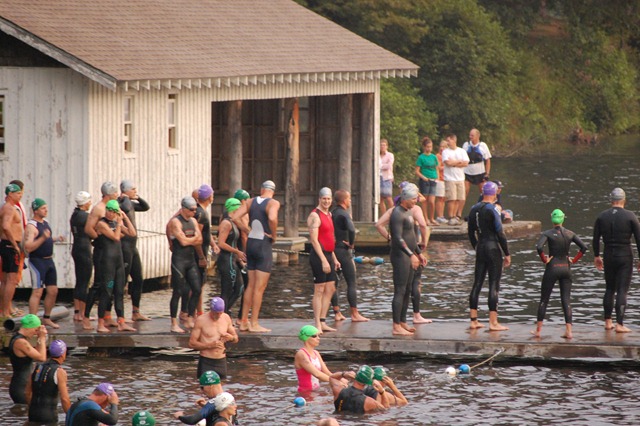 Step #4: Rest Days, Step Back Weeks, and Taper Time.  Newbies assume that a training plan gradually builds mileage, week by week, up until the race.  Not so!  Any plan worth it's salt will incorporate rest days, step back weeks, and taper time.  Especially when you're training for a triathlon, your body needs true rest days (if you feel antsy or need to just move around, go for a short and slow walk or do gentle stretching).  Step back weeks, which are characterized by overall reduced mileage and effort, are usually every third, fourth, or fifth week in a plan.  This gives you a mental and physical break.  And lastly, the taper period occurs right before a race.  You'll take a few extra days off to allow your body to recover as completely as possible before the race.  If you're following a plan and need to rearrange it to suit your schedule, be sure to keep an eye out for rest days, step back weeks, and the end-of-training taper to make sure you aren't messing up the timing of important days.
Step #5: It's All Practice.  Use your longer workouts to serve as 'practice' for the big day.  When doing bricks, make sure you transition as you would on race day.  Wear the same clothes and shoes that you plan to race in.  Additionally, use your hard workouts to figure out your nutrition plan. I advise that you do your weekend long workouts at the same time of day as your race so you can test out breakfasts and bathrooming.  You'll also likely need to eat in the middle of the race.  I usually take in 100 – 300 calories immediately before a sprint or throughout an Olympic triathlon (in the form of Gatorade or sports gels).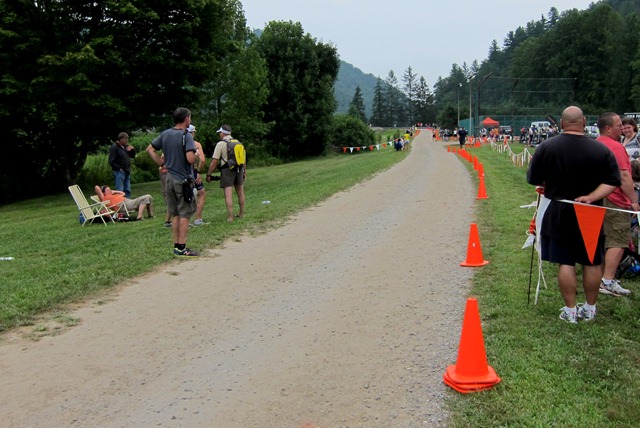 Step #6: Listen To Your Body.  My biggest piece of advice is to always listen to your body. It's very easy to get wrapped up in what you think you 'should' be doing because a training plan tells you to do.  But remember, training plans are general guides designed to get the maximum number of people across the finish line – not YOU across the finish line.  If you need an extra rest day (or two), take it.  In the middle of training, if you discover you need to focus more on cycling, be willing to modify your plan.  Listen to your body – it knows what it is doing!
Here are some triathlon training plans to check out:
Happy training!  I can't wait to get back into my favorite sport once BabyHTP comes out.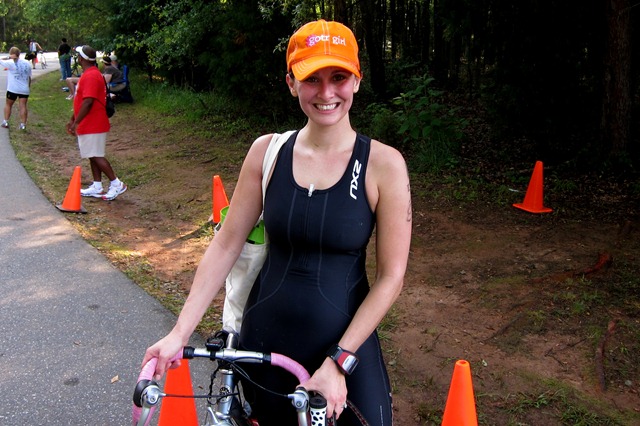 What are your triathlon training tips?  What is your weak sport and your pocket sport?  Anyone know any really effective Half Ironman or Ironman training plans?