Here we go again! It's Operation Beautiful's 'spring season.' Every October and February, I do a slew of speaking events (timed roughly around Fat Talk Free Week in the fall and National Eating Disorder Awareness Week in the spring).  Today kicks off a five event series – I'm now in Indiana.
And this means my today has thus far consisted of:  an early wake-up call, a pat-down by TSA, a sleepy dash to make my connecting flight, a (wrongly) declined credit card, and a really ugly rental car.  Hoorah!  Airport food included this Naked shake (which is pretty tasty but very chalky), carrots, and a sunflower butter sandwich.
Do you know what time it is? 
Why, it's time for Even More Best (and Worst) of Sky Mall!  Three cheers for Sky Mall!  My favorite game to play while traveling.  When I say 'best' of Sky Mall, I really mean, 'best to giggle about.'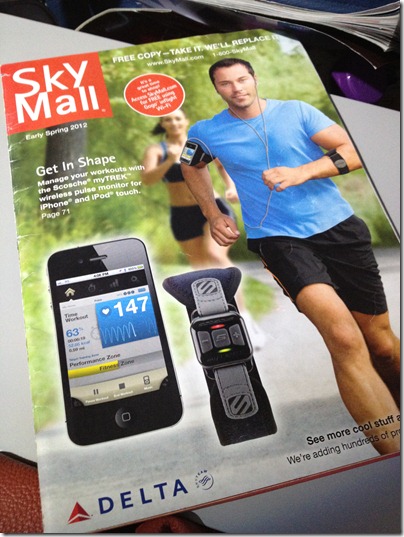 Now, if you recall the game's rules, items are selected based on three factors:
General uselessness

General ridiculousness

Price point
Up first, we have this beautiful beard cap.  It can be yours for $19.95.  If I saw someone wearing one of these things in real life, I would die.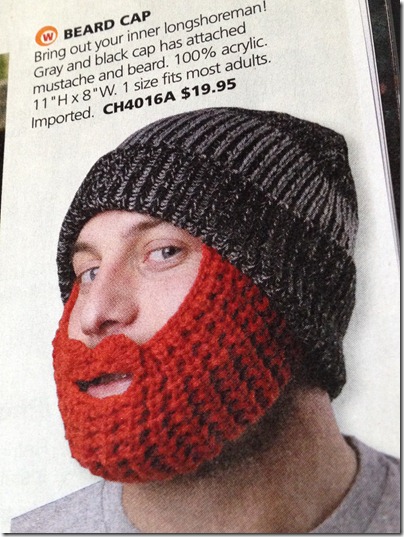 If beard caps aren't your things, why don't you try the Fleece Poncho with a Pillow.  I chose this one because 1) the name is ridiculous – what about Pilanket (pillow/blanket)? and 2) how many variations of the snuggie or snoogle or slanket can they possible create?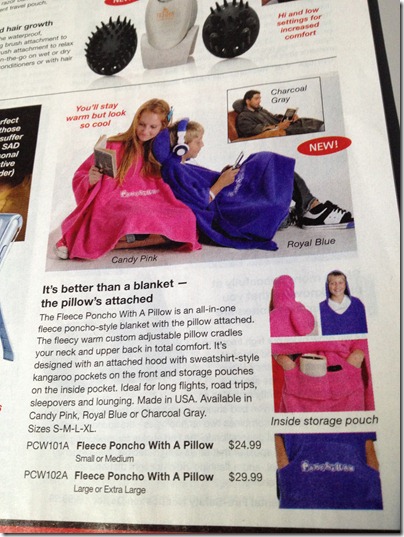 Speaking of pillows, haven't you always wanted a Food Pillow – you know, a throw pillow that looks like a giant pizza pie?  Or ice cream sandwich?  There's also an unpictured sushi option!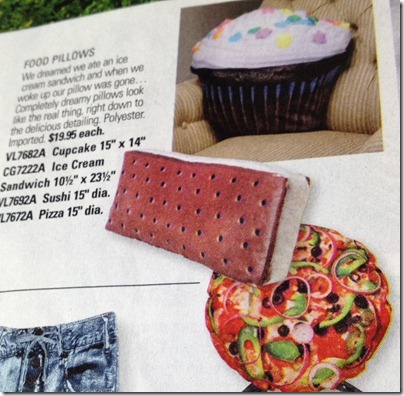 Can we talk about doggie stairs?  I bought Maggie some doggie stairs a few years ago but she would just sit right next to them and beg to be carried onto the bed (she is not so bright).  I'm sure doggie stairs are highly useful for smarter pups, but these stairs are nearly THREE HUNDRED DOLLARS.  My MATTRESS was $300.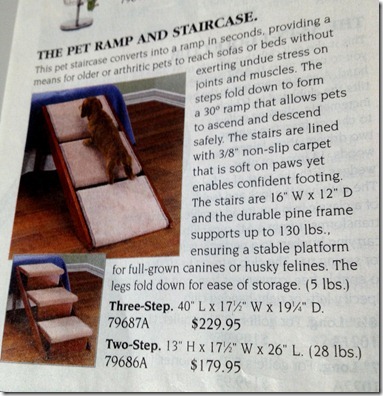 And last – but not least – for the lazy man in your life, a Touchless Sensor Seat.  You know, so he doesn't have to manually raise the toilet lid or spend 2 seconds putting it back down.  Although I think this would be cool and useful, it's $159!  Maybe it would be worth it if it prevented marital strife, though.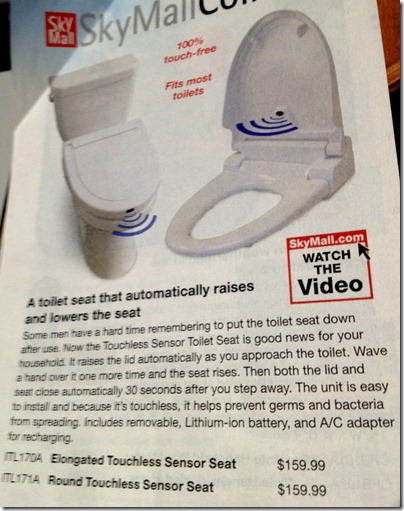 Do you love (to hate) Sky Mall as much as I do? Ever bought anything? Is your dog smart enough to use doggie stairs?