On the road again!  My hotel room already looks like a tornado hit.  I've tested out the bed (it's comfy).  And I've ordered room service.  Oh, hotel life.
Breakfast was consumed while blowing hair and applying make-up.  I think I still have some egg in my hair.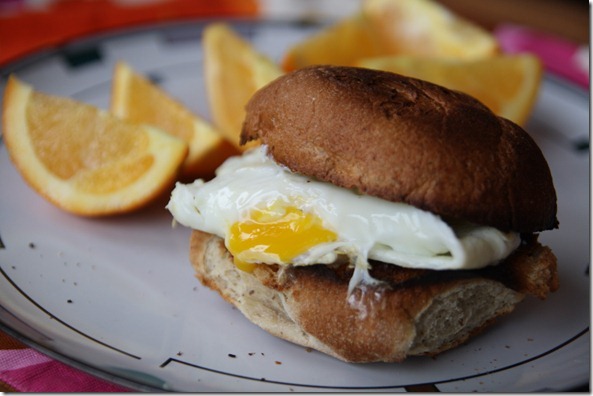 A giant banana on the plane – which made the whole aisle reek of banana, too.  Sorry, seatmates!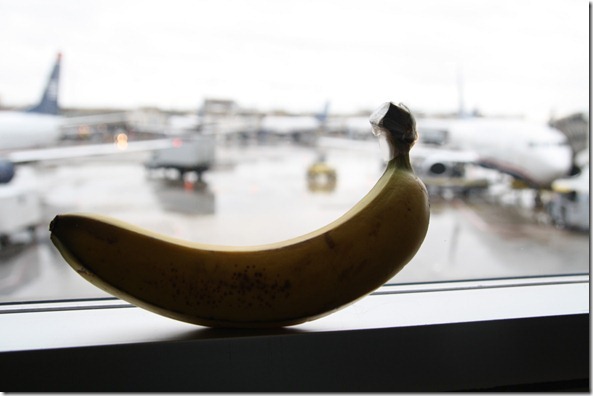 And room-service: a big old salad and a hummus spread.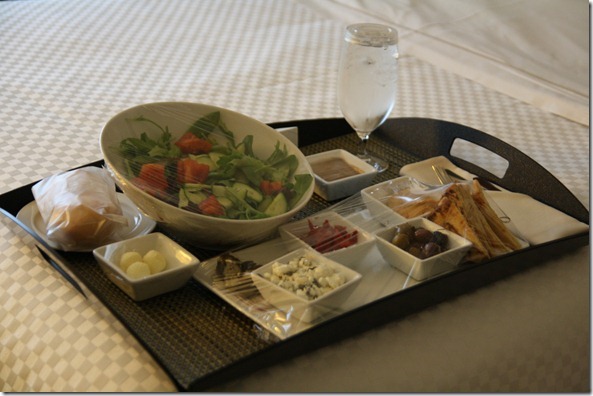 So – side note… In my 13 Weeks update, some people said they felt sorry for James that we were  kicking him out of the bedroom.  I don't want you guys to think I'm being mean to the dog (or playing Maggie favorites).  Some explanations:
James gets up and down from bed two or three times a night, waking up both me and the Husband and seriously impacting our quality of sleep, which makes it harder for us both to do our jobs in the day time.  It has been particularly bad during pregnancy because I am already getting up more to pee, etc.

Maggie, on the other hand, never moves when she falls asleep so she is not the problem.

We used to let him sleep on a dog bed on the floor, but he would 'sneak' into bed when we were asleep and then we would wake up 3 hours later to find him in the bed. 

We cannot raise the bed because the frame sits on the floor.  It's a modern like that.  Also, James is named James Bond for a reason.  He can jump like 6 feet vertically into the air without a running start. 

James will get used to being in the other room in two – three nights (I predict) but Maggie is totally insane and has severe separation anxiety and it would take MONTHS (literally) to get her to sleep in another room alone.  I do feel like it would be mean to make Maggie sleep alone because her anxiety is so severe.  James, on the other hand, is well-adjusted and is just going through the initial whiny phase of a change. 

James and Maggie get EVERYTHING they want and live like a King and Queen.  Constant attention, constant love, constant treats and fun.  This is probably why we are having this problem in the first place – we indulge everything they want.  If this is the worst thing that happens to James, he still has got it pretty good.

I have not figured out what we will do when a guest comes (obviously, we will wash the sheets!).  Maybe by that point, he will be okay with sleeping in the living room and not barking.
That being said… if there is a solution here that I'm missing (but trust me, we think we have looked at all the angles), I would love to know it!  I learn a LOT from the comments section and maybe there is a better way.  The number 1 suggestion that I received already is to put him in a dog bed on the floor, but like I said, he will sneak back into bed (he is definitely smart enough to catch on fast that he shouldn't wake us up as he gets into bed if we kick him out a few times).  If we don't kick him out immediately and correct the behavior, won't he not understand what is happening and why?  That is my understanding of dog training – i.e. no sense in yelling at a dog for destroying the trash when you get home, because he's already 'forgotten' he did it – but I am obviously not a dog training expert.  I only pretended to be one last night.  Hah!
Advice? Suggestions? Have you ever gotten a pooch to stop sleeping in your bed?  Oh – and side note:  The ultimate goal of this is to get James to sleep in BabyHTP's room in a dog bed, so he'll have a sleeping buddy in six months.  I should've mentioned this earlier!  I think he would be excellent protection for the baby and would alert us instantly if someone was at the baby's window.