I love to cycle, although I don't do much of it these days.  I've done two Metric rides (recap and recap) and a Century (recap).  Thankfully, I had DadHTP to introduce me to the sport, but I know that many women are interested in cycling and just don't know where or how to get started.  That's why I am excited to share Megan's story.  Megan is one of the coordinators for the Atlantic Collegiate Cycling Conference and wants to encourage college women to get involved in the sport.  Read her awesome story below!
Hi, everyone.  Megan here, from Run Ride Love. My boyfriend, Eric, and I have recently volunteered to become the women's coordinators for the Atlantic Collegiate Cycling Conference. I have been reading Caitlin's blog for years and, having seen all of the amazing things that she has done to encourage and empower girls and women of all ages, I thought reaching out to her readers was a great first step.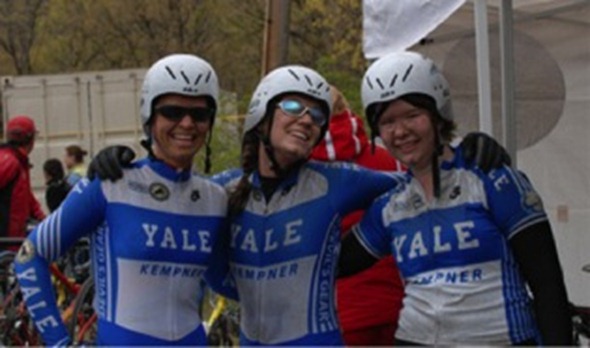 For those of you who are unfamiliar with the sport, bike racing (and especially collegiate cycling) is a great time. I know there are a lot of female athletes, including triathletes, who avidly read HTP. However, one thing that you don't see a lot of on the healthy living blogs is bike racing. Sadly, bike racing is not always advertised as being completely accessible, especially to women. But it is. Anyone can ride and race bike.
When I started dating Eric two years ago, I could count the number of times of I had ridden my road bike on one hand. He was an avid member of the Yale cycling team, which is a part of the Eastern Collegiate Cycling Conference.  While visiting Eric at Yale, despite having only ridden my bike a handful of times, he convinced me to come to a race with him. I was understandably nervous and more than a little apprehensive, but it was fun – and easy! Turns out it is all just pedaling in circles.  Also, you get to wear so much spandex. Any sport that allows me to wear that much spandex (the more colorful the better) is a win, at least for me.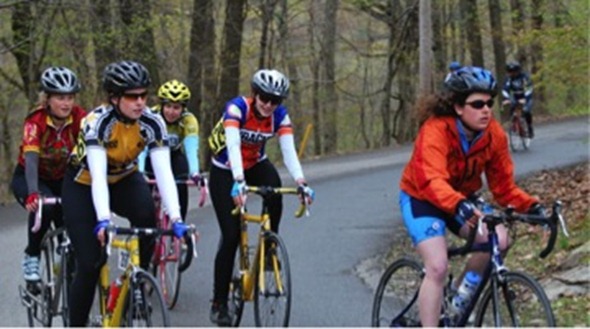 I quickly learned that all of the fear and apprehension about racing my bike was for naught. The ECCC is a huge community, made up of not only experienced female racers and women's cycling supporters, but also of other novice women riders. This helped boost my confidence immensely.  The more experienced riders welcomed me to the world of racing with open arms. When I sheepishly revealed to them that I had only ridden my bike a few times and was nervous, they responded with unbridled enthusiasm and encouragement.  There was even an introductory clinic before the races. A half-hour before the race, the elite women and men took the time to help us with basic skills. This helped all of the new riders race safely and confidently.
I did two introductory races in 2009 and, while I felt like I was sucking wind the whole time, it was encouraging to know that there was so much room for improvement. All of the experienced women had been in my shoes only a few years earlier. This motivated me to come back every weekend and try again.  I fell in love. The community was so welcoming and the races were such an adventure. I couldn't wait to come back the next season.
Fast forward one year. I had gone from hanging out in the middle of the pack with the beginner ladies … (that's me in the red booties!)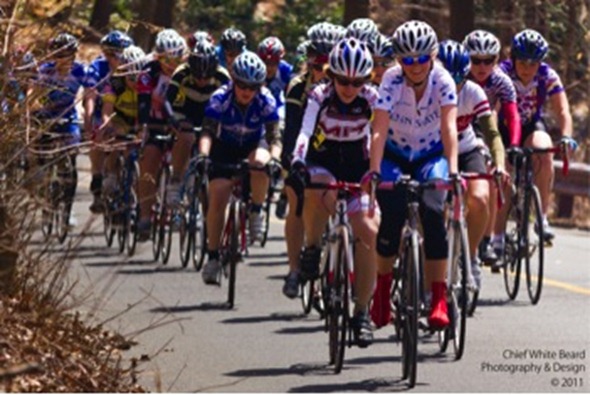 To leading the pack up a hill climb…
To winning my first bike race…
To finally finding the confidence to move up a category and race with the more experienced riders!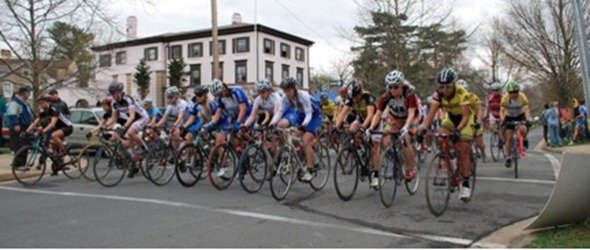 (That's me, hanging out at the starting line with some seriously fast women at conference championships last year!)
Throughout the season, I had gained more confidence than I could have ever imagined lining up for my first introductory race a year earlier.  I even learned enough mad skills to be able to get a water bottle hand-up while racing.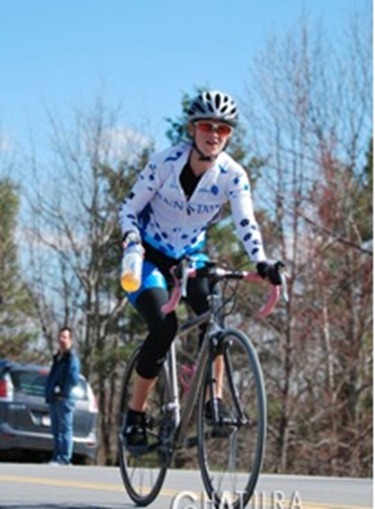 After last season, Eric and I moved south to Williamsburg, Va, where Eric is attending law school. After a few winters of trying to train in the Northeast, the weather down south has been great for our riding! While we were excited to start racing with a whole new group of hooligans, we were sad to see so few women on the start line here in the Mid-Atlantic. It seemed as though women's cycling, especially the collegiate scene that is thriving in the Northeast, was not being promoted and encouraged as seriously as it should be.
We wanted to know why there were so few women out racing their bikes in the ACCC. It turns out there are a lot of reasons, but the biggest one was a dearth of information. Many college women in the ACCC don't realize how easy and accessible collegiate bike racing is.
I'm not trying to stand on a soap box and say that I'm an expert. I'm still learning every day that I'm on my bicycle, and still have a LONG way to go. However, I do know that, when I jumped into this world two feet first, the collegiate cycling community welcomed me immediately. I want other women to know that, if they're willing to take that first, scary step, someone will be there to help them and encourage them along the way.
Collegiate racing has changed my perspective on fitness and on my personal goals and limits. While I love running (there is nothing that compares to taking my pups into the woods and just tuning out the world on a trail run, or crossing the finish line setting a PR in a half-marathon), actually winning a race is a uniquely satisfying and empowering experience.  Conversely, trailing off the back of a bike race and challenging yourself to keep fighting even though the group is riding away is humbling, but empowering in its own way. 
Whether you are looking for endorphins, excitement, camaraderie, or just a way to get out of your dorm and outside for a day, the cycling team is an amazing opportunity!
I have been reading healthy living blogs for years. One of my favorite parts of following blogs is reading about athletic endeavors. Running stories, triathlon reports, learning to swim, setting new goals and surpassing them make the most captivating posts.    But bike racing does not seem to exist amongst younger women. It is sad, and perpetuates preconceived notions of inaccessibility. Eric and I hope to be able to spread the word that cycling and racing is perfect for all ages and levels of riding.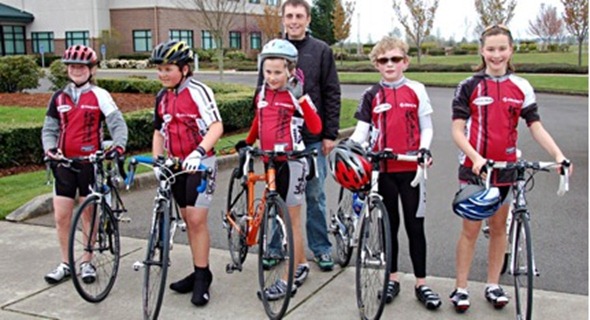 We want the ACCC to become a leader in the cultivation and development of women's collegiate cycling. We recognize that this requires us to accept that what we're doing isn't working and to try new things. 
So this it our challenge and our promise to you: get in touch with your university cycling team. You can contact them through their website or your college's club sports department. Go out for a ride with them, or even for a cup of coffee, and think about coming out to the races this spring. A lot of teams will even cover your travel and registration fees.  If your school doesn't have a team, or you're unable to find them, contact Eric and I. We can point you in the right direction. If you go to school anywhere in Maryland, Virginia, West Virginia, or North Carolina, you are eligible to race in the ACCC. If you're from somewhere else in the country, you can check out USACycling.org or get in touch with Eric and I.
In return, we promise to arm you with all of the knowledge and experience you need to train and race with confidence. Not sure what to wear to the races? We can tell you. No idea how to ride your bike at all? No problem. We can teach you.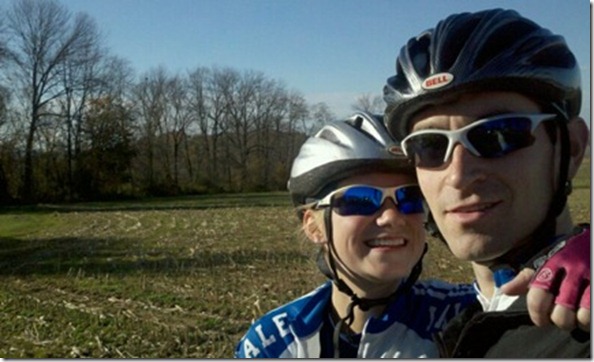 We recognize that taking the first step can be scary, but we want you to know that we're here to help you along the way. There is a wonderful, welcoming community waiting for you at the races.  To follow my experiences throughout next season, check out Eric and my blog, Run Ride Love. Don't hesitate to comment, tweet, or e-mail if you have any questions (acccwomen@gmail.com), or just want to tell us about your biking experiences!
Regardless of whether or not you're in college, do you love to cycle?  Who got you into the sport?  What were you fears going in?  I was very intimidated by clip-in pedals and learning how to change a tire – but I eventually figured it all out!