Ahhh.  It's that time of year again – New Year Resolution time!  I know some people despise NYRs with an undying passion, but I really love them.  I think of January as a fresh start; a chance to try again; an opportunity to wipe the slate clean.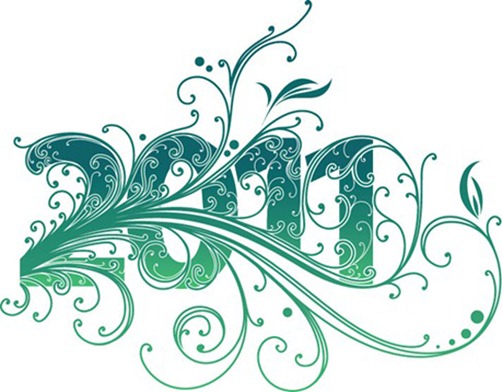 (Source)
I like to publicly proclaim my resolutions on the blog because it helps me stay committed.  Last year, as usual, I set personal, professional, and fitness goals.  How did I do?  Let's check it out…
2011 Resolutions Revisited
Personal Goals:
GOAL:  Save enough money to buy a home without needing PMI.

  REALITY: 

We went through the process of trying to buy our first house

this year but were thwarted at the last moment by lenders because of new, tighter rules that especially impacted newly self-employed folks (despite having excellent credit and a decent down payment).  We're planning to try again in 2012 after filing our taxes; our broker thinks we have a decent shot.  Fingers crossed!  I'm willing to wait (and save more) for my dream.
GOAL:  Prepare body, relationship, and bank account for eventual pregnancy.   REALITY:  Done, done, and done!  Body ready, relationship solid, and bank account happy.  Baby is baking and due to arrive in June.
GOAL:  Learn to speak Chinese with the Husband.  REALITY:  Total and utter failure.  Never even ordered the program.
GOAL:  Keep in better touch with my old friends by calling them more often.  REALITY:  Not a huge success but not a complete failure, either.  I could've done better at maintaining friendships, but given how busy work has been, I'm satisfied.
Professional Goals:
GOAL: Write the Operation Beautiful 2 book, which is due February 15.

  REALITY:  Done!  And I beat deadline by 5 days.  The official title will be

Operation Beautiful For Best Friends

, it is geared towards 8 – 14 year old girls, and it will be released in mid-July.  Here's a preview of the jacket!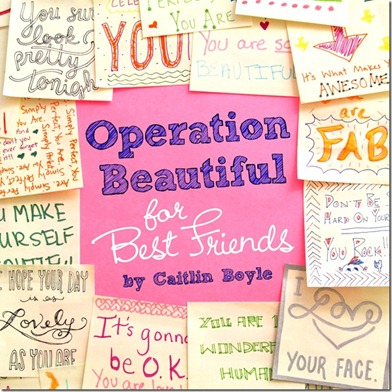 GOAL:  Write the Healthy Tipping Point book, which is due in September.  REALITY:  Done!  The Healthy Tipping Point book will address emotional health, physical wellbeing, and balanced eating, and it will be released in June.  I have seen the cover design but am not sure if it's public yet.  I'm excited for the HTP book to be released!
GOAL:  Help the Husband grow his acupuncture practice.

  Reality:  Done!  

The clinic

is doing quite well, and we have high hopes for the future.  I work as the secretary and help with some marketing efforts.
Fitness/Health Goals:
GOAL:  Get back into ideal racing shape and run a 1:55 Half Marathon in March.

   Reality:  Not achieved.  I ended up injuring my leg and had to drop out of my planned Half Marathon entirely.  However,

I did walk a Half Marathon in New York City in April

, which was a really cool experience.  My Half record stands at 1:58 – maybe one day I'll break it!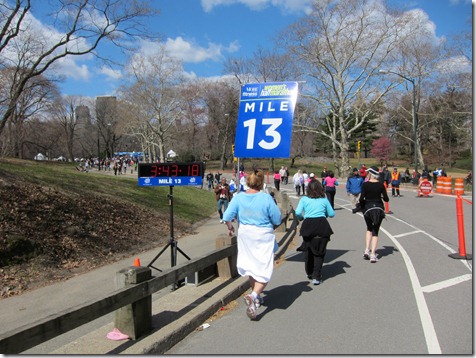 GOAL:  Race a sprint or Olympic triathlon in the summer.

  Reality:  This was the year of the triathlon!  I got over my intense fear of lakes and completed not one but SIX triathlons, including an Olympic.  I did:

Tri Latta Sprint Triathlon – June 12, 2011

,

Amica 19.7 Sprint Triathlon – July 17, 2011

,

Lake Logan Olympic Triathlon – August 6, 2011

,

Tri for Abbey Sprint Triathlon – September 24, 2011

, and

Ramblin' Rose Super Sprint Triathlon – September 25, 2011

.  Good times!
GOAL:  Do yoga at least three times a week.  Reality:  Epic fail. I was pretty into yoga at the beginning of the year but totally fell off the wagon.
GOAL:  Use my indoor bike trainer when watching TV instead of just sitting on my butt (at least twice a week).   Reality:  While I definitely rode my trainer more often, I didn't do it as regularly as I would've liked.
GOAL:  Drink more water and regularly take my supplements.  Reality:  Definitely achieved!  I was a water-drinking machine this year.
So, in summary, I feel pretty good about 2011.  Looking back, I achieved all of my professional goals and fell in love with triathlons and swimming.  And we achieved our #1 goal, which was to get preggers!  Despite a few rocky moments, 2011 was a great year, and I'm excited to see what 2012 brings me.
On that note…. here are my resolutions for 2012.  The list is shorter because life is changing so much!
(Source)
Personal Goals:
Emotionally and intellectually prepare myself for motherhood.

Coach

Girls on the Run

through the end of pregnancy and then transition to sitting on a committee in the Fall so I can continue to stay involved with the organization.

Buy our first home or move into a larger rental before the baby arrives.

Make a greater effort to keep in touch with old friends.

Read at least one book a month.
Professional Goals:
Have two successful book launches for Operation Beautiful For Best Friends and Healthy Tipping Point.

Continue to help out at the clinic as much as possible.

Work with the Husband to balance our work schedules so we can both be 'part-time-stay-at-home-parents' (more on this later).
Fitness Goals:
Exercise three times a week through the rest of pregnancy, health permitting.

Do a super sprint triathlon by October, health permitting.
Did you achieve your 2011 Resolutions?  What are you gunning for in 2012?