Shout out to the walkers of the world!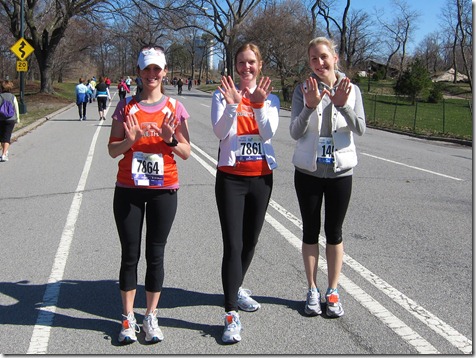 I thought being forced to walk my fourth Half Marathon due to injury was the worst thing in the world… But I actually ended up having a blast.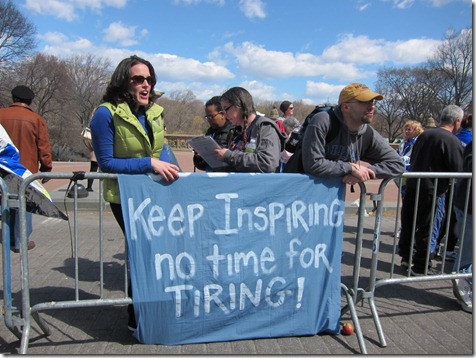 Let me tell you – walking a Half Marathon is HARD.  In many ways, it was less exhausting than running 13.1 miles, but my legs hurt in entirely different ways and places, especially along the sides and in my hips. 
My final time was 3:33, which is about 1:35 slower than my Half PR.  I averaged 16:20 a mile and placed 7,396.  🙂
Race morning started off a little differently than it normally does – no need to stress out about eating the 'right' thing and bathroom-ing.  Instead, I happily munched on half a huge NYC bagel with a thick slather of cream cheese (I would've avoided the dairy if I had run the Half) and a banana.  I also slept in about thirty minutes longer than I would have otherwise!
We hopped in a cab and were transported to Central Park.  This race seemed very organized (New York Road Runners clearly has it going on).  Although I was seeded into a higher corral, Jen, Gabriela, and I headed to the last corral since we planned to walk the entire race (Gabriela was injured, too, and Jen came down with a cold yesterday).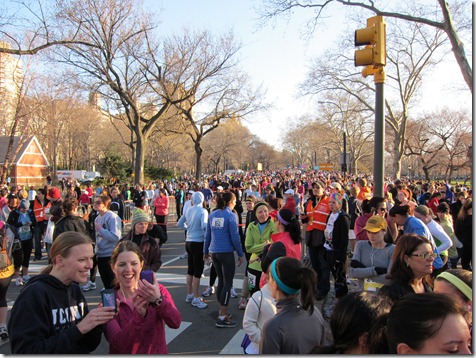 Can I just say how low-stress walking a race is?  Normally, I get really worked up about pace and timing and fueling, but I happily just strolled along with the girls, laughing and chatting the entire way.
The course was two loops, and around Mile 4.0, the leader whizzed by – she was FAST.  No one was behind her for at least 10 minutes!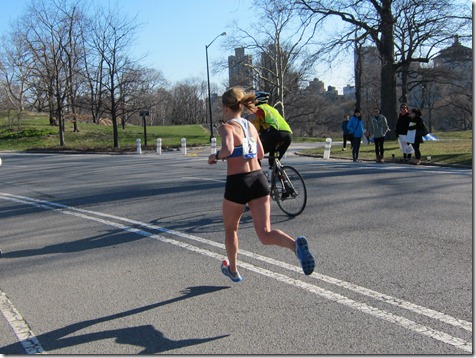 We ran into other runners who were sponsored by Thomas Bagel Thins, including this awesome 70 year-old lady named Elaine who has run over 110 marathons.  I asked her for advice and she said "Pick out what you want to do with life, and goddamnit, just do it!"  Word up, Elaine.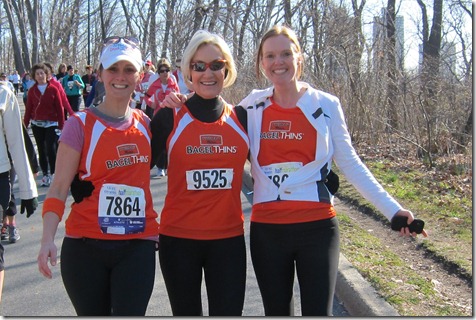 The course was beautiful (and hilly), and in some ways, I'm glad I walked it because I got to experience Central Park in a way that I wouldn't have if I had been running.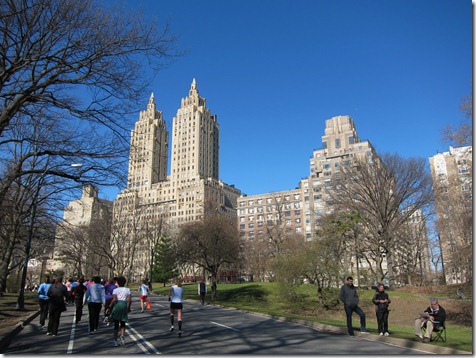 Other things that were different about walking instead of running: 
I drank about four cups of Gatorade during the race, but no Gu.  I never really got hungry the way I do when I'm running (but I still needed the fuel).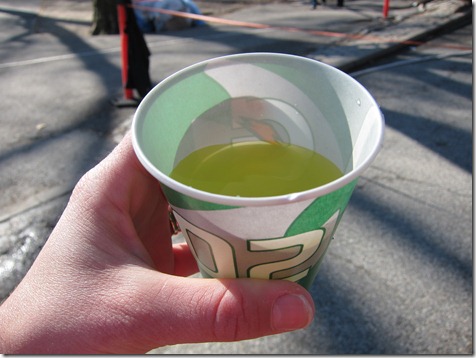 My fingers swelled up like little sausages (from the blood rushing down my arms).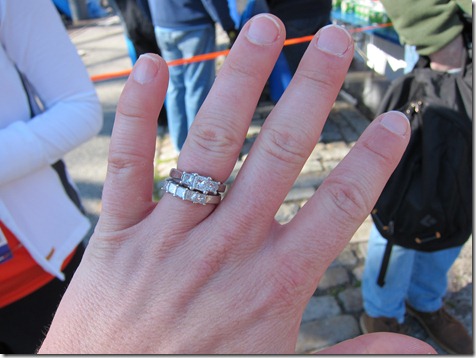 So I spent half of the race with my arms above my head!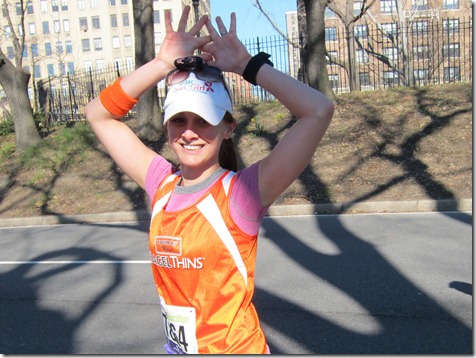 My quads got really, really tight (well, that happens when I run a Half, too), but I felt like I had 'time' to stop and do some yoga.  Downward dog for life!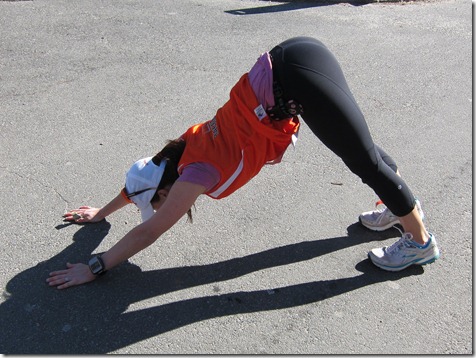 Oh, and…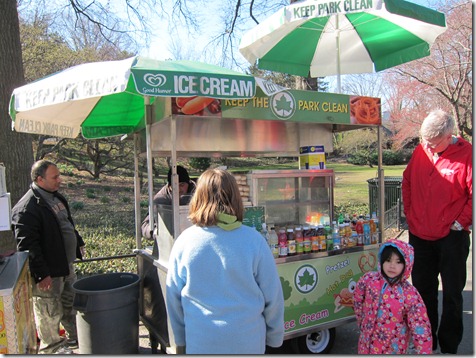 We stopped and bought a soft pretzel around Mile 6.0  It was delicious and hit the spot.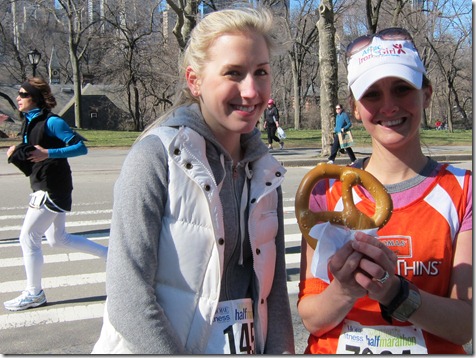 Around Mile 10, I got really antsy.  I just wanted to be DONE.  When we saw the Mile 13 markers, we all decided to run to the finish line.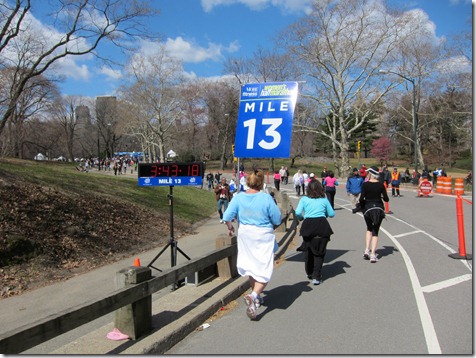 I must say, it felt good to move my legs in a different way!  I still love running the most.  🙂
Grabbed our medals and high-tailed it to the Whole Foods, which was easily the most gigantic one that I've ever seen.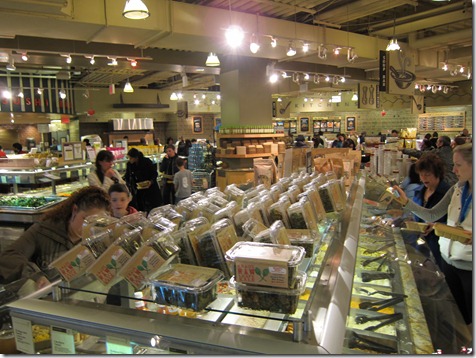 Refueled with coconut water and a lovely hot bar selection.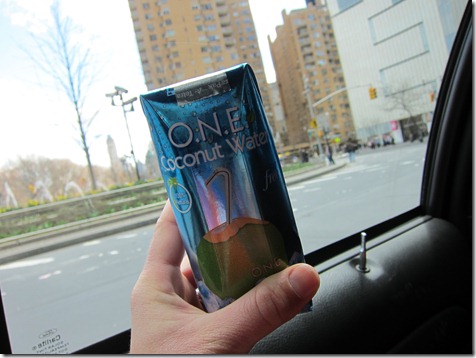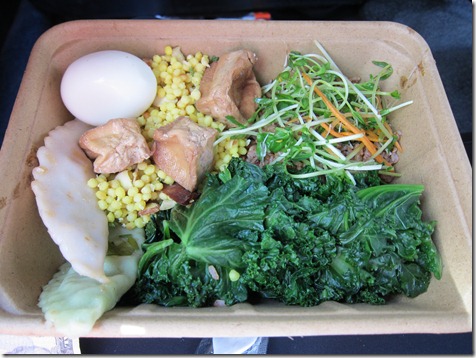 At the end of the race, I learned a very important lesson… Whether you run or walk, the medal around your neck feels the same. 
I'm proud of my fourth Half Marathon, and I'm especially proud of the fact that I listened to my body and didn't push through an injury.  I want to run for many, many years, and I have to respect my limits.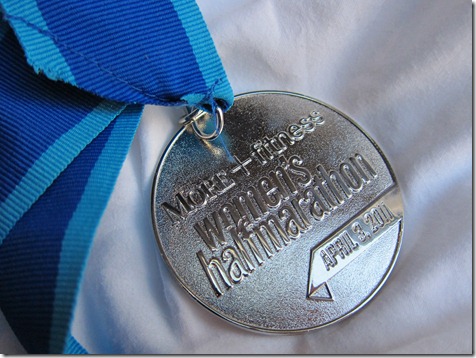 What a wonderful race!