I have a great friend named Bethany.  Bethany is one of the sweetest people in the entire world.  She LOVES animals and is studying to be a vet at University of Pennsylvania. 
Bethany is very interested in shelter medicine and has always been involved in animal rescue.  And she has even traveled throughout South America and Asia to spay and neuter dogs and cats in low-income areas.  What else can I say?  She's a pretty cool woman (and a great friend).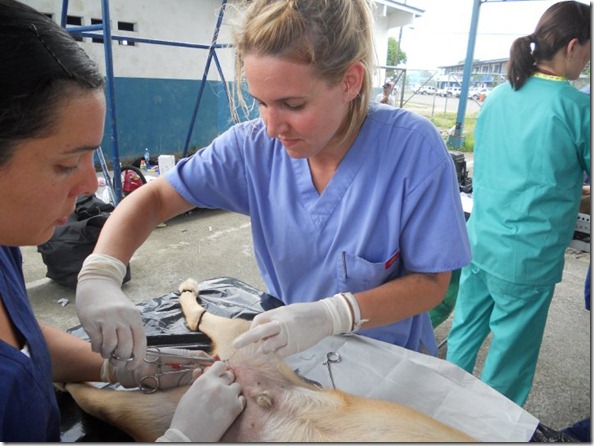 Anyway – every week on Facebook, Bethany posts a photo of a sad looking dog or cat and appeals to her friends to either adopt or foster the pups.  It always kills me because I'm too far away to help any of her pups or kitties.  Last week, she posted a photo of a little pup named Bonnie.  Bethany wrote, "This little lady was spayed at Penn yesterday and all temporary homes have fallen through… She will have to go back to animal control tomorrow unless an adopter or foster home can be found. She is very calm, sweet, and loves other dogs."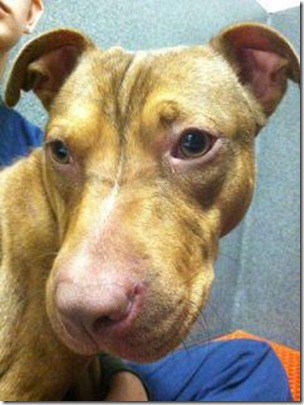 I took one look at Bonnie and nearly cried.  Something in her eyes reminded me of James (who is also a shelter pup).  So I wrote about Bonnie on the Healthy Tipping Point Facebook page, and a reader named Diann emailed me.  She wrote, "Did anyone step in for Bonnie?  I live in the Philly suburbs and was worried about her."  I replied that no, no one had come forward yet.  And Diann decided that she would. 
Diann picked her up on Saturday and brought her home.  She said, "She's the sweetest thing.  Thanks for putting the word out; she is definitely a gem. I'm so glad she's out of animal control. Now we just have to get her healed up from her spay, put some meat on her bones, and teach her that grass is her friend (she's such a city girl).  I would love to keep her instead of just fostering her – that is the goal; I will ultimately have to see how she does with my 3 cats when she's all healed up and healthy again. So far she's a love bug so I have high hopes (and, of course, I'll do as much as I can to help train her if she's got any issue)."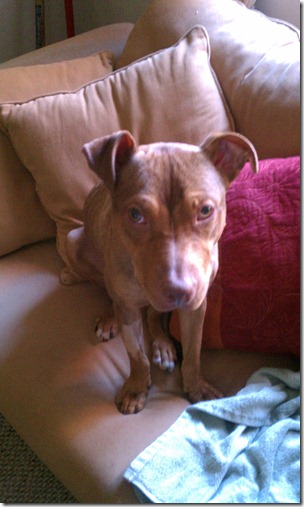 I was so excited for this (hopeful) happy ending that I thought, "You know what?  Save a Shelter Pet would be a fun HTP series!"  I know how so many of you also love animals and support rescue groups.  So once a week, I'm going to feature a shelter dog or cat from somewhere in the country.  My greatest wish is we can use the interwebs to find them loving forever homes!  Even if you cannot foster or adopt the pup, maybe you know someone who can?
So – drumroll, please. 
This week's Save a Shelter Pet is Lula.  Lula is also in Philadelphia.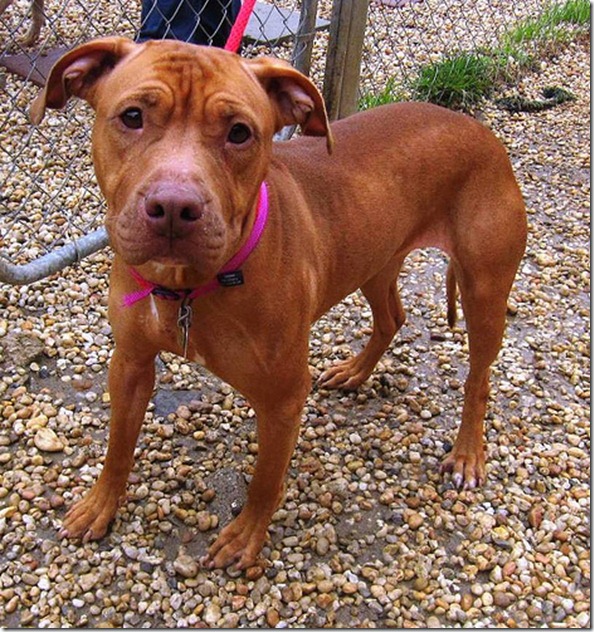 Lula says, "My name is Lula. I am a 1-2 year old Terrier Mix and weigh 35 pounds.  I came to the shelter as a stray with my brother. Our human parents were contacted, but they no longer wanted us. I am a loveable girl with great energy for long walks and games of fetch.  I am in the PenPal program, which means I have volunteers dedicated to working with me on manners, commands, and socialization. My PenPals are Teri and Petra. While my tail gets super happy when they come to visit me, I am very ready to get outta here and into a forever home!"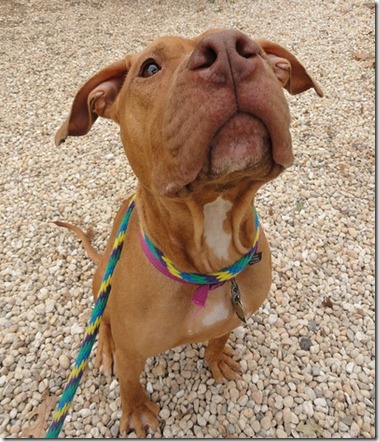 Lula continues, "Why should you pick me? Well, for starters, my PenPals say I am very smart and treat motivated so that will make continuing my training fun for both of us. I also settle down nicely once I get my zoomies out, and I love affection. My human friends tell me I have the softest fur they have ever petted!  Wanna hear some more great things about me? I have done very well with dogs here at the shelter so if you have a resident dog, please bring them to the shelter so we can be sure we will be best buddies. I showed no interest in cats, but the shelter staff will retest me if you have any kitties at home. Basically, I am just a girl looking for love. The shelter is always crowded and it seems new doggies are always coming in.  Hurry! I'll be waiting for you and working on my sit command!"
Zoomies are good for humans who like to run!
Bethany says that Lula is at high-risk for euthanasia because she's been stuck at the shelter for six weeks and is starting to behaviorally regress – so it's NOW or NEVER for Lula!  If you're interested in adopting Lula (or can pass this post along to someone who might be!), please shoot me an email at operationbeautiful@gmail.com and I'll connect you with the shelter!
Do you have a rescue pup or kitty?  What's their story?