A few weeks ago, I was racking my brain for a creative theme for my friend Jen's baby shower.  I considered a puppy theme, a football theme, a jungle theme…
And then I realized – a triathlon theme would be PERFECT!  After all, Jen is an accomplished runner and triathlete who's managed to rack up the miles through her pregnancy.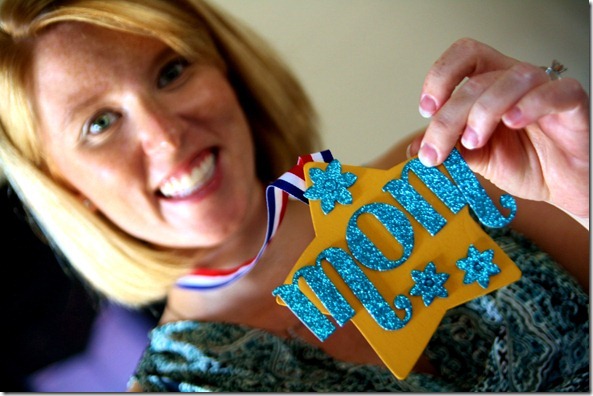 Jen and I even did a triathlon relay while she was in her second trimester – crazy, right?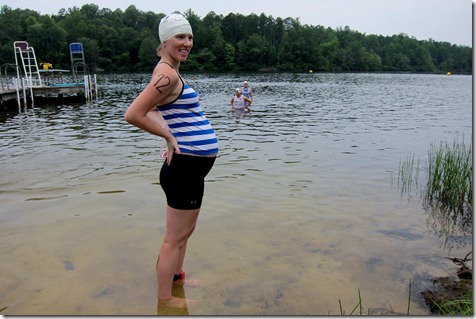 I ordered customized Jen's IronBaby Shower race bibs from a bib website (they were SO confused when they got my order – hah!) and used them to create fun banners that I hung up around her living room and kitchen.  Her baby's name was written on the bottom – just like a legit race bib!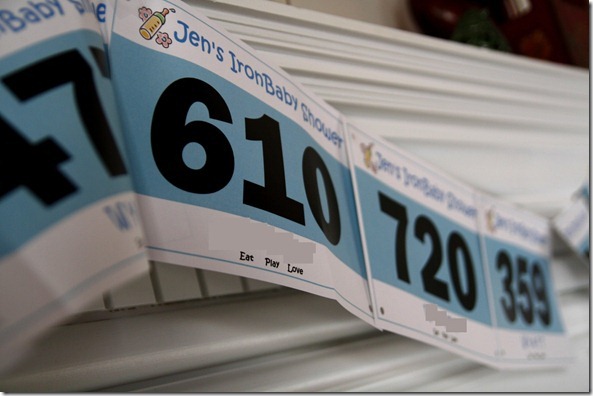 Like a real triathlon, our IronBaby shower had three 'legs':
Eat
Play (shower games)
Love (unwrap presents)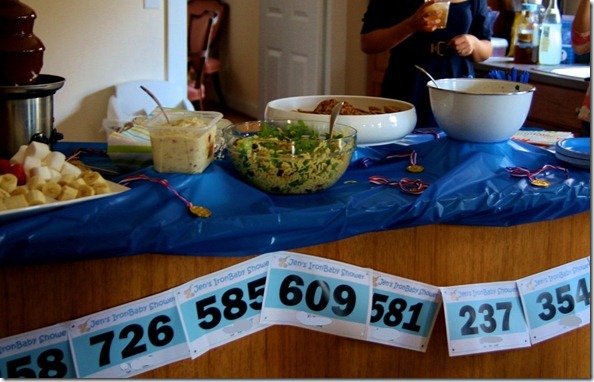 The shower was a potluck – all sixteen attendees ended up bringing VERY yummy dishes!  Quiche, potato salad, quinoa butternut squash salad, and chilled orzo with arugula.  Yum.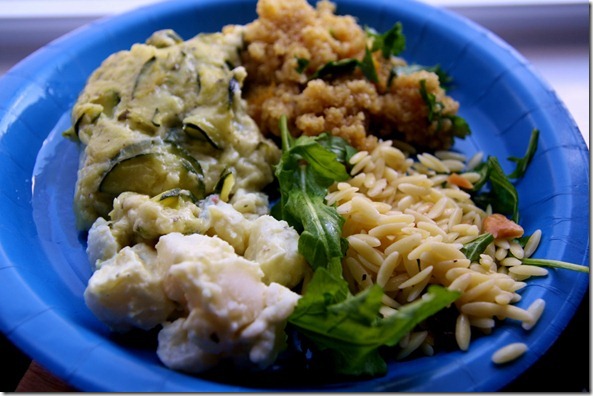 Let the chocolate fountain flow.  I always have to resist the urge to stick my face under a stream of chocolate when I'm around one of these things.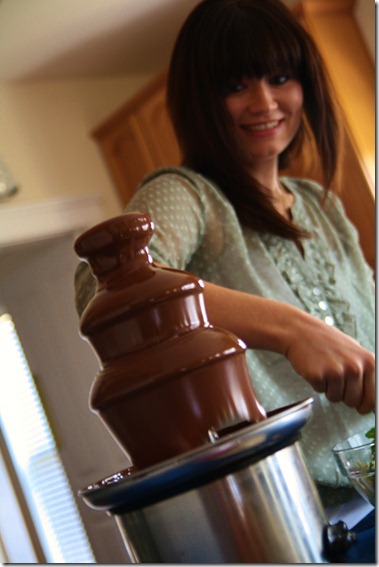 Dessert included pumpkin dip (pumpkin puree + cream cheese), as well as chocolate fountain dippings.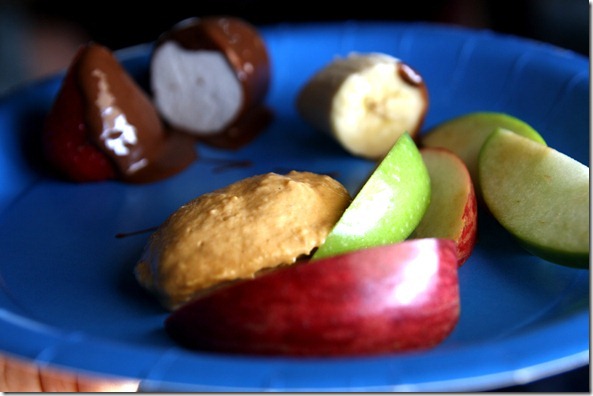 For drinks, I made Boozy Arnold Palmers and Booze-Free Arnold Palmers.  In the Boozys:  ice tea vodka, sweet tea, sparkling lemonade.  In the Booze-Frees:  sweet tea and sparking lemonade.  With many lime and lemon slices.  I was a little heavy-handed when I poured the Boozys – it was STRONG.  Whoops.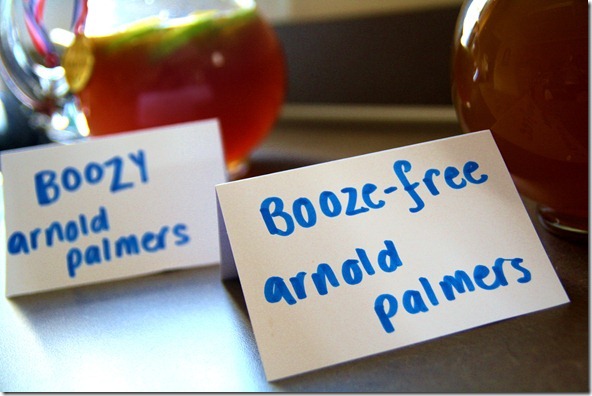 Time for Part 2 of the IronBaby Shower – GAMES!
This activity was my favorite: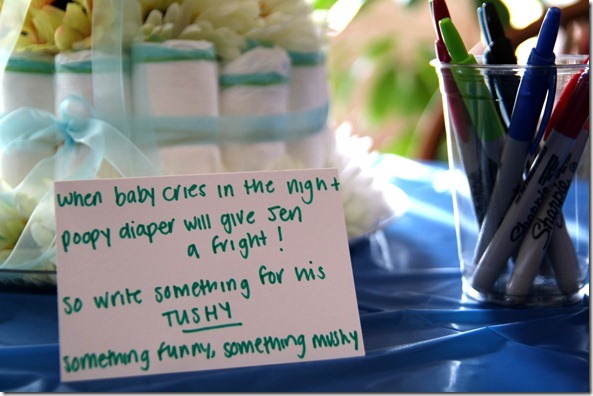 I bought a pack of newborn diapers and colorful markers, and everyone wrote funny messages on the front and pack.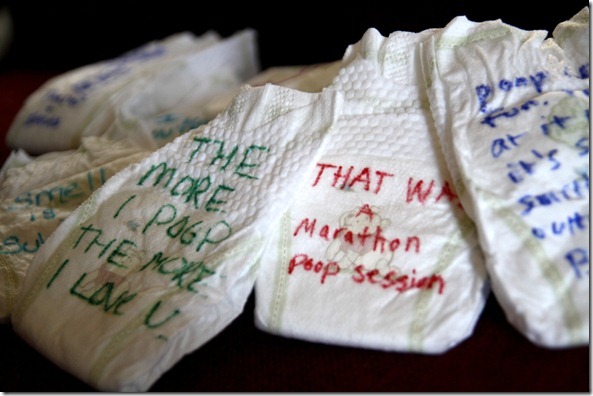 My personal favorites:  My shit don't stink…. and I poop gold.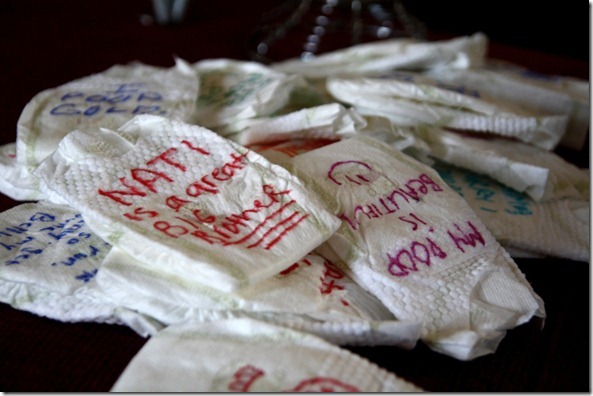 Everyone guessed Jen's bump in inches (around the waist), as well as how many miles she's run since Week 14 with spawn…  What's your guess?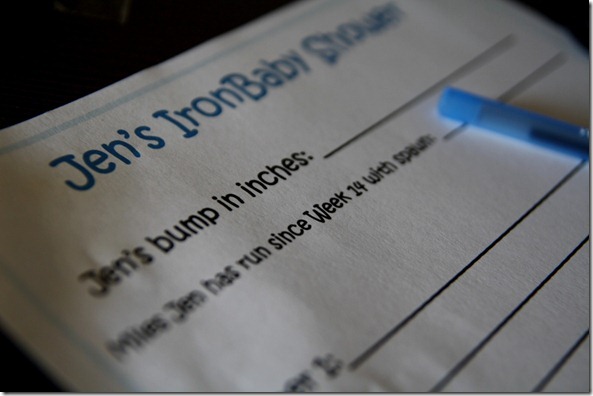 The answers:  39 inches and 254.75 miles!  <— AMAZING!
Our very last game was the classic Candy Bar Diaper game.  I bought 10 different types of candy bars, melted and mushed them up in numbered diapers, and then passed them around for people to sniff and guess.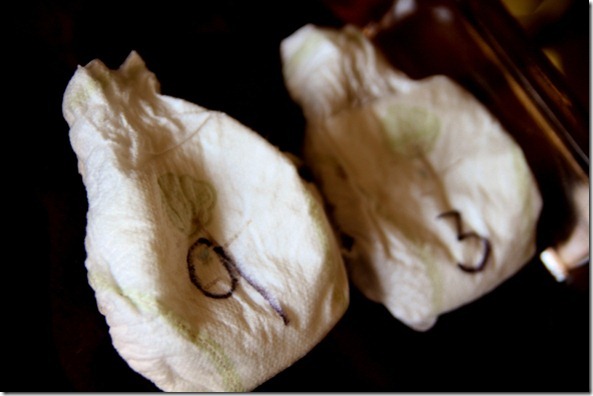 So gross.  Yet so funny.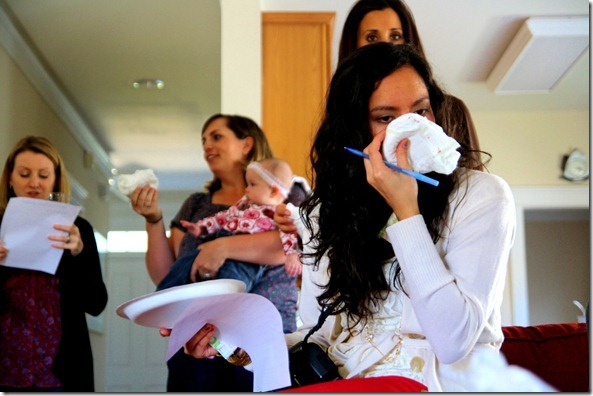 A few people managed to guess ALL 10 candy bars correctly!  I was impressed.  I put the candy bars in the diapers and still couldn't figure it out.
And last, but not least, Part 3 of the shower: the opening of the presents… Jen got some wonderful gear.  I am just SOOOO happy for Jen and Jeff.  Especially after they struggled to get pregnant – this shower seemed particularly special.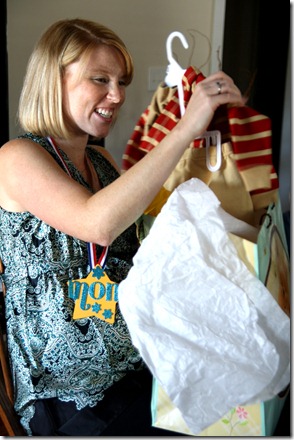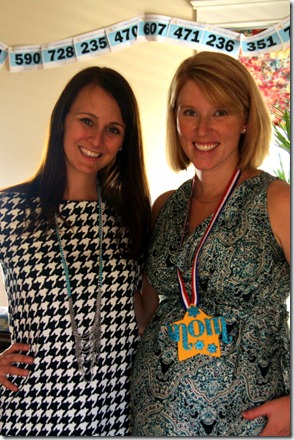 Can't wait to meet you in December, little baby boy!