Last night, the Husband and I went on a date.  Keepin' the romantic alive by seeing the creepiest movie ever.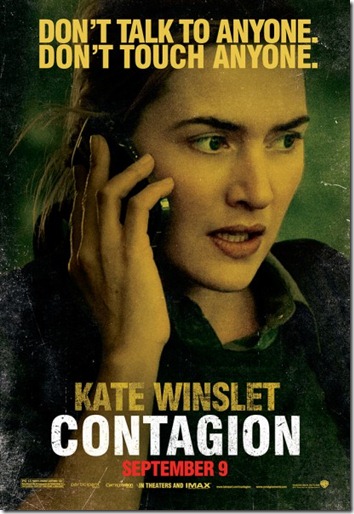 Contagion tells the story of a flu-like disease that spreads rapidly and kills off a large portion of the world's population.   Think:  lots of long, lingering shots on everything the contaminated people coughed on, sneezed over, or touched.  Did you know the average person touches their face 2,000 – 3,000 times a day?
Eww.
After the movie, we got fries from Five Guys but were way too paranoid to touch any surfaces (I'm hoping this wears off in a day or two).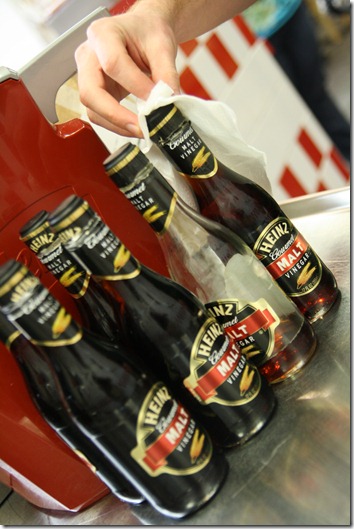 You say peanuts, I say HOTBED OF INFESTATION.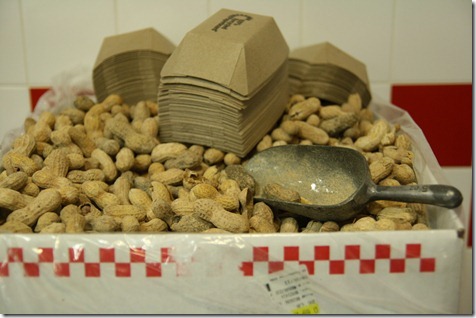 All joking aside, it was a good movie – pretty slow but good.  It really makes you think about how our modern, global society is so vulnerable to viruses and germs.
I have a great (germ-free) breakfast recipe for you.  Sometimes, I lay in bed in the morning, trying to wake up, and think about fun breakfast recipes.  And this is what I came up with today.  Think – savory oats, but better.
Quinoa Hummus Breakfast Bowl
Ingredients:
1/3 cup quinoa
1/2 cup water
1/4 cup Holy Deliciousness Hummus
1 handful raw spinach
Salt and pepper to taste
1 egg
Sliced almonds
Directions:
In a small pot, cook the quinoa and water per these directions.
Meanwhile, scramble the egg in a separate container.
When the quinoa is almost done, add in the torn spinach and hummus.
Stir thoroughly and allow to heat through.
Add salt and pepper.
Scoop into bowl and top with egg and sliced almonds.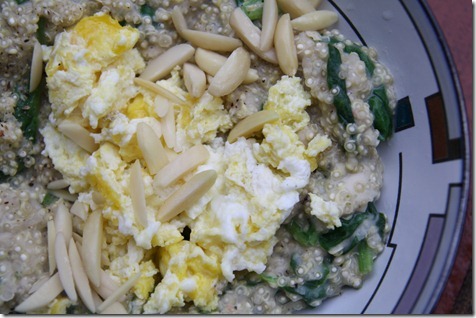 It's raining, it's pouring…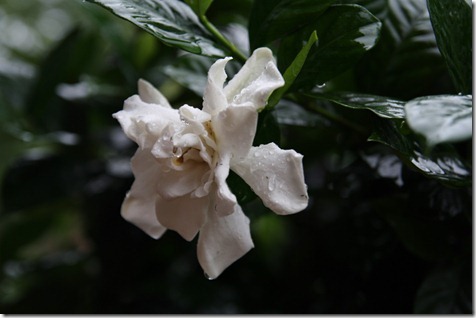 Another day at the computer.  I must be productive today, especially since I wasn't yesterday!
And being productive definitely includes disinfecting my entire house.