Some people love murder mysteries.  Others can't put down chick lit.  I absolutely love novels about dystopias.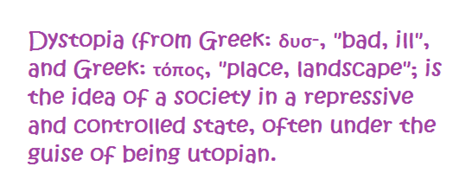 Thank you kindly, Wikipedia.
I don't know why I'm drawn to dystopia novels.  It could be the dramatic tale of crisis and suppression.  Maybe it's the way that dystopian environments draw out the best – and worst – in characters.  Or perhaps it's because I was born in 1984, the ultimate year of the dystopia!
Here are my six favorite novels about dystopias:
1984 by George Orwell: In the (at the time) distant future – 1984 – the society of Oceania is ruled by the oppressive Party, who tightly control the population with surveillance and brainwashing.  Individuality is outlawed.  The main character, Winston, hates the Party and soon finds himself – and his love, Julia – under attack.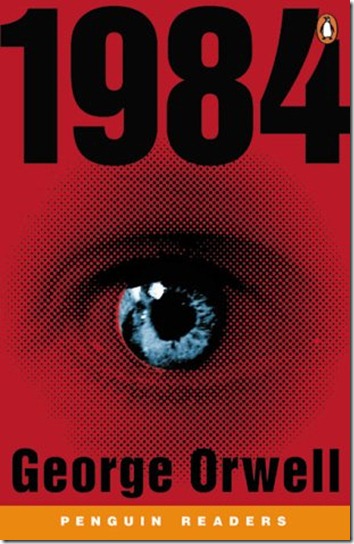 Lord of the Flies by William Golding.  Funnily enough, when I was 11 years old, my mom gave me this book in my Easter basket.  I don't think she knew what it was really about – a group of British boys are stranded on an island and must choose between civilization and savagery.   People die.  Pigs are murdered.  It's intense.  Not Easter basket material in the slightest.  But still – a very, very good book.
The Handmaid's Tale by Margaret Atwood: The Republic of Gilead rose out of the ashes of America.  The military killed the President and most of Congress and took control of the government.  The women and minorities' assets are stripped away, and fertile women are forced into sexual slavery to help maintain the dwindling population.  I read this book in high school and was instantly transfixed.  Fun fact:  I will always remember the line "I laid in bed, like buttered toast" (paraphrasing), which the narrator spoke after putting on butter as moisturizer… It really stuck with me for some reason.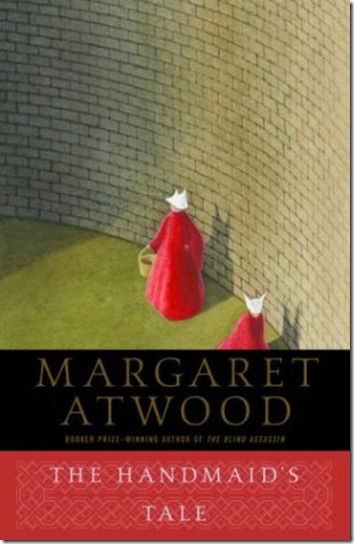 The Hunger Games by Suzanne Collins:  I've already offered a GLOWING review of this amazing trilogy.  The Hunger Games describes how the nation of Panem developed from nuclear war in North America.  The Capital controls and enslaves 13 Districts and once a year, pits a boy and a girl from each District against each other in a duel to the death.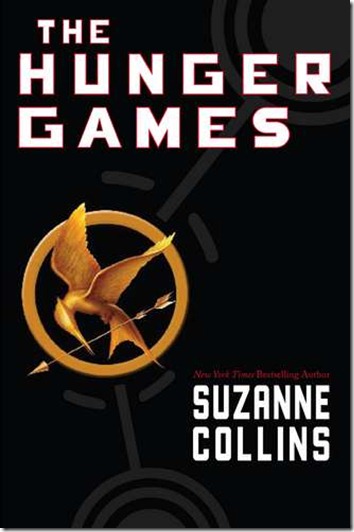 Oryx and Crake by Margaret Atwood:  Another Atwood book.  This book tells the tale of a post-apocalyptic world characterized by extreme wealth and poverty, commercialization of sex and violence, and the development of genetically modified creatures and diseases.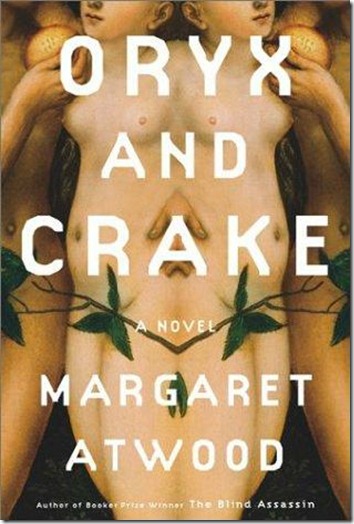 Brave New World by Aldous Huxley:  One of the 'original' dystopian novels, Brave New World pretty much defined the genre.  In the not-so-distant future, people are conceived and 'hatched' in a laboratory.  The society is divided into 5 castes:  Alpha, Beta, Gamma, Delta, or Epsilon.  Bernard is of the Alpha caste but feels a sense of total emptiness at the lack of true feeling or individuality prompted in the society.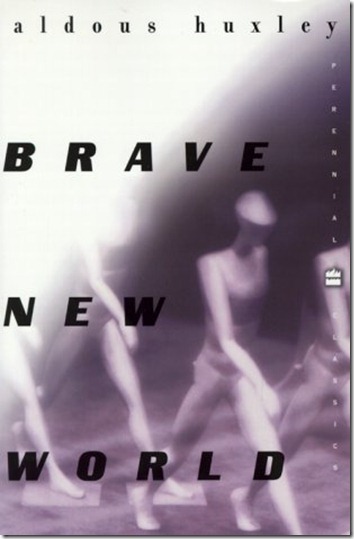 Here are some of my other 'book collection' reviews:
7 Inspiring Non-Fiction Fitness Books
9 Intriguing Food Philosophy Books
7 Great Books to Delight and Motivate
Various individual book reviews
Do you LOVE any of these dystopian novels?  Am I missing out on any excellent tales of revolution?