You guys know that I'm all about simple, easy, and healthy recipes.  Generally, anything with more than ten ingredients makes my eyes cross and my fingers dial for takeout. 
This Tom Kha Phak Quinoa Bowl is a perfect example of my kind of dinner.  Minimal prep, seven ingredients, and on the table in 15 minutes.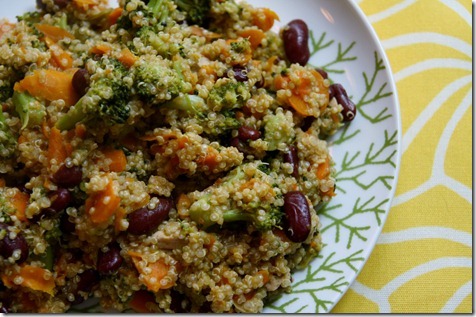 Tom Kha Phak is coconut vegetable soup infused with Thai spices, coconut milk, shitake mushrooms, and sweet potatoes.  You could make it from scratch… or  you could just buy the Amy's version.  It's delicious!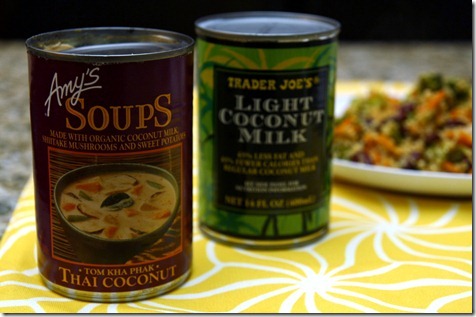 The secret to this quinoa bowl is Amy's Tom Kha Phak soup.  It does all the work for you – instant and authentic Thai flavor.
Consider this dish your reward for a hard day of work.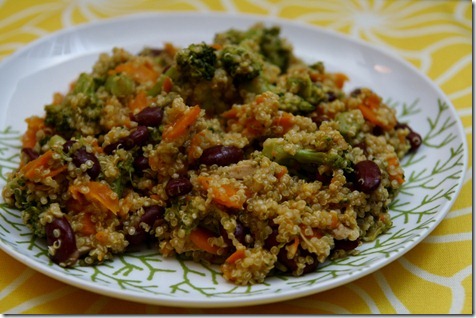 Tom Kha Phak Quinoa Bowl
Ingredients (for two servings):
1 cup dry quinoa
1 cup water
2 large carrots
2 cups chopped broccoli
1/2 cup drained and rinsed dark red kidney beans
1 can Tom Kha Phak soup
1/4 cup light coconut milk
Directions:
Bring water to boil, add quinoa, and cook according to these directions.
Meanwhile, thinly slice carrots.  Add carrots, broccoli, kidney beans, and Tom Kha Phak soup to a large wok.  Cover and turn heat to high.
Allow veggie mix to cook for 10 minutes, or until most of the soup has heated off.
Combine cooked quinoa into veggie mix.   Pour coconut milk on top.
Serve and enjoy!
Random side note, but… We have these mushrooms growing in the backyard, and I'm totally obsessed.  They go from the size of a quarter…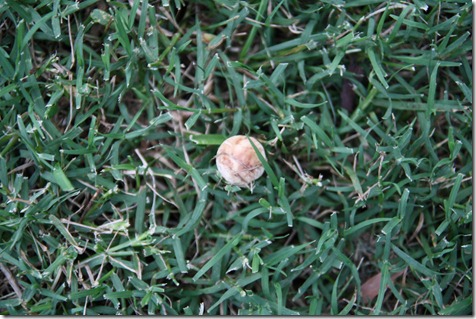 To a 4-inch tall mushroom with a big cap in a matter of HOURS.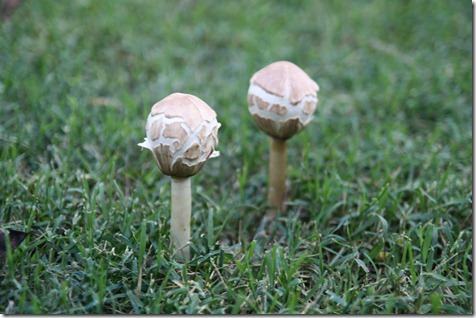 And they keep growing.  How cool is that?
Apparently I missed my calling as a botanist because I can't stop walking outside to check on my 'shrooms!
PS – The winner of the Name Your 5K Giveaway is Bridget Henson.  Congrats!