This morning, I went to the pool to swim a few laps.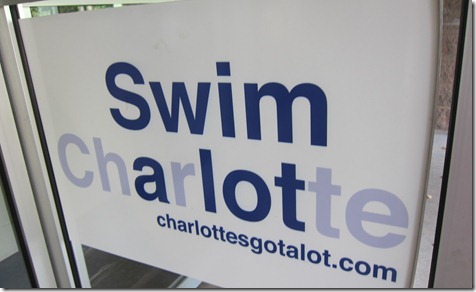 All of the lanes were full so I jumped in a lane that wasn't doubly occupied, next to this guy in his 40s who was wearing swim trunks, no cap, and goggles.  I nodded at him and began to swim.  During my second lap,  I noticed that he was struggling up and down the lane, so when we met at the end of the lane, I smiled and said, "Hey, thanks for letting me share the lane."
He smiled back and then said, "Thanks.  I'm so sorry.  I really don't belong here."
I knew immediately what he meant – I've felt like I didn't 'belong' before, too.  I felt like I didn't belong at the starting line of my first 10K, the weight room at the gym, the yoga studio, the pool.   I know what it's like to struggle up and down the lanes, feeling like all the other people in their professional-looking swimsuits and fancy goggles are staring at me, wondering why the heck I'm taking up valuable lane space.  In fact, every time I try a new physical activity, I kind of feel like an imposter!
So I said back to the guy what I always tell myself, "You belong here!  Just because you haven't figured out your stroke yet doesn't mean you shouldn't be in the pool.  It took me ages to figure out swimming, and I'm still learning!"  We talked a little bit about swim classes and YouTube videos, as well as how to breathe through the stroke, and then we both got back to our workouts.  He kept at it for at least another 20 minutes; I don't even know the guy and I was SO proud of him. 
In honor of the newbie in swim trunks and no goggles, next time I'm at the pool, I'm going to try to tackle one of the pool's Swim Workouts.    I always look at the board and think, "This board doesn't apply to me. I could never swim those distances."  But now I realize that I'm doing what I always did before – selling myself and my abilities short just because I'm scared.  Next time – I'll attempt one of the workouts! Hold me to it, okay?  
For lunch: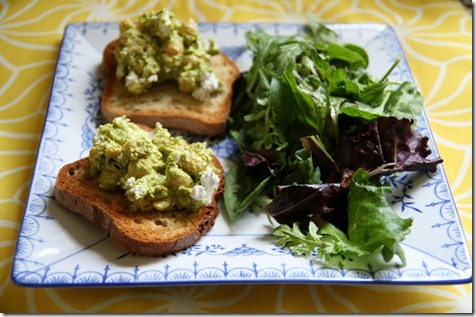 This sandwich was AMAZING – I know it looks disgusting but it was so tasty!  All mashed together:
Chickpeas
Goat cheese
And post-workout:
Time for Girls on the Run!