We got off work early (that means before 8 PM), so I had time to really focus on making a delicious dinner.  Cooking is so relaxing… especially when you're not running around like a headless chicken tofurky.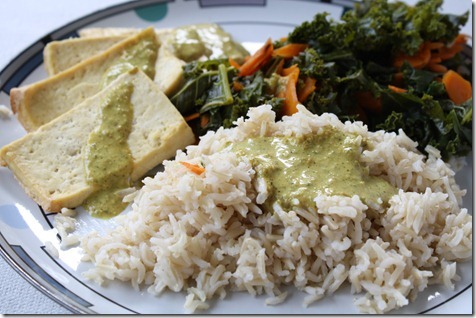 You know I had time to put into dinner when I make brown rice (cooking time: at least 30 minutes) instead of millet (15 minutes) or quinoa (7 minutes).  You also know I have time to cook when I bake tofu instead of just opening up a can of beans!
I thinly sliced a block of extra firm tofu and laid then out flat on a glass casserole dish.   No seasonings or anything because I was planning on making a version of Mmmm Sauce.  Then, I baked the tofu for 40 minutes at 400 degrees.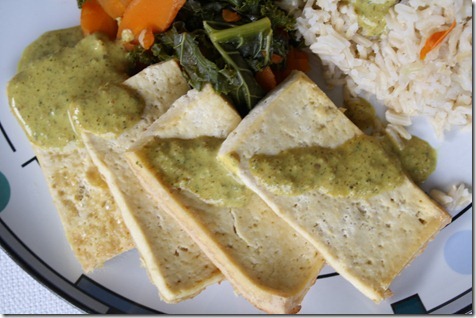 I also steamed some kale and carrots.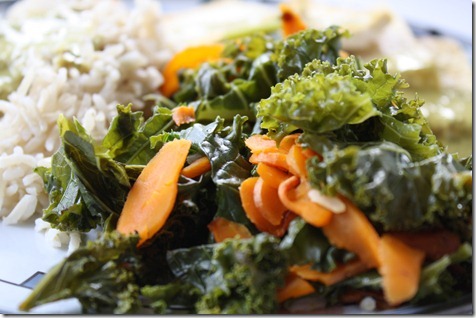 The sauce, as mentioned, was a play on Mmmm Sauce.  In the food processor, I combined:
1/4 cup nutritional yeast
1/4 cup roasted pumpkin seeds
1/4 cup water
2 tablespoons olive oil
1 tablespoon curry
Salt and pepper
It was pretty good!  The pumpkin seeds definitely added a little something-something.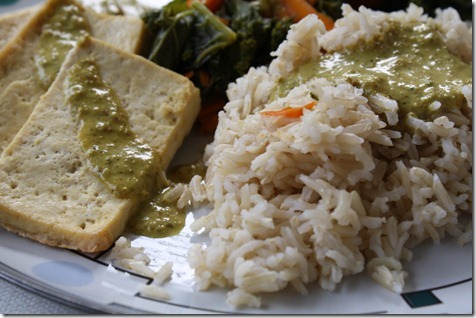 Panda Balls Bites for dessert!
So – I'm off to the HEALTHY LIVING SUMMIT in Philadelphia tomorrow.  Very excited.  I cannot wait to see all the other bloggers and readers who are attending.  I also cannot believe that the Summit is in it's third year.  I was on the founding committee, and it really doesn't seem that long ago that we planned the first Summit.   Time flies!  But it's so cool to see blog relationships translate to IRL (in real life) friendships. 
Good night!