Today was Part II of the Me Day, and all I wanted to do was drive to my in-laws' new (rental) lakehouse and go for an open water swim.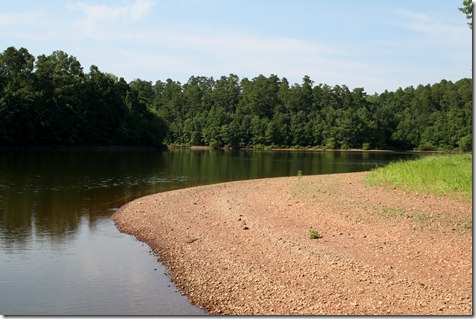 Now, if you've been reading for a while, you know that I have a 'history' with open water swims.  Specifically, the first two times I got in a lake for a triathlon, I positively geeked out. 
In fact:
My first Olympic triathlon (my second attempt), I also had a panic attack in the water.  It was just as bad as the first attack but I was pretty committed to finishing this race.  I finished 5th to last, but I was thrilled. I did not want to write another D.N.F. blog post! 
My fears of open water are rooted in one thing – ALLIGATORS.  I grew up in Miami and did my first two tris in Orlando.  As a kid, "every single body of water has a gator in it," was drilled into my head.  And really, people do get attacked by gators all the time in Florida.  Gators are not hard to find in the Sunshine State, and they really do live in most lakes.  A man's arm was bitten off in the same exact lake I did my tris in, as a matter of fact!
Anyway – then I moved to Charlotte and got over my fear of open water (yay, no gators!).  Since moving, I've done an open water race, a sprint, and another sprint.  And on Saturday, I'm doing my second-ever Olympic tri!  I am so excited, but I'm nervous, too, because I've definitely been phoning in training.  I'm just so busy with work that exercise has to come second.
So, I really wanted to get in an open water swim before my race, and my in-laws' new lake seemed like the perfect place to do it.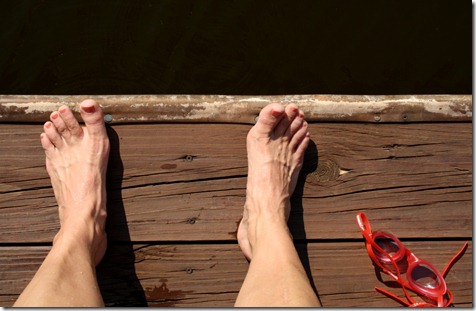 We even had a kayak, so the Husband could kayak next to me as I swam.  Never, ever swim alone, of course!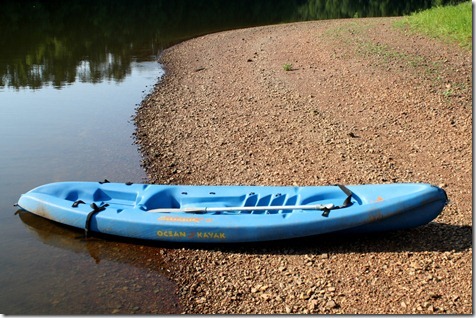 However, right when I got into the water, I started to freak out.  I haven't been nervous in a lake in so long, and I was disappointed and surprised to feel all the old symptoms of a Full-On Freak Out coming on.
"I'm a little nervous," I finally confessed to the Husband, treading water near the dock.
"What are you scared of?" he replied from the safety of the kayak.  "You've done this before. It's just another lake."
I was scared because it was so quiet.  When you do a tri, dozens (or hundreds) of other people jump into the water with you, splashing around and scaring off any potential predators.  Who knew what was lurking in this quiet lake?  We had already seen a spider the size of a golf ball, three frogs, and lots of large, jumping fish.  I was clinging to the kayak, trying to talk myself out of a freak out, when the Husband said, "Oh, look at that little turtle swimming towards us."
But it wasn't a turtle.  It was a SNAKE.  A swimming snake.  Seriously.  I got into the kayak with the Hus and watched the little guy swim past – he was a harmless water snake.  I tried to tell myself that, intellectually, I already knew there were snakes in the lake, but now that I had seen one… ugh.  "I feel a little out of place," confessed my city-boy Husband.  "This place is like, straight-up nature."  
I knew how he felt.
We kayaked around for fifteen minutes, and then I finally gathered the courage to get into the water.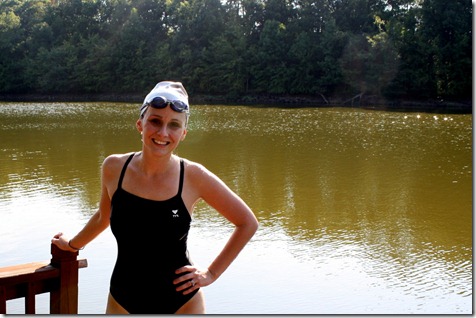 Thanks to Google Earth, I know that I swam about 500 meters, only 1/3 of what I'll swim on race day, but I felt exceptionally strong and confident.  My breathing was better than it's ever been in a race; I had no heart-thumping like I do when the gun blasts.  I loved swimming next to the Husband and seeing him whenever I took a breath on my right side.   
Afterwards, I kayaked a little bit by myself.  I didn't see any gators.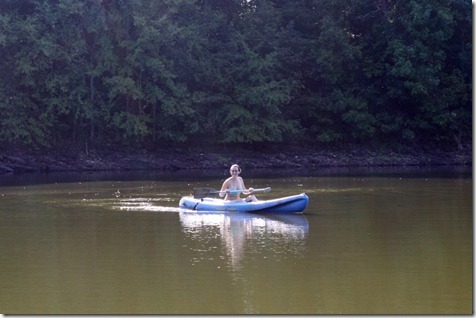 And we read our books.  Currently, I'm obsessed with The Hunger Games (on the second book!), and the Hus is reading A New Earth.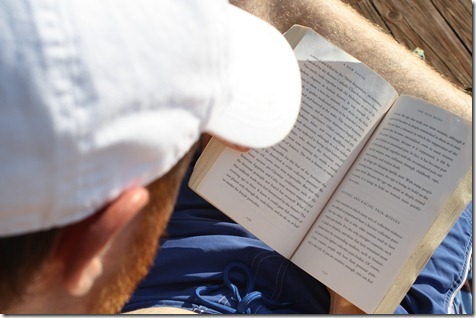 Sometimes, in open water swims and in life, I think you just have to close your eyes, pull on your big girl panties, and go for it.