I have been planning this breakfast for weeks – but I kept forgetting to make it!  I don't know why I put it off; this Chocolate French Toast Casserole was amazing.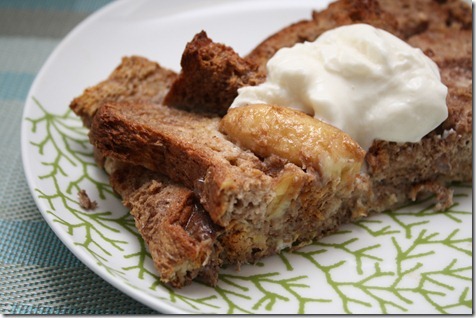 Ingredients (for two servings):
4 eggs
1/2 cup chocolate soymilk
1/2 tablespoon vanilla extract
5 – 6 slices of whole wheat bread (or gluten-free bread, as I used)
1 very ripe banana
Topping: Greek yogurt (or syrup)
Directions:
Preheat oven to 375 degrees.
Grease a small 8 by 8 glass casserole dish.
Chop bread into 1/3 strips, as shown below.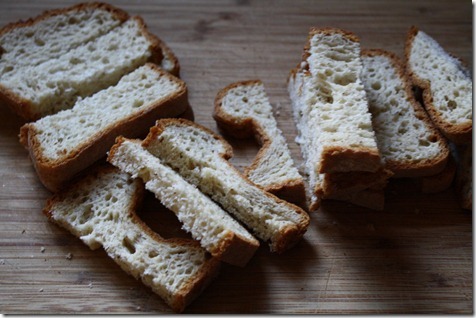 In a small bowl, beat eggs, chocolate milk, and vanilla extract.   Dump in bread and toss with hands, thoroughly coating all the bread.  Mash banana with a fork and gently mix in.  Let stand for a few minutes.
Pour mixture into casserole dish, bake for 30 minutes, and remove.  Let cool for a minute or so, slice in half, and top with Greek yogurt.
Hello, my beauty.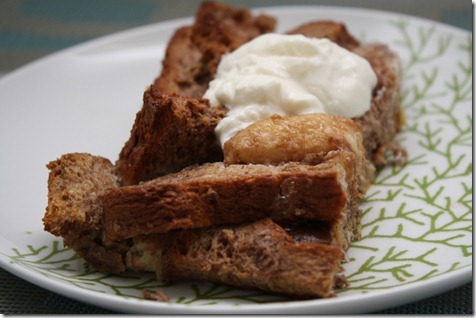 I liked this casserole because it was a little crunchy in spots and a little soggy in other parts.  Kind of like real French toast!