Over the weekend, I talked a little bit about my desire to get back into minimalist running and read the Chi Running book.  A reader named Nick offered to write a post about how 'mindful running' transformed his life.  I hope you enjoy his post (I especially like his tip not to set time goals for your first race of any distance!).
Nick says:  I got into minimal running about two years ago through "Born to Run," and the practice just made so much sense to me. I'm now 46 and had always had Achilles tendonitis, walked with a slight limp, and wore orthotics.  Since transitioning (perhaps a little too fast and painfully – go very slowly, maybe just a few minutes a week to start!) to minimal footwear, I have thrown away my orthotics and have absolutely no problems in my knees, ankles, or feet and have a healthy gait.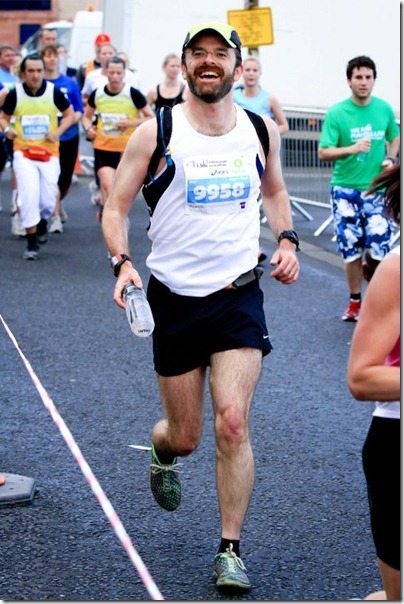 I only wear minimal shoes now, even if my 'non-running' life, using Vivo Barefoot shoes for work and Vivos, Fivefingers, or Merrell barefoot for everything else.
Minimal shoes on their own won't guarantee great running technique so I also follow the ChiRunning method, which I find logical and motivating. It's very mindful and stresses the importance of mastering good form, controlled falling, running with your engaged core rather than your legs and using "form focuses" to monitor your form throughout your run. My wife and I attended a ChiRunning workshop with Danny Dreyer in London last year and it was excellent.  I have had no running injuries following his simple methods. I also like Lee Saxby's ebook "Proprioreception."
To prepare for my first marathon, I read the "The Non-Marathon Runner's Trainer" by David Whisett. I just used it for its simple mileage plan and some psychological hints whilst ignoring its nutritional advice and especially the suggestion to munch ibuprofen to lessen running pain (some pain is inevitable in training!). 
The Edinburgh marathon itself was such fun. I ran in a pair of Vivobarefoot Evos and 1000 mile tri-socks and carried a Camelbak for hydration. I set my watch to alarm at 20 minute intervals to remind me to drink water and after the first hour I also chewed an organic Clif Bar Shots Blok for energy every time I drank. I was smiling all the whole way round. My clear goals were to complete the marathon and to enjoy it and I achieved both.
I resisted all temptation to set a time goal as that would pointlessly increase the chance of failed goals and hence disappointment. I managed the first half at my training time, but was getting tired and slower after 20 miles, so I had to walk a little bit then regained my mojo and ran the last few miles to the finish. I was euphoric for five days and have just booked my place on next year's Edinburgh marathon! 
Barefoot ChiRunning has changed my life markedly. I love running and being mindful about running rather than regarding it as some gruesome chore to keep me healthy and prolong my life. I walk and function better. I have much more energy and my mood and general sense of well-being and confidence are great as a result.
Do you actively think about your body position while running?  Ever read the Chi Running books?  And what do you think about setting time goals the first time around?  Yay or nay?