I was going to call this recipe "Panda Balls," but figured that was a little tacky.  So instead, let's call them Panda Bites.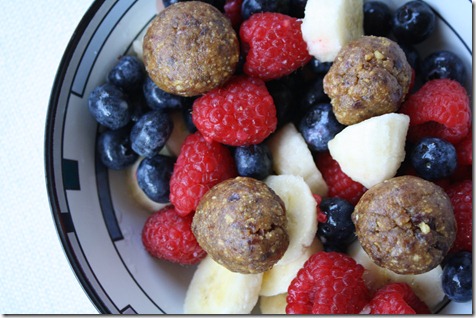 I've been rolling the idea of Panda Bites around in my mind for a few days.  It's a super simple recipe – just three ingredients! – an would be a great pre- or post-workout snack.   Now, the key to this recipe is Panda Puffs cereal, but I think other crunchy cereals (or maybe even raw oats, like these Vegan Date Squares?) would work.    However, if you haven't tried Panda Puffs, get thee to a grocery store ASAP – it's good!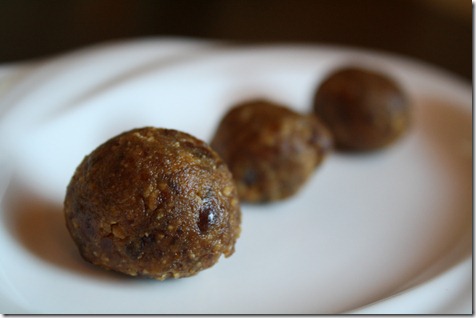 Panda Bites
Ingredients (yields 14 bites):
15 medium-sized pitted dates
1 cup Panda Puffs cereal
2 tablespoons sunflower seed nut butter (or other nut butter)
Directions:
Combine dates and cereal in food processor for 10 seconds.  Don't over mix!
Add nut butter and combine for another 20 seconds.  Mixture should be crumbly, not smooth.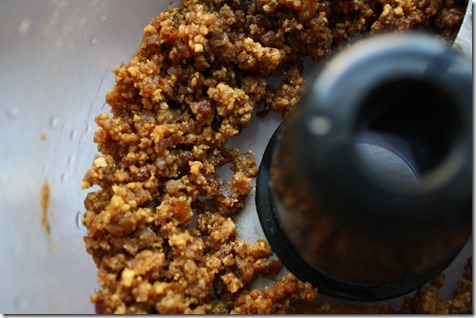 Scoop out 1 tablespoon balls and roll tightly in between your hands.
Place in sealable dish and refrigerate until ready to eat.  If you'd like them to last longer, freeze 'em!
I had four for breakfast, with lots of fruit.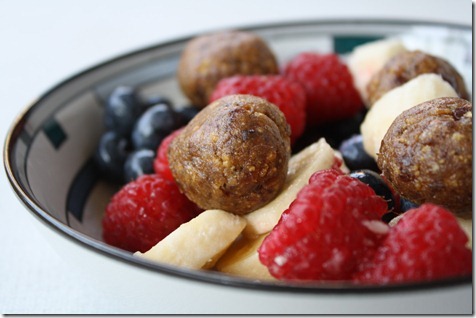 Does anyone else feel like Fall is creepin' on up?  It's still hot during the day but it's getting so cool in the mornings and evenings.  I love it!