I have a confession.  Let me preface my confession by saying that I am not normally a judgy-wudgy kind of person.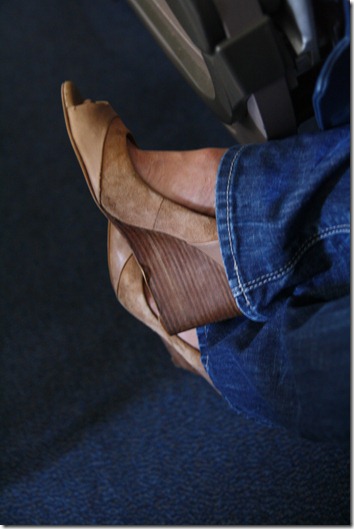 However, for years, I have judged women who wear high heels to the airport.  "What are they THINKING?!" I would internally rant.  "High heels are so uncomfortable.  Why inflict that kind of ankle pain on yourself?" 
Now I know.  They may be wearing high heels because their heels don't fit in their bag!  Duh.  Shame on me.  Judge not, lest thee be packing your suitcase to the very brim and have no room for your wedges. 
I'm in the air again – going back to Philadelphia again for my BFF Lauren's bachelorette.  I am very excited because I haven't seen Lauren for nearly a year – she moved to Singapore for work last September.  You may remember Lauren from my Disney Marathon recap; she ran the race with me.
Getting to the airport was quite the adventure.  We were running late – per the usual for a 8 AM flight – and then this happened: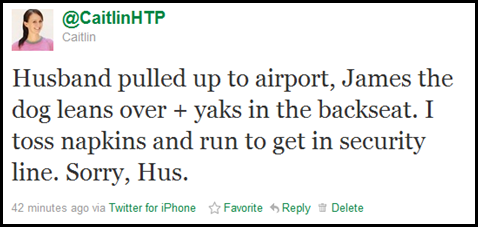 I felt terrible for leaving Dog Vomit Apocalypse 2011 in the backseat, but I was really questioning whether I'd make it.   The Husband waved me on.
I made through security with only minutes to spare and grabbed this smoothie on the way to my gate: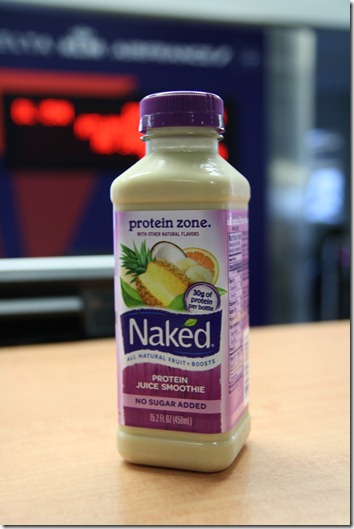 I like most Bare Naked drinks, but this one was a little chalky, thanks to the 32 grams of whey and soy protein.  It was super filling though (I drank the two-serving bottle).
And a mini Larabar for something solid: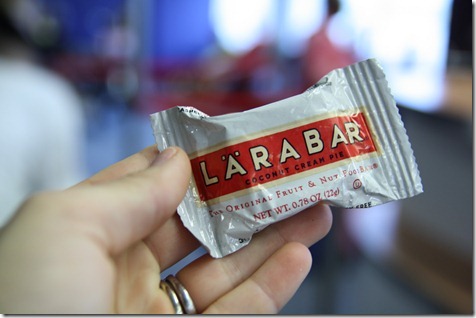 Seeya in Philly!