Hello! Whew.  It's been a wild day.  You know that feeling – that the day has just gotten away from you?  Yup.  That's how I'm feeling right now!
Exiling myself to Starbucks seems to be drastically improving productivity.  Especially because I brought a yummy salad to snack on: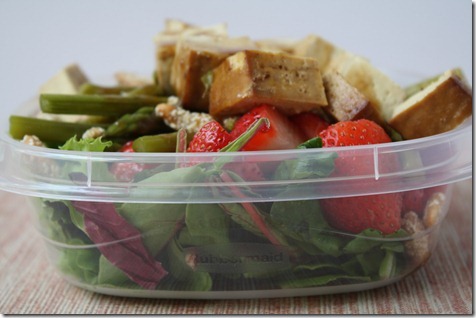 Well – I should say that the ingredients were yummy… separately.  Combined, not so much.  Green, strawberries, cashews, asparagus, baked tofu (pre-made from Trader Joe's) and balsamic.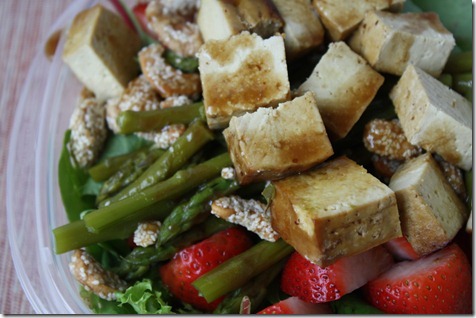 Wetty or Not, Here I Come!
So – I need some triathlon advice. 
I can't decide whether or not I should rent a wetsuit for my next triathlon – an Olympic (1,500 meter swim).  I've only worn a wetsuit once before, but the water was 55 degrees and whether or not I'd suit up wasn't really up for debate.
For the Lake Logan tri, however, I'm a little torn:

The wetsuit guidelines set forth by USA Triathlon are as follows.
USAT rules state that competitors may wear wetsuits if the water temperature is 78 degrees or lower.
USAT rules also state that if the water temperature is between 78.1 – 83.9 degrees, competitors may wear wetsuits but will not be eligible for awards.
If the water temperature is 84 degrees or above, participants may not wear wetsuits.
The USAT has all these rules about wearing wetsuits because they provide extra buoyancy, which can make the swim easier.  However, the last time I swam in a suit (a rented one), I felt very constricted.  It's hard to move in a wetsuit!  Plus, I'd have to rent a suit, which would cost money.
Oh, and as a ridiculous side note, I got my official race pictures from my last tri – here they are.  Major LOLs.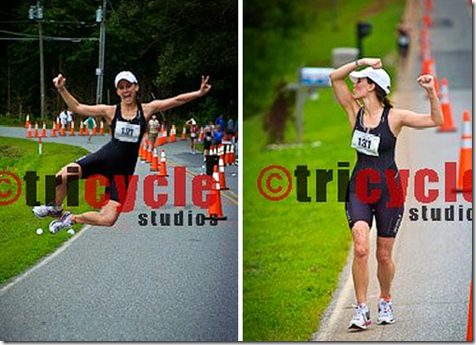 So- my fellow triathletes… if the water was 70 degrees, would you suit up or would you just wear your normal trisuit/bathing suit?  Help!