The winner of the 10 Personal Questions game was Julie from A Case of the Runs.  In response to what she keeps on her beside table, Julie said, "I sleep in a bunk bed (still, at age 26), so I just stash my phone, a small flashlight, and lotion in the nook between the mattress and the frame."
The mystery prize was a $20 donation from yours truly to the charity of Julie's choice.  She said, "I fundraise for one race per year.  The charity I choose varies from year to year: Rebuilding Together, Public Counsel, and the Red Cross.  Given that I won this prize soon after the fourth-month anniversary of the Japan earthquake, I think it would be appropriate to send the donation that way.  The tragedy happened quickly and was forgotten by some, but the devastation definitely goes beyond a four-month period.  I would love to see them come out of this a stronger nation, and I can't wait to visit someday!"
Everyone seemed to like the 10 Personal Questions game so much that I'm thinking of making it – and the charitable donation – a regular thing.  Fun!
Breakfast: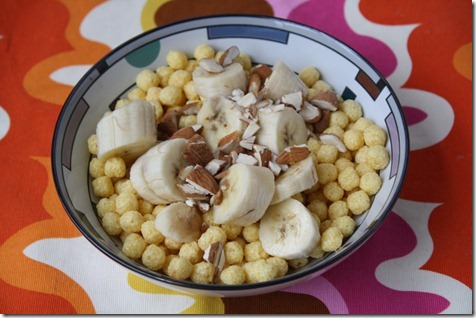 Gorilla Munch (which is apparently a non-peanut version of Panda Puffs), a banana, and almonds.  With almond milk.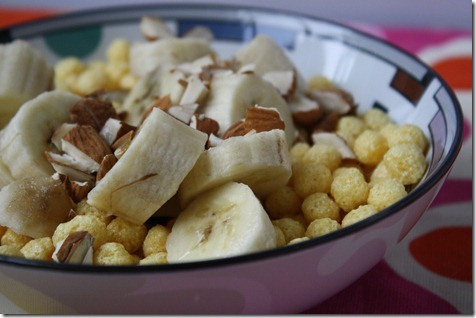 Okay, here is today's mini-rant…
As a follow-up to Four Natural Beauty Products I Love (and One I Hate), I've started to really look at the ingredient lists of the products that I already own, to try and determine if I should re-purchase them based on this Ingredients to Avoid list.
I am so pissed at the JR Watkins Hand Soap.  Why?  Because I was totally sucked in by the pretty, 'authentic' label that proclaimed the soap is "wholesome" and "never doctored up." I trusted the sales pitch on the label and didn't read the ingredients list myself.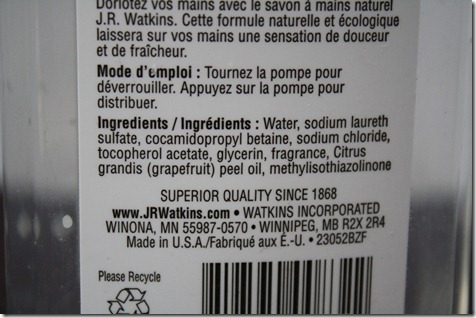 Tocopherol acetate is an allergen with immunotoxic properties and has been shown to cause tumors in lab animals in high doses.  And sodium laureth sulfate is a known skin and eye irritant that can cause ulcers or canker sores.  It also might be a possible carcinogen.    Doesn't sound very wholesome to me.
Now, I totally understand that one bottle of hand soap isn't going to kill me (and I'll use it up until it's done).  But it's more the false advertising that gets me!  The ONLY reason I bought this soap was because I thought it was better for me.  I hate products that present themselves as legit and just don't hold up to stricter standards.  Bah!  Waste of my money.
The Environmental Working Group has some great natural beauty product references (even a searchable database) including an awesome section on sunscreen.