Confession: My least favorite phrase is, "What will be, will be."  Similarly, I hate, "If it's meant to happen, it will happen."
I know these are comforting phrases, and people who say them mean well (and I'll admit that I've said them a few times, too), but whenever I think about the meaning behind these platitudes, I get SO annoyed.  Of course what will be will be!  It's being!  And if it happens, of course people will say it was meant to happen, or if it doesn't, they'll say it wasn't meant to be.   What if I want something else to be?  Or what if what is happens to be really crap?
Pretty sure I just talked myself in a circle, but you know what I mean. 
The other night, the Husband and I watched the movie The Adjustment Bureau.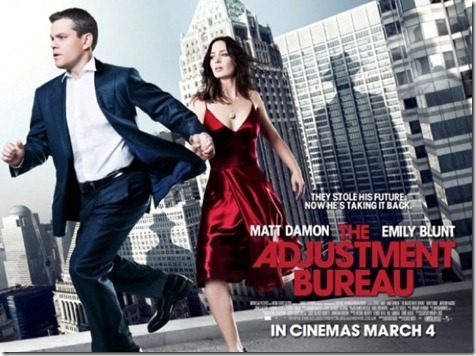 The plot goes like this:  Matt Damon is a rising politician who has a chance encounter with Emily Blunt.  Sparks fly – they're clearly meant to be.  But sinister agents work to keep them apart because being together is not according to 'the life plan' for Matt or Emily.  If Matt leaves Emily, he becomes enormously powerful, and she becomes a successful dancer.  But if they stay together, their lives will take a different path entirely.
Of course, this brings up all sorts of interesting questions about destiny and free will.  And that brings me back to my earlier compliant.  If we have free will, then what's up with the "what will be, will be" stuff?  Is everything just destiny?  Or coincidences?  Honestly, I'm not sure.
The movie prompted the Husband and I do to some fun life charting.  You know, if X, Y, and Z never happened, we never would've met, fallen in love, and gotten married.
In high school, I wasn't exactly cool but I wasn't un-cool, either.  But I definitely did not roll with the popular kids.  However, I fell madly in love with the most popular boy in school – I stalked him in the hallways and joined clubs just to be near him.  Yet we hardly ever talked because I was way too nervous to say anything; I'm not even sure he knew who I was.   I remember once he said hello to me at my locker, and I rushed home to tell my mom that he had spoken to me.  Basically, I had it bad.  (PS – I REALLY hope he's not reading this!)
Anyway, a series of chance events brought us together on a school field trip to Europe.  I had to literally beg my parents to let me go, and he got a last minute scholarship.  In Europe, we got to know each other, and much to my amazement, he actually fell in love with me, too! When we got back to America, we stayed together even though he was leaving for college.
If I had never fallen in love with this boy, and we had never gone on the field trip together, and he had never called me from the Miami airport to say he didn't want to see other girls in college, I would've never applied to the University of Pittsburgh.  I didn't even know where Pennsylvania was on a map (seriously).  If I hadn't gotten a scholarship, I never would've gone.  If I hadn't been placed on the 16th floor of my dormitory, I would've never met my best friends.  And if I hadn't been sitting on their twin extra-long bed the day Kristien stopped by to visit his old high school buddies, I never would've met my future husband.
And if the high school boy hadn't cruelly dumped me without warning during my sophomore year, I don't know if I ever would've gotten out of that relationship.  It was unhappy, but I'm not sure I could've ended it.  And without that, I would've never been available to dance the night away in a dingy frat house basement with the Husband… and now, the rest is history.
Without the Husband, I would've never started to write professionally.  I would've never moved to Orlando and then to Charlotte.  I wouldn't have Maggie and James.  Who knows what else would be different?  It's mind-boggling.  There must be thousands, if not millions, of different ways my life could've turned out – a spilled coffee, a rejection letter, a different friend, a disease, a new lover, a different job, a winning lottery ticket.
I imagine the possibilities of my life spreading out like creamer in my coffee.  I pour it in and watch the cream roll in different directions, rippling up on one side of the cup and disappearing down into the dark java on the other.  Who knows where I could be?  All I know is that I'm glad I ended up where I am.
Sometimes I wonder what is fate and what is just the consequences of our choices.  After all, life is a series of choices.  And sometimes the smallest choices create the biggest ripples.  
How'd you end up where you are?  Where else could you be?  Do you believe in destiny or is it all just chance?