Many people have asked about the Husband's exercise habits.  He doesn't do races like I do; instead, he really loves to golf.  He's actually pretty good, if I do say so myself!   He probably golfs 3 – 8 hours a week and runs with me once or twice a week.

 

However, the Hus doesn't like to run longer distances, so I usually bang out a mile or two, loop back and grab him, and then we run another two miles or so together.  It works!

I did two miles this morning, grabbed him, and then we did another two.  Four very hot and sweaty miles!
Then I met up with Katy Loves for a working Starbucks session.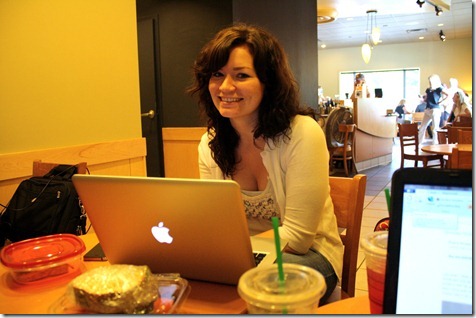 One iced coffee later, I was ready for LUNCH!  We packed food so we wouldn't have to interrupt work.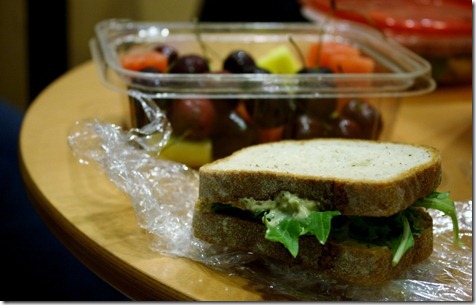 Hummus and spinach sandwich + a fruit bowl.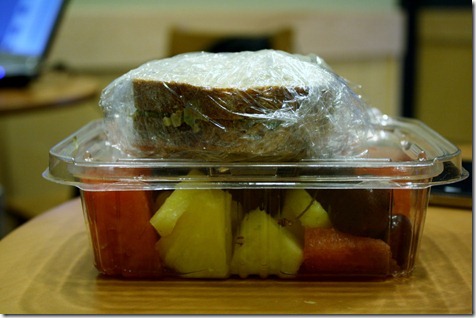 So – today is the day.  I'm headed to the doctor for follow-up testing for the "Necessary?" issue.  It's been a long, stressful six weeks.  The resurgence of my dysplasia has been hanging over me like a dark cloud.  I'm glad that I waited to go back for the second pap because it gave me time to make some lifestyle changes…  I've never been so good about eating vegetables and taking my supplements (I promise to do a post about my changes soon).  But, of course, I'm justifiably nervous.  Let's just hope I get good test results this time!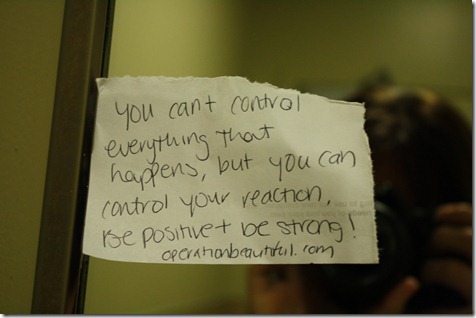 But one way or the other, I'm going to be okay.