Lunch left me stuffed and sleepy.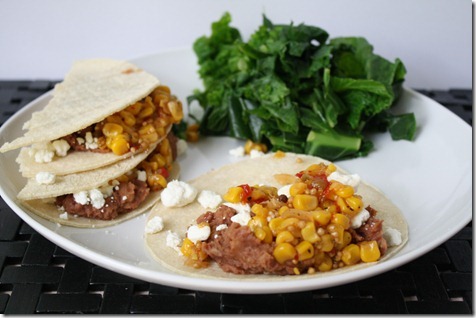 One food that I've really missed since cutting back on gluten on the advice of my medicine man is TORTILLAS.  Bread is easy to replace because there are so many good options on the market, but I've yet to see any gluten-free tortillas.  But today, I realized that corn tortillas are inherently GF – just corn and lime.  Yaaaaaaay!  Seriously.  Yayyy!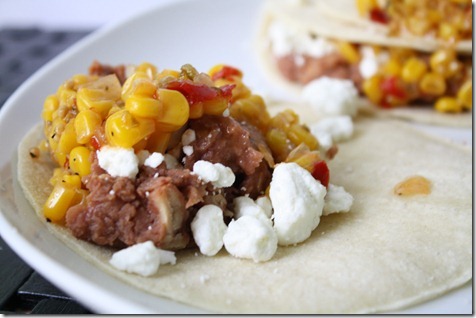 Try this delicious combo:
Refried beans
Goat cheese
Corn salsa (from Trader Joe's)
With steamed greens on the side:
Let's see – oh, I ran 3 miles this morning!  I was proud of myself because I only took two walking breaks and ran a negative split (which is when the second half of your run is faster than the first half). 
I hardly ever wear my Garmin 305 on runs anymore, not because I don't like it (I love it!), but because I feel like it creates unnecessary pressure.  I don't need to worry about speed while I'm trying to build back mileage; plus, I'm not specifically training for any road races.  I have to say that after 36 races – mostly road races – I think I'm going to transition to mostly triathlons.  I've found myself researching tris that are months and months away, and I haven't even looked at doing any big road races this fall.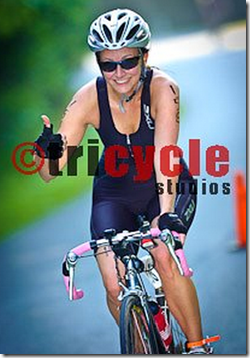 I'm actually doing a 4-mile road race this Saturday (just for fun, no speed pressure), and I have a sprint triathlon on Sunday.  SO PUMPED.
I love halves and marathons, of course, but man – tri's are so much more fun to train for!  I never thought that I would say this, but I love swimming.  Even in lakes.
Who am I?!