One of the problems with goals is that goals very often prevent you from appreciating who you are – or where you are – at this very moment.  Have you ever noticed this? 
If your goal is to lose 50 pounds, you might not appreciate the 10 you've already lost because you still have 40 to go.  Or if your goal is to make a baby, you might not fully appreciate time alone with your spouse because all you can think about is having kids.  If your goal is to run a 10K, you might not appreciate the first time you ran 4 miles because you've still got 2.2 to go. 
When gurus and yogis talk of "being present," I think this is what they are referring to – don't get so caught up in your goals and plans that you fail to appreciate where you are right now. 
I think I did that with my apartment.  I was so focused on buying a house that I didn't appreciate my apartment.  I also stopped caring how it looked beyond basic cleanliness.  And now that we've lost the house, my eyes have been opened – I love my apartment!  I should take care of it because I value it.
So yesterday, we made a few fun swaps that we've been putting off until we moved into the house. 
Old rug (that I hated with an undying passion because parts were unraveling and stained):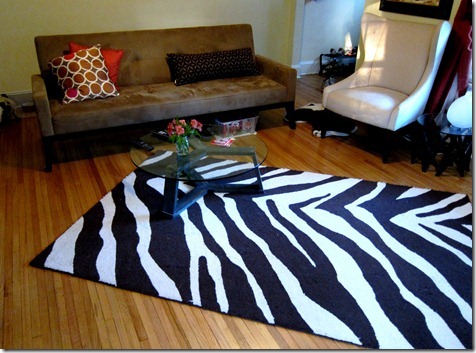 New rug:
New rug and two new pillow covers = $70 at IKEA!
Maggie's butt approves.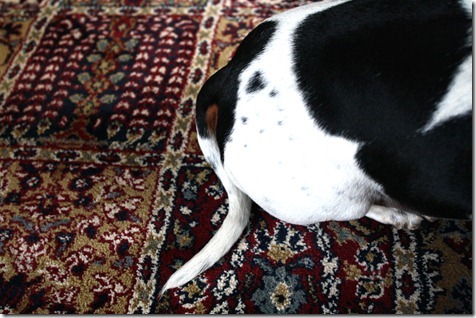 I also took touch-up paint and finally fixed all the marks on the walls, wiped down and shined the cabinets, and mopped.  Today is bathroom day, and I'm going to buy a new shower curtain since James chewed a hole in the last one and I've been ignoring it.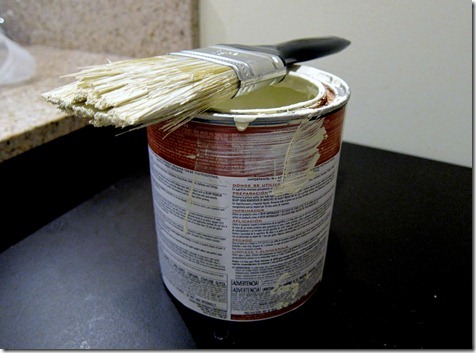 Don't let the future steal the present.  Enjoy what you've got right now.  Find something to love about your too-tiny apartment, your current running pace, your body, your family, your job.  Even if it's something small, embrace it.  It's possible to keep your eyes on the future and your heart in the present.
So please, gather 'round my freshly cleaned kitchen, sit at my gleaming countertops, pull up a chair, and enjoy a lovely plate of Vegan French Toast.
Ingredients:
2 slices whole wheat bread / gluten free bread (if you want the entire recipe to be vegan, make sure you select a vegan bread)
1 whole very, very ripe banana
1 tablespoon peanut butter
Drizzle maple syrup
Fruit for topping
Directions:
Preheat griddle to medium-high and thoroughly grease <—overgrease it or the toast will stick.
In a food processor, combine the banana and peanut butter until a liquid forms.
Pour banana liquid into a bowl and dredge the bread in, as you would for normal French toast.
Place on hot griddle and cook each side 4 minutes or until it begins to brown and doesn't stick to the pan.
Serve with syrup and fruit.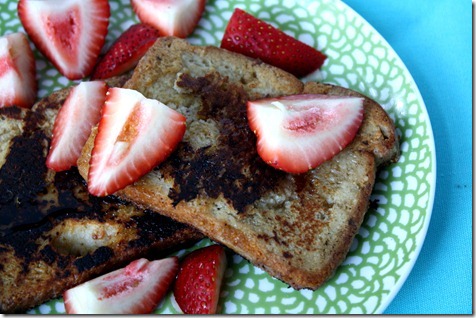 What are you lovin' about your life right now – even if it's only the halfway mark to your final goal?