After three weeks of eating Mmmm Sauce for nearly every dinner, the Husband finally balked.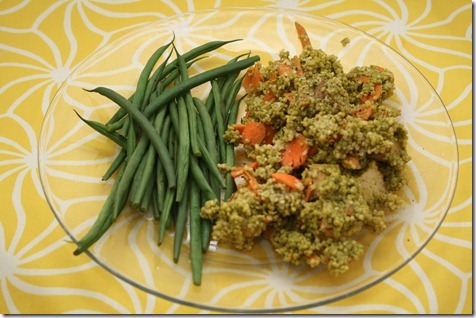 "Um, babe?" he said in his sweet little English accent. "Don't get me wrong, this dinner is amazing… But I am getting kind of tired of Mmmm Sauce."
BLASPHEMY!  There can never be too much Mmmm Sauce!
I calmly replied, "But this isn't regular Mmmm Sauce.  I added spinach to it so it's Green Mmmm Sauce."  To which he silently stared at me.  He's not buying it.   
I think he's planning a dinner mutiny and will cook our dinners for a while… Or at least until I'm over the Mmmm Sauce phase.  He's going to have to pry the nutritional yeast and curry powder out of my cold, dead hands.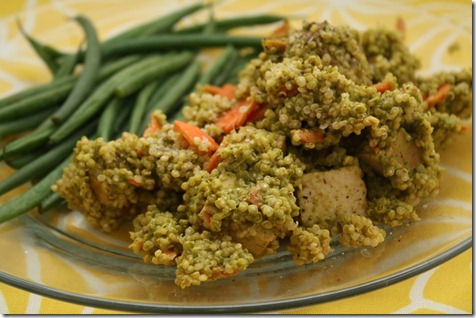 Quinoa, Green Mmmm Sauce, carrots, and baked tofu (pre-packed from Trader Joe's).  
With these amazing steamed green beans on the side – so good.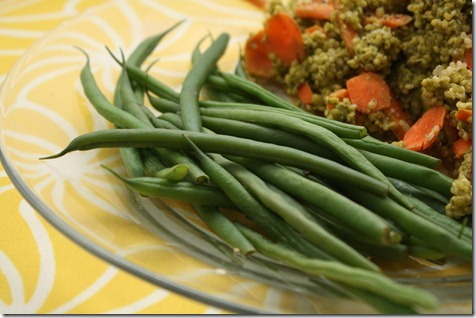 Dark chocolate for dessert!
Snackage was Panda Puffs and Greek vanilla yogurt.   Maggie probably ate 1/4 of these Puffs.  She LOVES them.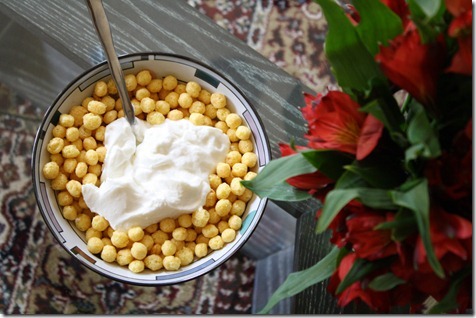 Ready, set, reading time!  I am in the middle of The Help and can't put it down!