Morning!  The Husband and I worked really late at the clinic, so I took the night off and shopped online for a new backsplash.   And today, we got up early to deal with some closing issues.  We have a meeting with the bank and another inspection.  Whew.  Buying a house involves a lot more than just picking one out, that's for sure.
I thought Friday morning would be a good time for a friendly little debate, don't you think?  Here are some other Great Debates on Healthy Tipping Point (some serious and some not-so-serious): 
Yoplait was recently attacked by the National Eating Disorder Association (NEDA) for this ad, which features a woman 'internally debating' whether she can have a slice of cheesecake and then opting for Yoplait yogurt.  (Warning: may be triggering if you have a history of eating disorders!)
Her debate includes wondering if she could have the cheesecake slice if she ate it "while jogging in place" or if she had a small piece "and eight slices of celery."
After NEDA pointed out that this glorifies distorted attitudes towards food and validates disordered thinking as normal, Yoplait pulled the ad and apologized.
Personally, I HATE Yoplait and Kellogg Special K ads because they play on woman's fears that they aren't good enough unless they are skinny.  I also think ads like this reinforce the idea that good girls don't eat dessert, or you have to bargain with yourself before you eat a dessert. 
Did you know that women have 13 negative body image thoughts per day ON AVERAGE?  The last thing we need is companies like Yoplait trying to make us feel bad so we are compelled to buy their product.
I realize that making healthy choices involves occasionally eating dessert in moderation or straight-out opting for the healthier choice, but if someone really wants a slice of cheesecake, they should just eat the slice of cheesecake!  Not beat themselves up over it.  In the past, whenever I really berated myself for food choices, it only made me feel worse and more likely to make not-so-healthy choices (like Fat Talking or overeating).
One of the topics that I regularly address during Operation Beautiful presentations is Photoshopping.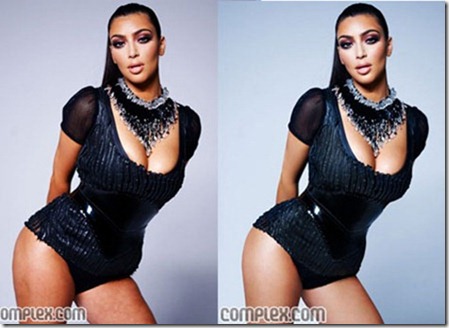 There is a lot of statistical evidence that reading fashion magazines makes girls feel badly about themselves (70% feel worse after reading), and 2/3 of teenagers say their ideal body type is a model or celebrity's (which are nearly all underweight according to their BMI number). 
I don't know about you, but I'm tired of the media and businesses making me feel bad so I buy their products.  I hate these stereotypical messages about women and 'indulging.'  I hate the message that women need to debate and bargain with themselves before simply enjoying food.  Food is wonderful.  It's not suppose to be a source of torture.  These commercials imply that it's totally normal to be tortured over food. 
By the way – Yoplait yogurt is essentially junk food that is rammed with artificial ingredients, including multiple artificial sweeteners.  Personally, I find the portrayal of Yoplait as the 'healthier alternative' to be laughable.  If you want a yummy yogurt that will actually make you healthier and keep you fuller for longer, try Chobani, Stonyfield (the non-Greek version is closer in price to Yoplait), Fage, or Oikos.
So here's the debate: Did NEDA overreact to the Yoplait ad?  If you have an ED, do you think ads like this are triggering?  If you don't, do ads like this make you feel bad or do you just ignore the messages?