Still playing the waiting game!
The Husband and I unleashed our nerves on a nice 3.0 mile run this morning.  He's been running with me a lot more since he dropped his gym membership – and I like it!  It's a good way to get in conversation time.
One of the topics we discussed on our run was my upcoming sprint triathlon!  Last week's Open Water Race got rid of my nerves.  Now, I'm just excited (I think).  Thinking POSITIVE THOUGHTS!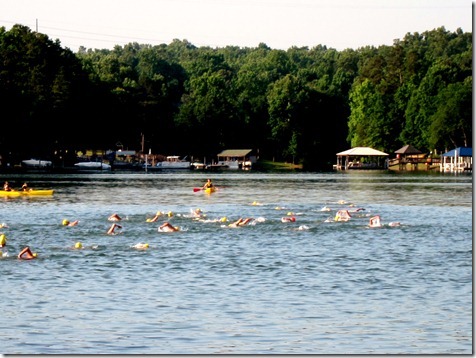 The days before a day are SO important.  Here's my suggestions for getting ready: Get Your Game Face On:  What to Do the Days Leading Up to a Race.  That post covers things like:
How to taper your workouts
What to check out on the race's website
Why you should test-drive to the race location
The Number #1 Rule of Racing
Post-run breakfast was toast, eggs, and a banana: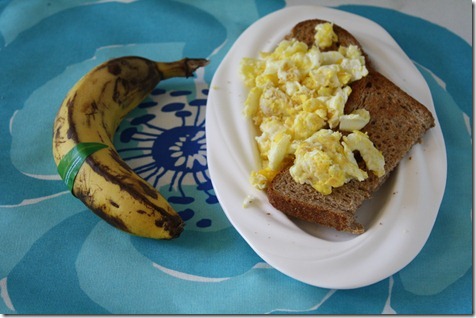 Tonya Update
Sunday's race is about much more than me – it's also about my neighbor, Tonya, who was diagnosed with brain cancer less than two weeks ago.  Tonya is a mother to two little boys and a wonderful wife.  Thanks to your donations, over $16,000 was raised for Tonya's medical costs.  Please consider donating if you haven't already.  Just $10 really makes a difference!
Many of you have asked for an update on Tonya.  She had a brain biopsy last week and is awaiting results (it's definitely cancer, but the results will tell the doctors how to proceed).
She is generally in good spirits and went to a lake house with her family to relax and decompress.  She is planning to get a tattoo on her head (which will soon be bald from the chemo) that says, "Cancer is a blessing."  Obviously, she doesn't want cancer but is trying to see the disease in a positive light – it has brought her closer to her family, friends, God, and community… including you guys!  She also says that she hopes the tattoo will encourage people not to be so afraid and talk to her about their own experiences with the disease (like in line at the grocery store).
She's named her tumor Justine!  The tumor is on the left side of her brain.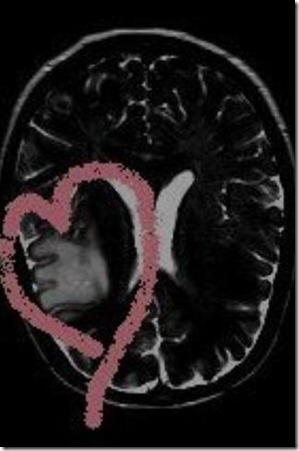 (Source)
Please consider making a donation to help Tonya.  Remember – I'm raffling off a Garmin 305 GPS watch, so there's a sweet prize up for grabs, too!