Dear me.  I completely forgot Operation Beautiful's two year anniversary.  It was a few days ago.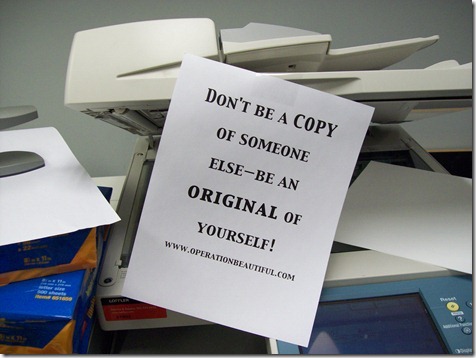 One question I frequently get asked during Operation Beautiful interviews is "What inspired you to develop this world-wide organization?"  But funny thing is that I never actually set out to create a 'business' at all.  Operation Beautiful is probably the most organic, genuine thing that I've ever been involved in. 
Two years ago, I was completely overwhelmed.  I had a full-time job as an urban planner, but I wanted to make a career change to Physical Therapy, so I enrolled in Valencia Community College (we lived in Orlando at the time).  I was working 40 hours a week, taking three intensive science courses, planning the first Healthy Living Summit, and writing this blog.   To top it all off, I was preforming really poorly in Chemistry, my hardest class. 
One night, I got back a test – and I had gotten a 45%.  Seriously!  I was so upset, so I excused myself from class and went into the bathroom.  I stood in that fluorescent-lit bathroom and stared at myself in the mirror, allowing all these terrible, negative thoughts to race through my head.   "You are so stupid.  You are an idiot.  Why did  you think you could do this?  You will never get into graduate school.  You are wasting your family's money.  You are so dumb.  You will NEVER understand chemistry."
I was startled by my negative thoughts.  It reminded me a lot of how I used to bash my body when I was in college.  It also reminded me of my period of self-harming.   Determined to change my thoughts, I reached into my bag, pulled out a scrap of paper, and posted this on the bathroom mirror: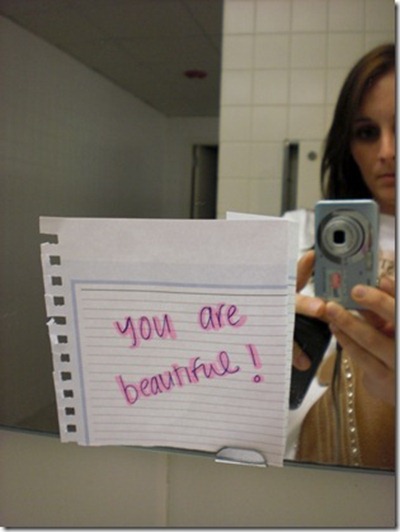 Why did I write that particular message?  I'm not really sure – I just wanted someone else to find my note and feel special, the opposite of how I felt at that moment.
In true CaitlinHTP fashion, I took a picture of my note and blogged about it when I came home that night.  I put about 20 seconds of thought into the name and called it Operation Beautiful.  I asked you all to participate, and the crazy things is… you did.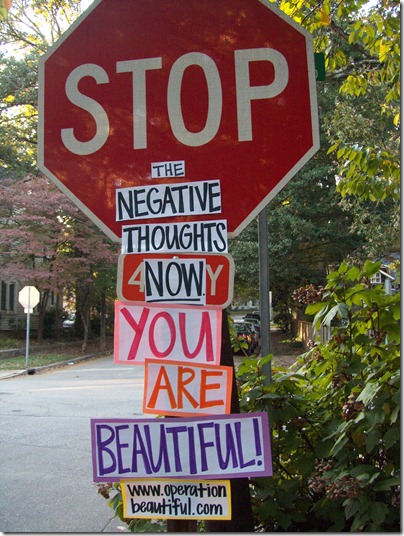 The word began to spread on blogs and Facebook, and soon I was receiving notes from people all of America and Canada.  Then, I stared to get notes in Spanish and Chinese and French and German.  Over the last two years, I have received over 8,000 notes, including one from every single continent (I'm sure tens of thousands have been posted and not emailed in).  There was even a note  posted on the South Pole in Antarctica!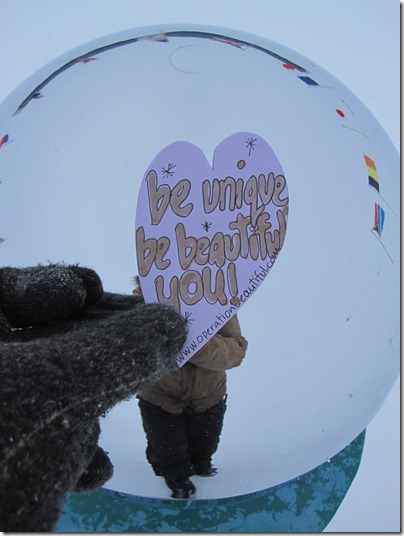 Since Operation Beautiful began, the site has been featured on The Today Show and the Oprah Winfrey Network.  The site's first book was published in August 2010, and the second book – which will be geared towards tweens and teens – will be published in Spring 2012. 
But the most important part of Operation Beautiful have been the stories.  People say that posting the notes helps them feel more confident and happier.  People who find the notes are touched, too.  I can't tell you how many times I've heard that finding a simple Post-It changed someone's life.  "I am bullied at school, but Operation Beautiful helps me hold my head high," one middle school girl said.  "I keep jumping from one abusive relationship to the next.  Operation Beautiful is helping me slowly understand that there are good people out there who care about me," a 20-something year old wrote in.  "I was headed to the bathroom to purge my lunch, as I always do, but I closed the stall and found an Operation Beautiful note telling me that I was good enough the way I was.  I didn't vomit that day, and I haven't since," another girl said.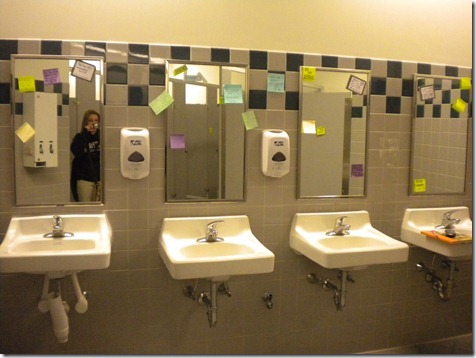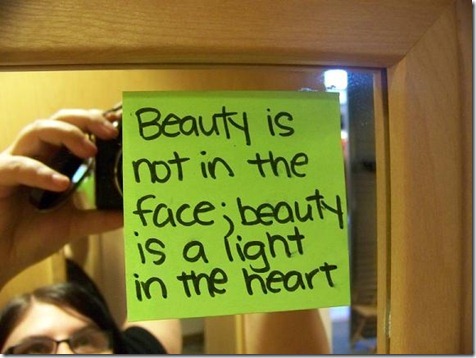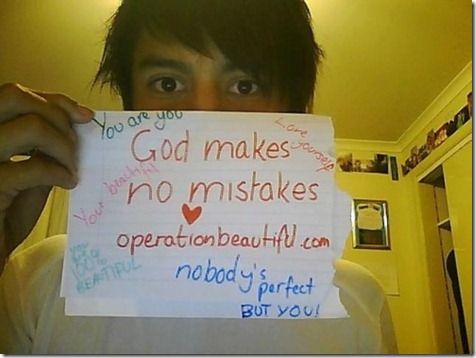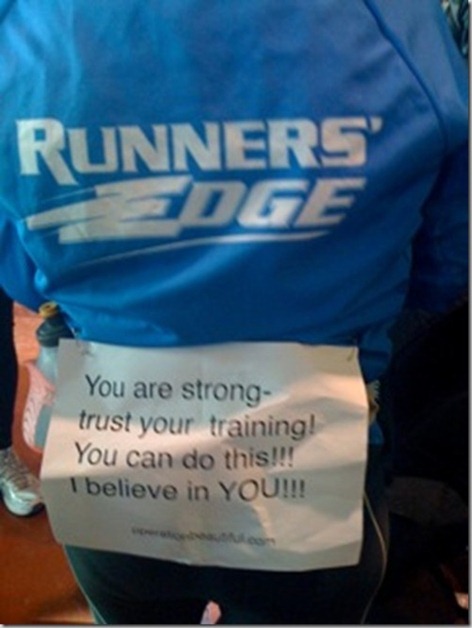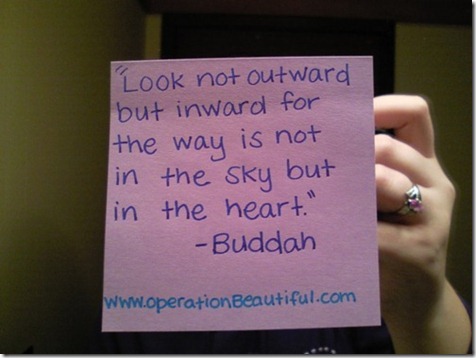 Operation Beautiful would be nothing without all the amazing people who post notes every day.  Operation Beautiful is YOU.  You are strong, amazing, vibrant, kind, smart, worthy, awesome, epic, and yes… beautiful.  Inside and out. 
Two years and counting, Operation Beautiful is the most amazing thing that I have ever been involved in, and I will be forever grateful that I bombed that Chemistry test!     
To celebrate Operation Beautiful's Two Year Anniversary, I'd like to do a giveaway.  The grand prize winner will win my favorite food processor + the Operation Beautiful book.  Two runners up will win the Operation Beautiful book.  The Operation Beautiful book is packed with 125 notes that will uplift and inspire you, as well as tips on how to lead a happier, healthier life.  It's a GREAT gift; I'm sure you can think of a woman or girl in your life that needs to hear a positive message.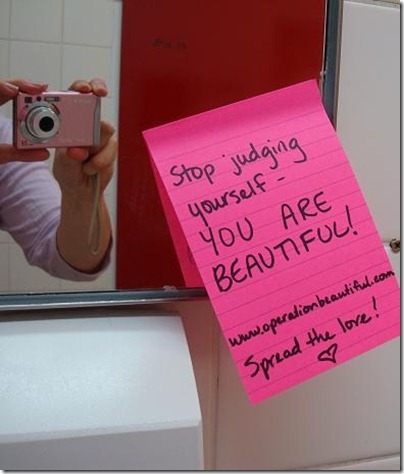 To enter, simply leave a comment honoring a beautiful woman you know.  I'll pick the three winners tomorrow!
PS – Want to participate in Operation Beautiful?  Simply post a note, take a picture, and e-mail it to me at OperationBeautiful@gmail.com!  You can follow Operation Beautiful on Twitter, Tumblr, and of course, on the blog.
PPS – Want to know what happened with my plans for a career change to Physical Therapy?  Check out Everything Changes and Everything Changes, Part II.