Afternoon!  The Husband and I are running around like little maniacs, trying to get errands done and see patients at the clinic.  And I'm squeezing in some writing in between.  Whew!
Sesame-seed coated cashews as a snack: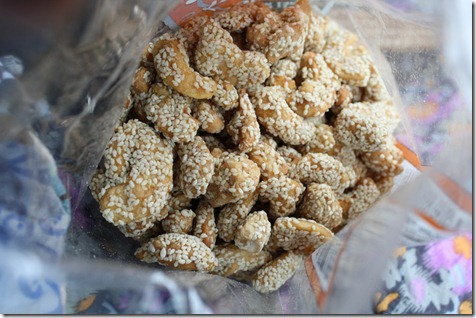 Straight outta the bag.
And lunch was this amazing Fresh Basil Pasta Salad.  Super simple, but a nice change from marinara sauce.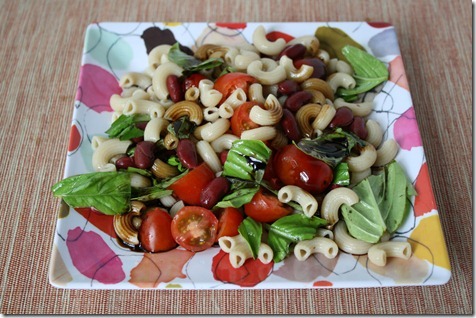 Ingredients:
1 serving whole wheat pasta, prepared according to package directions (I used a GF kind – not a whole wheat kind – that wasn't that great)
1/4 cup (packed) fresh basil, chopped
5 cherry tomatoes
1/4 cup kidney beans
Balsamic reduction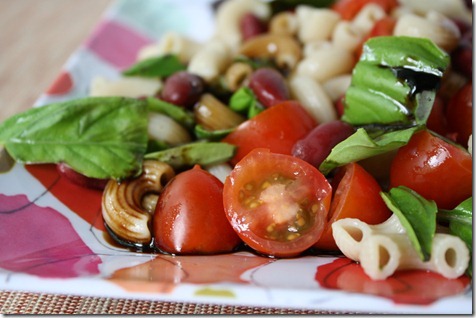 Balsamic reduction is so yummy and very easy to make – just pour about 1/2 cup of balsamic vinaigrette into a small pot, bring to a rolling boil, and cook until most of the liquid steams off.  Keep an eye on it!  Once the balsamic is reduced to a syrup, it's ready.
I intended to add some artichokes to the pasta, but we could NOT get this jar open.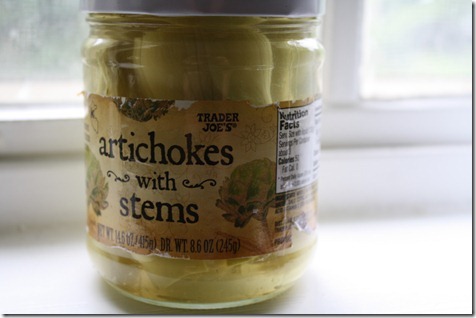 The Husband tried, I tried, Nicole tried (she had stopped by to pick something up)… and NO ONE could open the jar!  We put it in hot water, tapped the top, banged the bottom – no avail.
I know people are going to ask so – yes. I wrote the same dress on Tuesday.  Call me gross and disgusting, but I believe in re-wearing work clothes if they aren't actually dirty.  And workout clothes… even if they are dirty.  But that's another story.  I promise I never actually smell.