It's time again for the workout weekly round-up! I like to take a macro view of working out instead of looking at each day one-by-one; I think this outlook helps keep me healthier and more balanced.
So – here's what I did this week:
Monday: Swam 1,000 yards
Tuesday: Rest day
Wednesday: swim 1,200 yards
Thursday: Ran 1 mile
Friday: Swim 1,000 yards
Saturday: Hot Yoga
Sunday: Long walk
Did you catch that?  Yup – I ran on Thursday at Girls on the Run!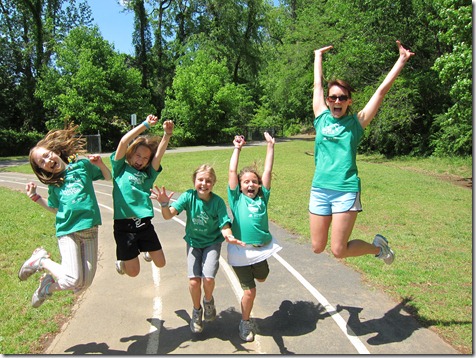 Some background: on March 10, I did something horrendous to my knee/leg while on a 12.0-mile training run for my upcoming half  marathon.  The injury was so painful that it forced me to skip three major races I had signed up for in late March/early April.  I actually haven't ran since March 25, although I did walk a half marathon on April 2 (which was a bad idea because it really, really hurt).
I've been run-free for a little over 5 weeks. Unfortunately, I haven't been pain-free.  I've been keeping track of my flare-ups, and my knee has hurt sporadically after yoga, sitting on an airplane, and walking at the mall.
HOWEVER – I think I'm finally truly on the mend (knocking on every wood object and structure around me).  At GOTR, I've been walking around the track with the girls, explaining that I cannot run with them because of my injury.  But on Thursday, I decided to run with them because it was so hot and no one was feeling very motivated.  I ran a mile very slowly, and although I was "aware" of the area after, no pain!
This makes for a very happy Caitlin.  I'm keeping my fingers crossed that I'm over the healing hump and will be able to run the GOTR 5K on May 7.  I'd also love to get back to longer workouts.  My game plan is not to run again until May 7 and then walk-run the race.  We'll see!
Breakfast: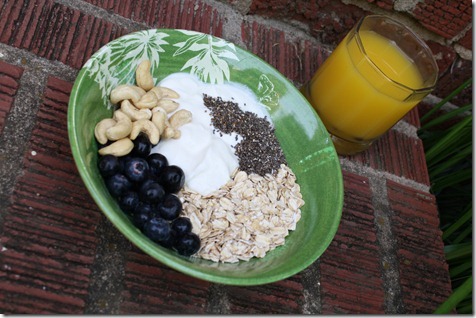 A bowl of Greek yogurt, raw oatmeal, cashews, blueberries, and chia seeds.  With some orange juice on the side.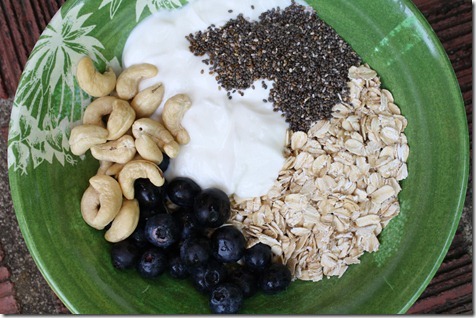 How was your workout week?