During the More/Fitness Half Marathon, I ran (walked?) into Elaine, who was also running the event with Thomas Bagel Thins.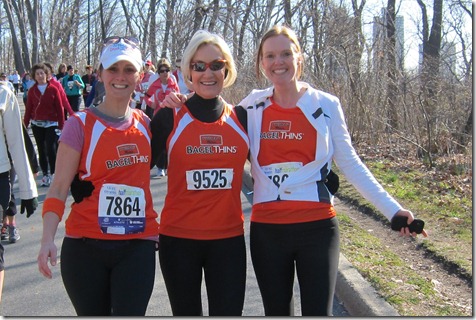 I had heard about Elaine at dinner the previous night; Thomas' PR gal told me that Elaine was a 73 year-old rock star who had ran over 100+ marathons!  When I spotted her during the race, I flagged her down so we could chat. 
Elaine didn't start running until she was in her 40s.  She's an inspiring woman who has raised 7 children, got married during the Disney Marathon, and won Mrs. South Dakota at the age of 61, beating a bunch of 30 year-olds. She is also a cancer survivor and has written four books.   You can read more about Elaine on her website. 
I put out a call for some Q&A for Elaine earlier in the week.  It was VERY hard for me to whittle down the 50+ questions received!  I hope you enjoy reading this little Q&A with Elaine, an inspiring role model for all ages.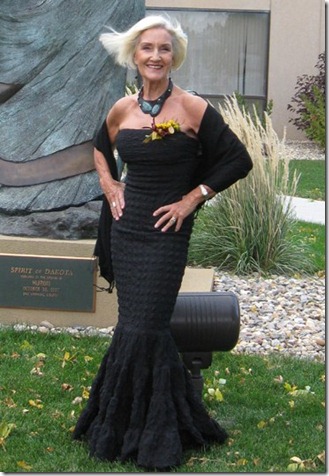 (The word you're looking for is "hottie!")
Angela @ Eat Spin Run Repeat asked, "Elaine is so inspiring!! I'd love to know what she does to motivate herself. I love running, but there are always those days that I just don't feel like it. What inspires her to keep going, and apart from racing goals, what other goals does she set for herself?"
Elaine said:  "Hmmm; I don't always love running, but I love having completed my run. I often don't feel like going out, but knowing what running has done for me in every avenue of my life keeps me at it. Getting out of the house is therapy in itself…time to say my rosary, get creative ideas, and enjoy the serenity of the canyon; it's so about me. I guess just learn to be a little selfish!  I have goals in every arena of my life; educational, job related, speaking, writing and personal. Life is so much fun I want to make the most of it!"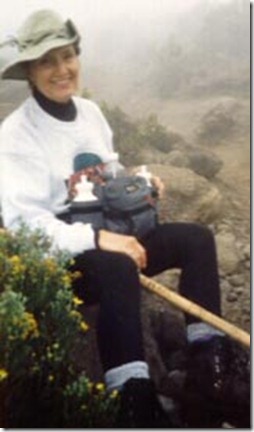 (Elaine hiking Mt. Kilimanjaro)
Sarena (The Non Dairy Queen) asked, "She is amazing! It is so inspiring to see older people doing things and motivating younger people! I hope to have that more and more throughout the years. I want to know what her diet is. How does she fuel herself to be so energetic?"
Elaine said: "Being an old ranch girl, I'm all about protein. I eat a balanced diet, but small portions and eat at least six times a day. I avoid anything white (i.e. processed flours), drink lots of water, and remember that food is only fuel… I eat to live, not live to eat. Okay, so I do have this thing about dark chocolate, and the red wine is for the potassium…  And motivating younger people is great! I loved when one of my middle aged-friends said, "I saw you our running in the snow!" I said, "And I bet you thought 'Wonder Woman'!" She said, "Well… I thought 911". Gotta love kids."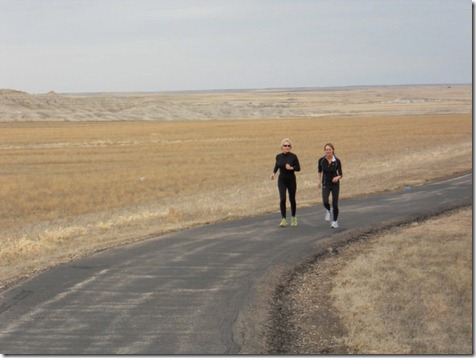 Sophia @ Raven Waves asked, "How do you find time to balance all the different aspects of your life? Do you have tips for time management that you can share with us?" 
Elaine said: "Pure survival. Do what needs doing first and fit the rest in. I have always had several balls in the air at once…I think it helps to be a little ADHD. I get so many projects started I have to finish or I can't find the bed. Secret is that I'm most always doing something I love. Please remember, I am a quantum leap from where you people are… my kids are grown. It was not always a walk in the park, but I took care of me first so I had a healthy, happy person to take care of the rest of them. Remember, energy begets energy…and it's contagious. 
(Elaine ran from the Atlantic to the Pacific Ocean across Panama, 60 miles, to celebrate her 60th birthday!)
Parita @ myinnershakti asked, "I'd like to know what she thinks about and how she defines the terms health and beauty and what advice she has for young women on not succumbing to societal pressures on being thin and fitting into a predefined mold." 
Elaine said: "I work daily with 7th and 8th grade girls who have poor body image! I encourage them to walk beautiful, feel beautiful and love themselves as they are. A sincere smile is more important than the right lipstick…I even have them walk down the hall saying, "I'm beautiful, I'm beautiful" under their breath. We are what we believe we are. The sexiest woman in the world is she who is confident in who and what she is. That's also why it behooves us to live outrageously and wonderfully; life really is one big canvas…throw lots of paint at it." 
Angela (Oh She Glows) wrote, "I'd love to know if she ever dealt with any running injuries and how this impacted her training."
Elaine said, "Luckily for me, I've only had one torn meniscus in a fall from a bronc.  I ran through it till I couldn't, had it scoped, and was back running in two weeks. Cancer was a bit of a speed bump, but only that…ran Los Angeles Marathon three months after major surgery. Injury is just a word, folks!
Baking 'n' Books wrote, "What are her books about? Running, cancer? And did she start writing later in life as well?"
Elaine said: "I have always written, it's my catharsis. I have some poetry from fifth grade (it's pretty bad!). My books are Gotta Run… (I ran 26.2 marathons in 2000 and it's that story), Running On… (adventures on the run after I began in 1978), the other two are a lighthearted look at fitness and training. They are called FT HPNZ: A License to Run and Fitness by the Numbers."  You can learn more about Elaine's books here.
Nancy wrote, "I am a 55-year old former 2:08 half marathoner, and my life dream is a marathon. I'm facing the challenges of retiring from 33 years of teaching, and relocating with my retired husband to a new state (Arizona). I'll need a new job, but hope to use the nice weather (we currently live in the hideously fickle and cold Midwest) to get out and train for a marathon. You inspire me. Any advice for all of my life changes? I'd appreciate her wisdom."
Elaine said, "Wow. You need to come do the Leading Lady [the marathon Elaine helps organize]; you could be going to Boston Marathon one day, too!  You have taken on a lot of stressors; the marathon is going to be your salvation. Picture yourself running in beautiful scenery whenever you get stressed.  I'm impressed with your courage; I think you should view this as an opportunity to find a new you!"
(Getting married during the Disney Marathon!)
Kara wrote, "I'd love to ask her about balancing being a good mom and running! Did she have creative ways to get in miles (like running laps around her kid's soccer game)?"
Elaine said: "My kids were 7, 8, 9, 14, 15, 16, and 17 when I began running, so it wasn't too bad. Yes, I ran everywhere, even in circles in my basement. One day I said, "I'm going to run into town for some milk." And my youngest quite seriously said, "Are you taking the car?" I never missed any of their myriad activities…first things first!"
(All pictures courtesy of Elaine's website)