Psst – Searching for a Mother's Day gift (it's May 8!)?  The Operation Beautiful book is temporarily on-sale on Amazon for 60% off retail!  Pretty sweet.  🙂
Morning!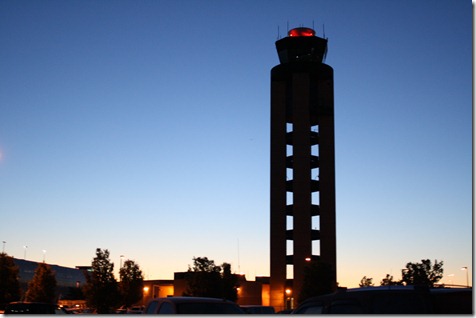 It was a very early morning for me, indeed.  I was up at 5:30 for a 7:30 flight. 
Does anyone else have the worst time sleeping before any big event?  Even if it's just a race or a morning meeting, I toss and turn all night – it's like I think I'm accidentally going to sleep through it (which I never have but my mind thinks that's besides the point).
Today's journey is for work.  I am going to the Pennsylvania College of Technology in Williamsport, PA for an Operation Beautiful presentation.  I actually went to PCT last year for a presentation, but this year, I'll be doing a brand new presentation.  I'm a little nervous to do something new, but I'm excited, too!
I also did an Operation Beautiful presentation last night in Charlotte. I spoke to a small group of middle school girls in a special after-school program called Beautiful Girls, which is intended to boost confidence and help them stay out of trouble.  We ended up posting notes all over 6th grade bathroom and using a few notes to cover up some negative graffiti on random lockers.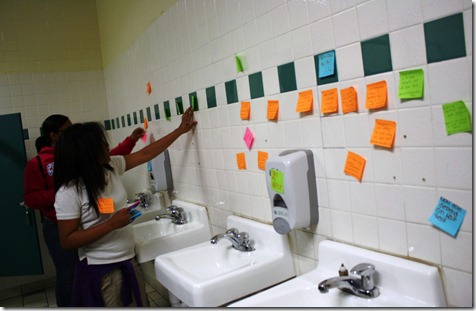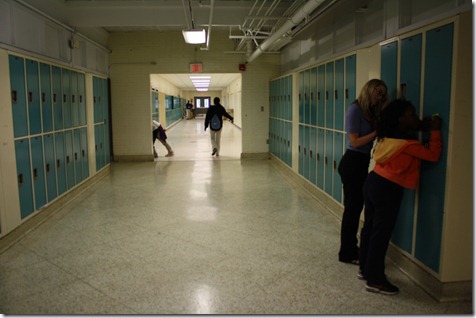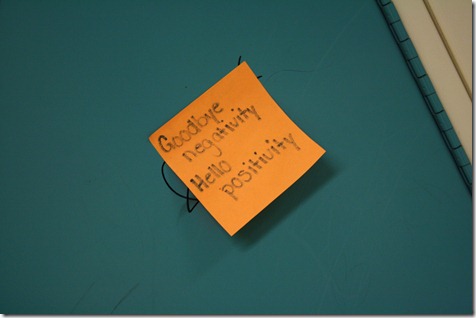 So much better than "F–k You!"  Seriously.
Back to today…
Since my wake-up call was so early, I ate breakfast at the airport: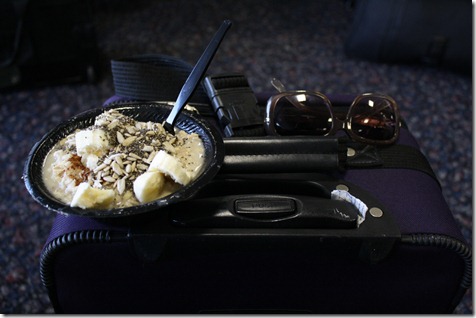 I died laughing when the woman handed me that huge bowl of oatmeal and asked, "Are you sure you just want a side of oatmeal for breakfast, honey?!"  Ummm… this is no side dish!  I smiled and said it would be fine.  🙂
I brought my own sunflower seeds, chia seeds, and banana to mix in: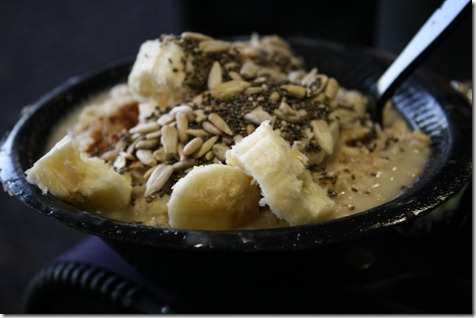 'Twas delicious, but the entire time I was eating it, I could feel the businessman next to me STARING at my food as if to say, "What the heck are those little black thingies and WHY is she eating that?"  (I wish he had just asked – I would've told him that chia seeds are a good source of Omega 3's and fiber.)
The pilot just came back on and said we're delayed even more.  We've been sitting on the tarmac for an hour now!  I wish I had gotten a coffee before boarding…