One way I maintain healthy habits with exercise is that I choose to take a macro view of my workouts.  What does this mean?  This means that instead of thinking, "Dammit, I didn't workout today… Now I feel guilty for skipping the gym…," I can look at the entire week as a whole and say, "Hey, I've worked out three times this week; I'm awesome!" 
We've been trained to think of exercise in 24-hour intervals, but the truth is that it's your overall efforts that count!  Megan did a Weekly Run Down of her workouts last week, and I liked the idea so much I thought I'd copy her. 🙂
Monday:  I swam 1,240 yards
Tuesday: 60-minute yoga
Wednesday: I swam for 30 minutes in a little hotel pool
Thursday: Rest day
Friday: I swam 1,100 yards
Saturday: I swam 850 yards and went on a slow 2-mile walk
Sunday: I went kayaking (upper body, hollar!)
All in all, a very good workout week!  I'm really getting into swimming since I'm temporarily on a running hiatus due to my troublesome knee.  My knee hasn't hurt since Thursday, which is a good sign, especially considering Sunday's walk.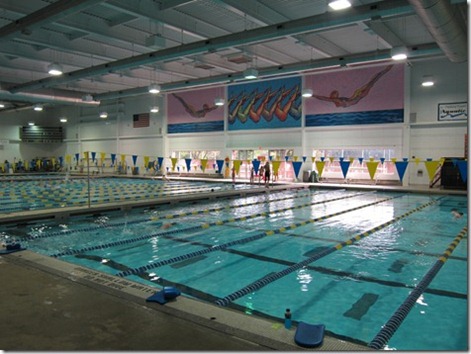 I've also been great about acupuncture!  I've gotten several sessions at the clinic since last Monday.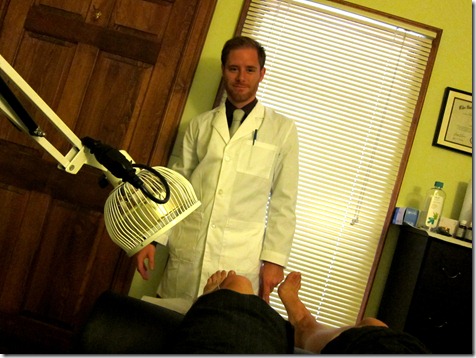 Since my schedule has been so different than what I'm used to (running and yoga, 4 – 5 days a week), I've been thinking a lot about my current goals.  My goals right now are:
Swim three days a week
Make at least one swim a drill (with sprints and whatnot… I'll blog more about this later)
Yoga two days a week
I hope that by being really, really nice to my knee, I can run with my girls in the Girls on the 5K on May 7.  Please let me be healed by then!  :(  I would be so sad if I had to stand on the sidelines while they experienced their first 5K.
Onwards to… Eats, delicious eats!
Breakfast was mindblowing: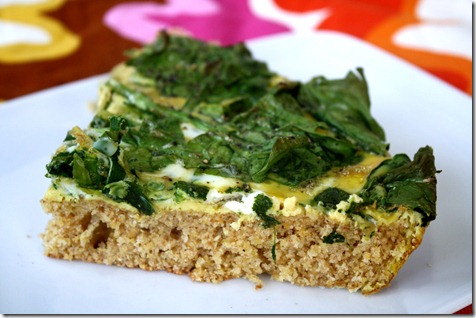 Quiche Cornbread is an awesome breakfast alternative, and it doesn't even have to be that time-consuming… I made the cornbread layer last night while cooking dinner.  This morning, I combined spinach, six eggs, almond milk, salt, and pepper and poured the mix over the bread, re-baking for another 25 minutes.  I did some chores and breakfast was ready when I was done!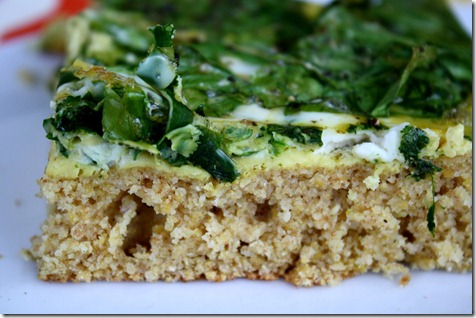 I worked in the wee hours of the morning and went to hot yoga around 8:00.  Came home, showered and changed, and headed to the clinic for a few hours of work.  Snacked on a banana.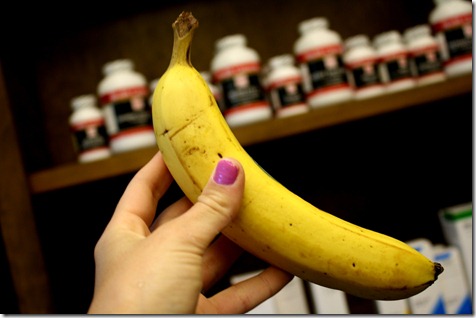 And here's lunch!  Also a very simple meal, but so delicious.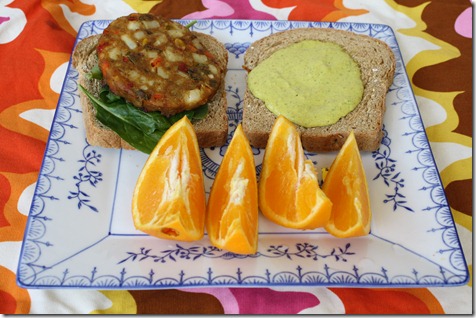 We heated up Trader Joe's Masala burgers and smothered them in Mmm sauce. Mmmm!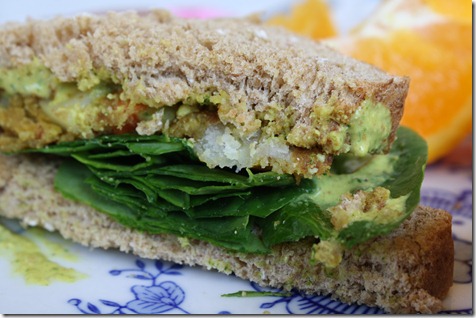 The sauce really does taste good on everything.
Do you take a macro view of your workouts?  Does it help you stay in track or do you need to think in 24-hour blocks to stay motivated?