Review of The Long Run: A New York City Firefighter's Triumphant Comeback from Crash Victim to Elite Athlete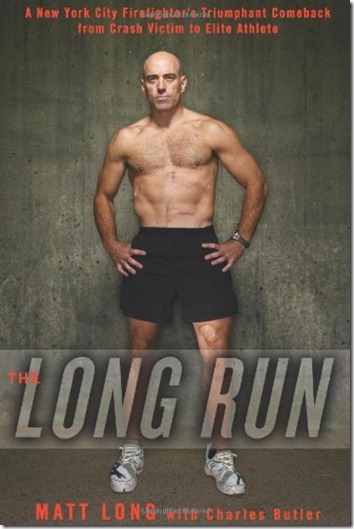 Katie from Keeping Up With Katie said: "What I hoped would be a good read, far exceeded my expectations and left me in tears at some points and feeling motivated and grateful all at the same time.  This is the story of a NY Firefighter and experienced athlete who suffered a horrific accident that left him debilitated and his road to recovery. The most striking element of the book is his vulnerability and humility.  He shares raw details of his body post-accident and his acceptance that he may never be able to compete as the athlete he once was.  While he accepted that he would never run a 3:15 marathon, or an 11 hour Ironman finish, he did not let those disabilities hold him back from what makes him feel alive: competing in endurance events. I could relate to his desire to participate in the things he once loved because those are the things that make him feel alive.  He shares his desire to simply run, even if that meant running a mile slower than most people can walk it.  Running, and competing in races are the things in life that makes him feel accomplished and proud of himself and he did not want to let his accident diminish those desires.  For any athlete out there, or anyone looking for a motivational story, this is a MUST READ."
Review of Its Not About the Bike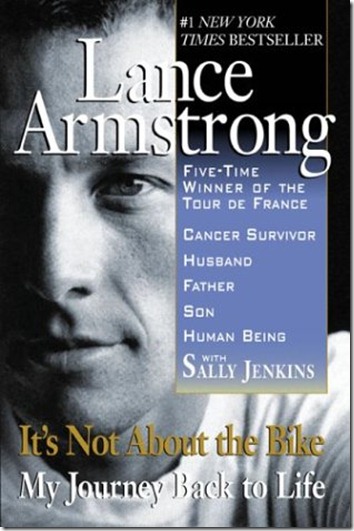 Kristy from Run the Long Road wrote, "I read It's Not About The Bike a few years ago.  It's definitely in my "top 10" list!  There are tons of inspirational books out there but this one takes the cake.  Lance Armstrong describes his battle with cancer in such detail I could not put the book down.  His cancer was extremely advanced (I never knew it was that bad) and doctors literally told him they were going to essentially "kill him with chemo and then bring him back to life".  I'll never forget that quote.  The second half of the book describes his come back to cycling.  I cannot believe this man won the Tour de France 7 consecutive times!  It really proves that anything is possible."
Molly from RD Exposed also loved this book!  She said, "Lance is such an inspiration in this book. You find yourself going through each emotion he went through from his diagnosis, treatment, recovery, and triumph."
Review of Running for Women: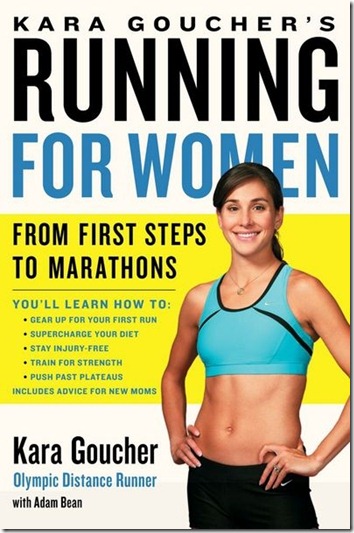 Julie from A Case of the Runs wrote, "Kara Groucher's Running for Women: From First Steps to Marathons is primarily aimed toward beginner runners, but even as someone who is training for marathon #9 learned a few things from it.  I love how she doesn't send the message that you HAVE to run a marathon or even race to be a runner, which is refreshing coming from her perspective.  She covers suggestions for what to carry when running outside, being safe on the roads, how to frame your eating, socks, and what to do on race day and afterward (for shorter and longer distances).  She talks about how she kept pushing herself and getting injured, and how hard it was emotionally to deal with injury (a topic we all know, I'm sure!).  The book also contains some Q&A from both beginning and seasoned runners on unique topics (e.g., how to get over the fact that men run faster). Kara offers some training plans in the book that I am probably going to try out in the future.  She has 5k/10k/13.1/26.2 plans that ask for3 days of running, which would be great for those of us who are busy!"
Review of Running for Mortals:  A Commonsense Plan for Changing Your Life Through Running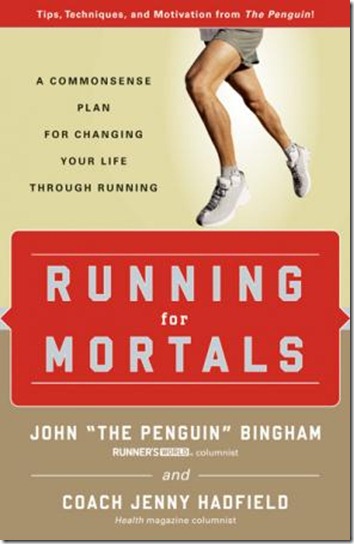 0
Holli from The Great Askini wrote, "Running for Mortals:  A Commonsense Plan for Changing Your Life Through Running is co-written by a running coach (Jenny Hadfield) and a formerly overweight and out of shape man who became an avid marathon runner (John Bingham).  The book covers nutrition, flexibility, strength training, and most importantly, taking it slow to avoid injuries.  It also contains training plans for 5Ks and 10Ks, and a running plan for weight loss plan.  I'm currently using the training plan for my first 10K and am loving it!  And if you're interested in half or full marathons, they have a companion book called Marathoning for Mortals!
Emily from Healthy Creature also liked this book!  She wrote, "The book is a huge supporter of run/walking and has great tips for beginners. It was the perfect book for where I was fitness-wise when I started. They cover everything from building mileage, how long it takes for the different systems in your body to adapt to running, cross training, and the different heart rate levels (to name a few)."
Review of Born to Run: A Hidden Tribe, Superathletes, and the Greatest Race the World Has Never Seen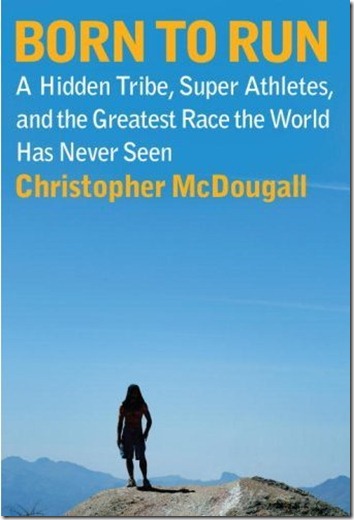 Jamie from Everyday Dolce wrote, "Before I read Born to Run, I considered running to be a necessary chore of healthy living and fitness. I knew it was good for my heart, burned lots of calories, and helped build endurance. As I read Christopher Mcdougall's book I noticed with every page I turned, my view of running was shifting. I read about the Tarahumara Indians and their ability to run for hundreds of miles freely like children simply having fun without pushing through pain or injury and it inspired me. I loved this book because it taught me that running was never meant to be a "chore" or consequence of eating too much cheesecake. Running was meant to be spontaneous and free. I've fallen victim to not feeling like I've run long or hard enough or that I could have done better if I just did this or that differently. In the book, McDougall writes about young children on a playground and how when they run it's playful and fun. They are not concerned with calories or heart rate. I wanted to learn torun that way again…the way I did as a kid on the playground. I realized that's ultimately what I should be after and what will help me become the runner I was born to be.
Michelle from Crazy Running Legs did a full review of the book on her blog.  She said, "Ultimately, where he went with this story was awe-inspiring."
Review of In Poser: My Life in Twenty-Three Yoga Poses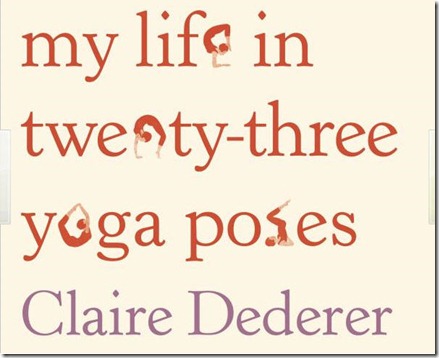 Chrissy from The New Me wrote, "In Poser: My Life in Twenty-Three Yoga Poses, writer Clare Dederer tells the story of her life – from her free spirited childhood raised by hippie parents in the 1960's, to her own marriage and motherhood – by linking her memories and experiences to yoga poses. Each chapter is named for a pose, and by describing the mechanics of that pose and the physical and emotional struggles that come with it, Clare reflects on her life and the lessons she has learned with humor and wisdom. If there is a theme in Clare's life, it is that she is often conflicted about the idea of family and that she is constantly striving to be "good" – a good partner, a good mother, a good writer, a good person, a good yogi. Through her yoga practice, which she begins as a way to heal a back she threw out while breast feeding, she is able to confront this idea of "good" and realize, after many years, that just being is enough.  I really enjoyed this book and highly recommend it for anyone interested in yoga, motherhood or solid prose – Clare is a great writer with a strong voice, and I loved the way she was able to use humor to explore some of her more painful memories. Plus, how often do you come across a yoga memoir? Not often enough!"
Review of What I Talk About When I Talk About Running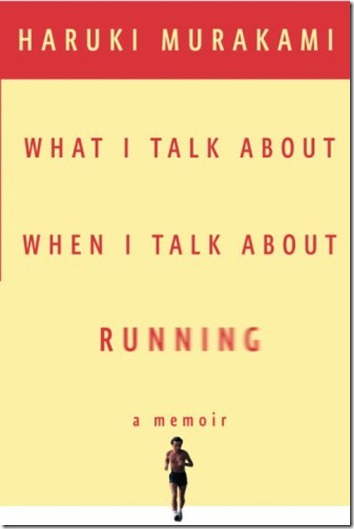 Liz wrote, "A friend gave me What I Talk About When I Talk About Running as a birthday gift this year, two months before my first marathon.  It was a needed kick in the pants as training tapered off.  Murakami does not coddle his readers; instead, he goes through an unapologetic survey of his running career.  The book takes you through marathon training with Murakami over a year, often told through anecdotes about his running and writing career.  Even when not training, he tries to hit the pavement for at least an hour a day and does so because he sees the body as a machine, in need of routine mechanics to keep it running.  I may not be as a stubborn as he is, but I often recall his writing when I have taken too many off days.  He elegantly and simply reduces to prose some of the indescribable emotions triggered by distance running.  Beginners might be put off by his book, but he captures running's inarticulable nuances in an accessible and inspiring way."
Book Club Time!  Have you read any of these books, too?  What did you think of them?  (PS – If you're got a review of a food philosophy, self-esteem boosting, or fitness book that hasn't been covered yet, send it to caitlinjboyle@gmail.com)