Oh, FABO – I love you so!  Excellent coffee, free WIFI, and open + airy feel?  I'm there!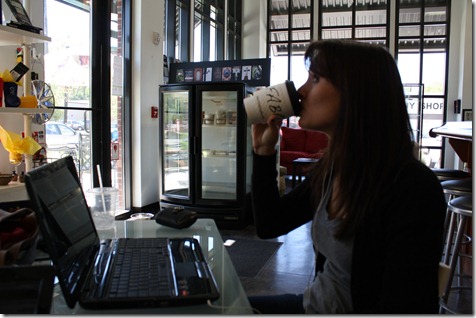 James also had a blast.  FABO is even better because I can bring him with me!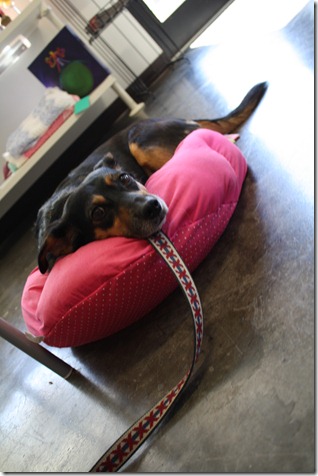 James had a little friend at FABO today.  Her name is Reba, she is a 4 month-old Bernese mountain dog mix, and is available for adoption!  She is very calm – not 'puppyish' at all!  I kind of wanted to take her home with us…  If you're interested in meeting Reba, she'll be at FABO until 4 PM today – or you can contact the FABO owner for more info.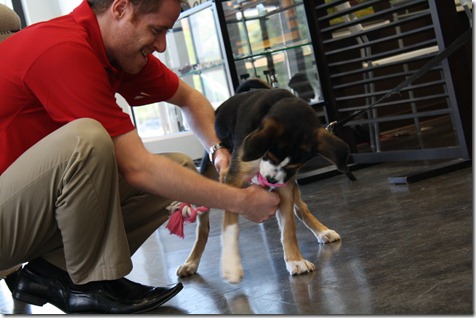 Lunch was great – I did the prep work this morning, so fixing it was super easy this afternoon.   This recipe was inspired by the Pillsbury Easy Crescent Veggie Pizza recipe – but it's a lot healthier!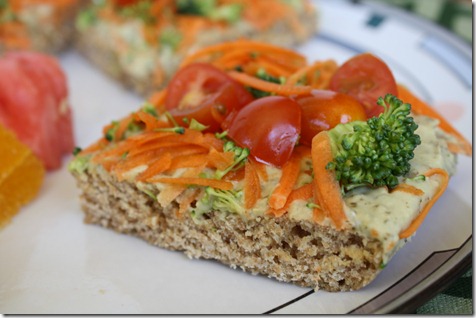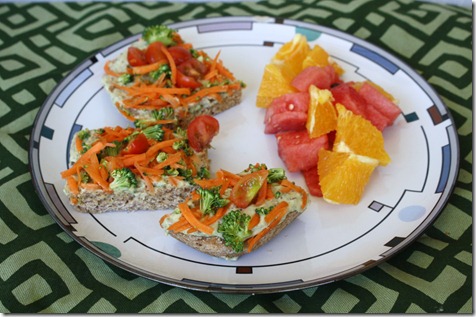 Veggie 'Pizza' with Spelt Crust
Ingredients (8 small pieces):
1 cup hummus (I used white bean basil hummus)
1 carrot, shredded in a food processor
2 cups raw broccoli tops, chopped
10 cherry tomatoes, halved
Directions:
Prepare spelt crust according to recipe instructions.  Bake in an 8 X 13 inch greased casserole dish.  I thought the bread was a little too thick, so I would probably remove 1/6 of the dough before pressing into the casserole dish.  Also,  I let the dough rise for 15 minutes while I showered before baking.  Side note: I let the baked crust sit on the counter this afternoon.
Once crust is cooled, spread hummus as the 'sauce' and top with all the veggies.
Slice into 8 pieces and enjoy!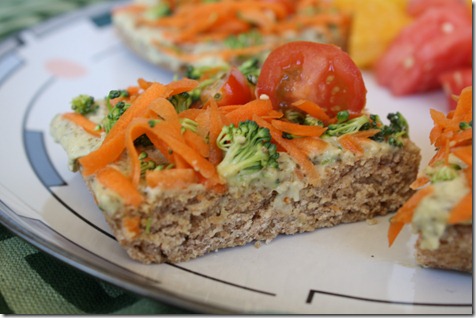 It was great – even DadHTP liked it! 🙂
Spicy dark chocolate for dessert: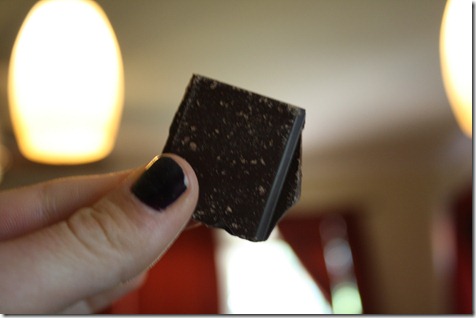 More Thoughts on the Life/Work Balance…
I sent my post about the life/work balance quandary to my BFF Lauren, who is a project manager for a very large asset manager.  She works about 70 hours per week.  Lauren and her fiancée Randy live in Singapore for their jobs.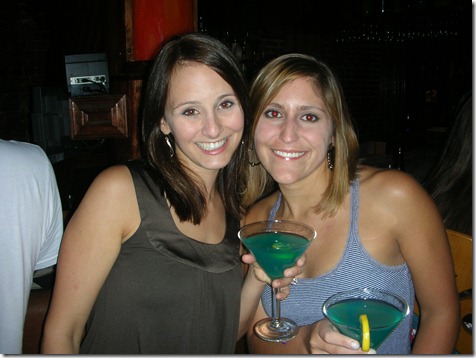 (Lauren and I, back in the day)
I really respect Lauren's thoughts on a life/work balance because she is, without a doubt, the most professionally successful person that I know.  She is only 27 years old and is considered a key manager for her company's Asian operations.
Here's her e-mail in response to my life/work balance question:
Only sometimes do I feel like there isn't balance in my life.  I still work out regularly, eat sort of healthy, get enough sleep, and hang out with friends.  Generally though, I'm ok with my hectic work schedule because I have secret desires of world domination and I am constantly considering the "long term."  I think people get into trouble when they have those "What is it all for??!" moments, but you really just need to keep things in perspective.  Remember why you are doing what you do in work and life, and if you're creative enough you'll figure out a way to rule the world and and still have your sanity.
I stay motivated by remembering why I work hard.  Short term motivation is easy, it's based on promotion and compensation provided by my company. Thankfully, I  also really just like my job, despite the hours.  Semi short term goals are traveling as much as possible, and my company and my position makes that easy!  They send me places for work and pay me enough to fund my personal trips without me having to go into debt.  In the past four years I've traveled to eight countries and I'm still going.  Long term, I'm focused on financial stability, supporting my family, and eventually going back to school and taking a lower paying job with a non-profit.  Working hard now is going to pay for school and allow me to take a pay cut later in life.  It's also going to get me set up for retirement, my  future unborn daughter's (yes, it will be a girl and yes this is something I actually think about) college fund, and buying houses (vacation home and regular home).  Eye on the prize! 
After it's all said and done though,  the reason woman stress about work/life balance is because that's what women do.  Women often overanalyze EVERYTHING, and it probably just puts unnecessary stress on an already stressful situation.  I think I have the opposite problem where I tend to under-analyze and see things more black and white. I look at it as me owning my situation. For me, this is the way it is now, and I'm ok with it because it helps me meet personal and financial goals in the process. If it wasn't working for me something would need to give. 
It's funny, I tried to ask Randy [her fiancée] about this and he had a similar reaction to Kristien's [the Husband].  It's not that guys have any more of a balance than girls do, maybe it's just that most don't stress out about it as much?
So, how crazy do you think I am now?  When I told my brother that bit about saving for my unborn daughter's college fund, he died laughing.  And for the record, we are not saving for that yet, we aren't that crazy!