I ended up having a perfect afternoon – the morning's disaster at the DMV is long forgotten. 🙂 I think it's the sunny weather.  It's hard to be annoyed in the spring, isn't it?
I worked hard all afternoon, plowing through work on the book.  At some point, I made this lovely smoothie: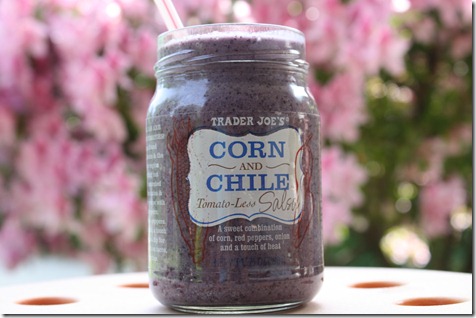 In the blender:
1 cup almond milk
1 banana
Frozen blueberries
Chocolate peanut butter
Chia seeds
My 'reward' for finishing my work was exercise. :)  Honestly, I looked forward to putting away the laptop and getting my sweat on all day.  I started things off with a 2.0-mile walk.  I left James at home so I could blast my iPod and walk briskly instead of a slow stroll.  No knee pain – three cheers!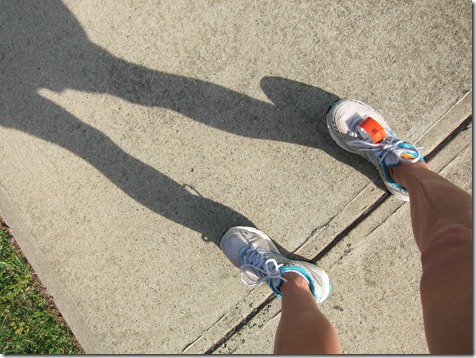 Yes, I still have my timing chip from the NYC Half Marathon.  No, I don't plan on removing it anytime soon!  It's a nice reminder of what I've accomplished… good to look down at as I walk my way to injury recovery. :) 
Time to swim, too! A couple of people have asked me how I get over the mental fence with swimming – namely, the whole changing/wet bathing suit/cold water thing.  I found going on a walk in the sun before swimming was REALLY great because it warmed my body up.  The water didn't feel quite so chilly.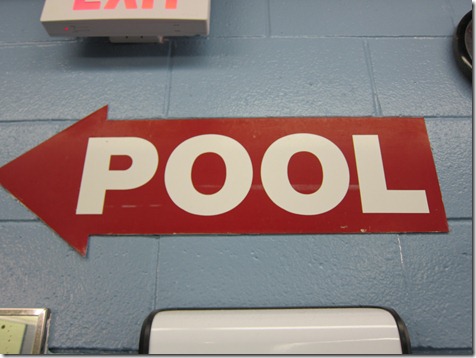 I did 1,100 yards.  Slow and steady. 
Post-swim Dinner Part I:  a Bagel Thin, veggie burger, and spinach salad.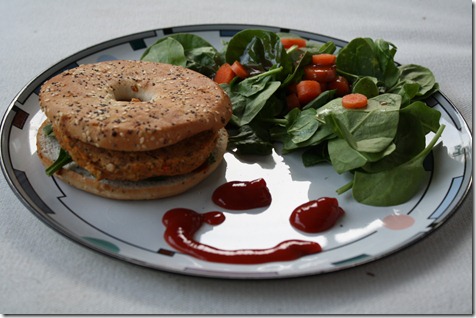 We ended up going back to Kennedy's bar for TRIVIA NIGHT.  I was pumped – I love trivia.  At the bar, I had Part II of dinner – we split black bean hummus.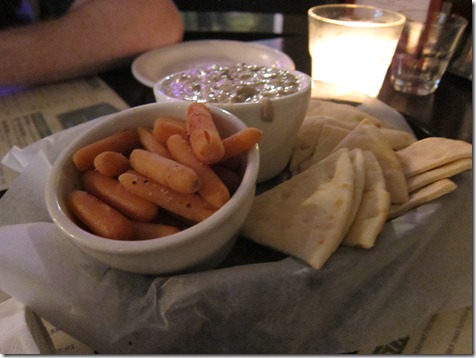 And I got the spinach salad, which had a ball of fried goat cheese in the center.  Dare I say it was awesomesauce?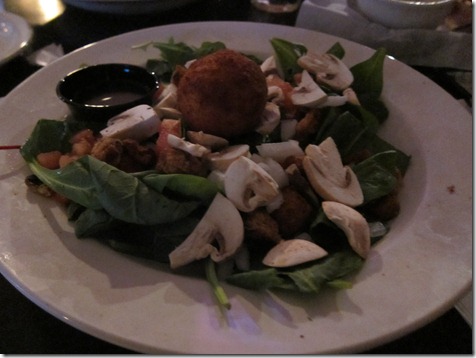 I didn't order a drink, but I did snag a few sips of the Husband's beer.  And his French fries, too.
Unfortunately, we weren't very good!  I think the best thing about our team was our name.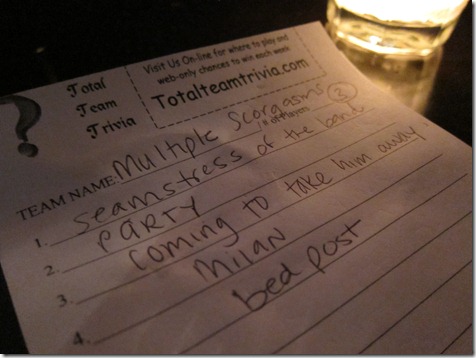 Who knows what the question for #1 was (it was a fill-in-the-blank)?