Does anyone else this is it majorly creepy that I found an "A" scratched into the back of my leg this morning?  Seriously – no idea how that got there.  I assume I scratched myself in my sleep but… in the shape of an A? Creeeeeeepy.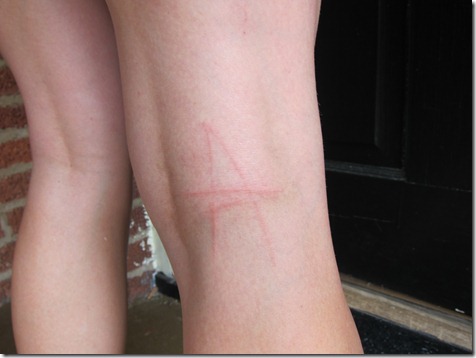 A for awesomesauce?
Woke up with a little bit of a headache from too much sugar + alcohol last night.  I knew the only thing that would make me feel right was a very yummy Green Monster smoothie.  If you have not tried a Green Monster yet, please do!  They are NOT yucky at all – I know they look it, though!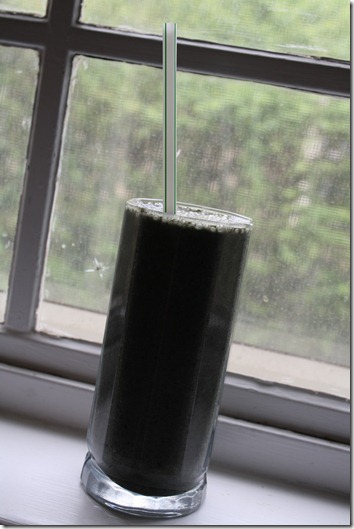 In the blender:
1 cup almond milk
1 banana
1/4 cup frozen blueberries
1 cup raw spinach
Chia seeds
Protein powder
I think I'll skip dessert for the next few days.  I am feeling really sugared out from yesterday (between my party, my dad coming over for lunch, and GOTR, I ate a half-dozen cookies and two yummy cupcakes yesterday).  Sugar and me really don't get along that well (bloating, headaches) when I eat too much. Oh, but it tastes so good!
Lunch: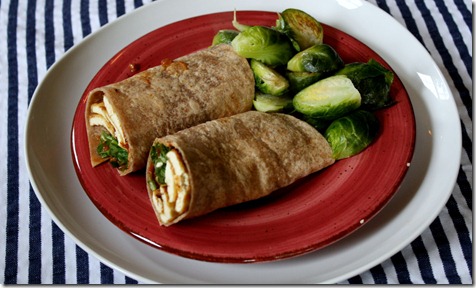 I've been cooking tofu in a new way (I usually use the Perfect Baked Tofu method).  This technique is even easier than Perfect Baked Tofu, if you can believe it!  I just thinly slice the extra firm tofu (no draining required), place on greased cookie sheet, drizzle with soy sauce, and bake at 425 for 20 minutes or so.  So easy!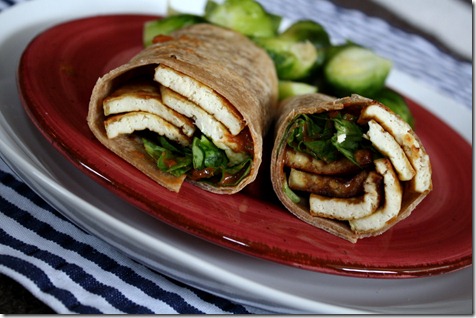 With spinach and some mole salad in a wrap.
And a side of steamed Brussel sprouts.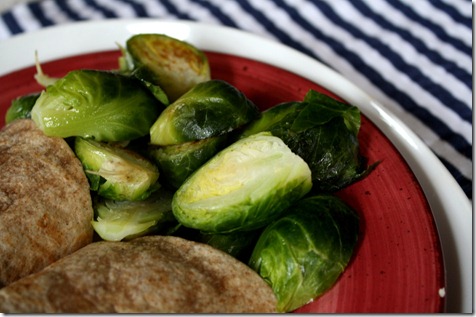 Working Out When You're Working in Shifts
I received this question from a reader and thought it would be an excellent one to open up to comments!
Andrea wrote, "I have a question about training for a race. I have always wanted to train for a race, and I am thinking about training for a sprint triathlon, or a 10K run. However, when I researched training schedules and when I read about other people's training schedules on their blogs, I find that they would never be compatible with my lifestyle.
You see, I am a nurse, so I work 2 days on from 7:30 am to 7:30 p.m., and then 2 nights on from 7:30 p.m. to 7:30 a.m., and then I have 5 days off until I start the 4 day work cycle again. Working out/training on days where I work is not an option for me, so basically I have five day blocks that are available for me to do my working out/training, and then 4 day blocks where I can't work out/train at all. 
I know this is quite wordy, so to sum up my question: I am looking for tips or suggestions about how to train for a race while dealing with a 4 day on, 5 day off shift work schedule."
Although I don't do shift work, my advice to Andrea was this: "I would find a plan that allows you to do 4 days of training in a "week" and do your workouts during your 5 day off block (so workout 2 days, take a day off, work out 2 more days). I think this would be fine even if you take off 4 days off in between sessions because it's not like you're sitting on your butt – I'm sure you are running around all day!"
Do you work in shifts and train for races?  How do you make it work?