Time to say goodbye, New York!  I'm sure we'll meet again soon.  ;)   Catching up on weekend posts?
Yesterday, Mom and I saw Chicago (with 50% off discounted tickets from TKTS!).  It was wonderful.  The singing was awesome, and it was actually really funny, too.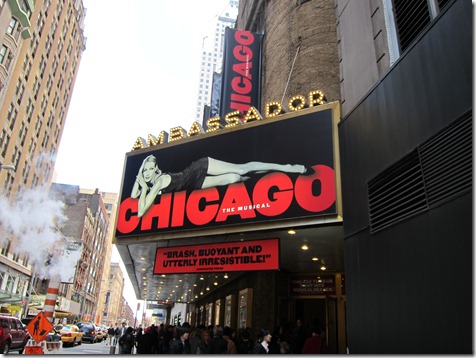 We stayed up way too late, but I slept really well (I guess that is what walking a Half Marathon does to a girl).  Upon waking, I did a little yoga in bed (don't you love that?) and ventured downstairs for some breakfast.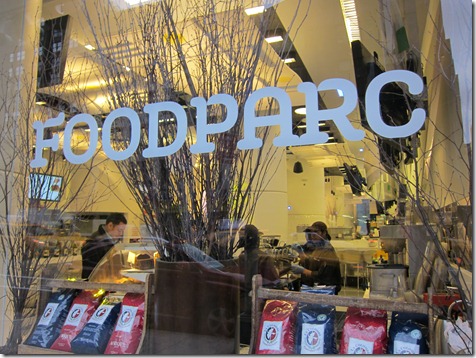 New York is so fancy… You can order your meal from computer terminals, and then another display tells you when it's ready at the cashier.  Pretty nifty.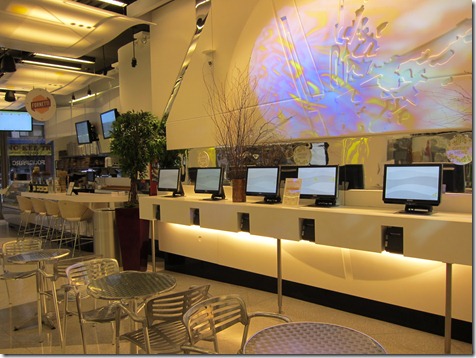 I got this AWESOME smoothie.  I'm going to create this mix at home: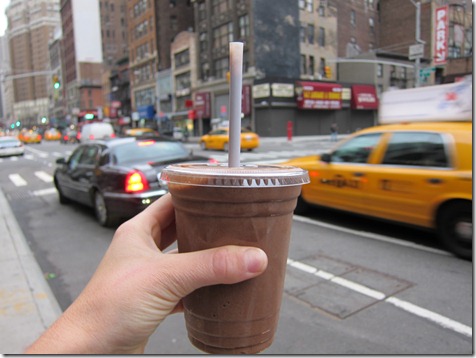 In the blender:
Chocolate soy milk
Iced coffee
Banana
With a fruit cup: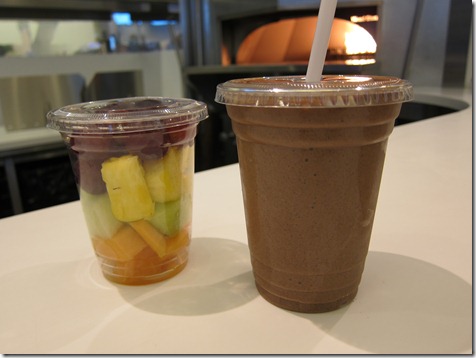 Knee/Leg Update
My knee/leg was KILLING ME (killing me) after the race when the inflammation set in (despite icing like it was my job).  Sitting in the theatre was torturous because it hurts most when it stays bent for a long time.  Thanks to some Dr. Googling, I'm becoming more and more convinced that I've strained a ligament (or torn it, albeit in a minor way because I still have full range of motion and it doesn't hurt during normal activities).   Luckily, I feel 100% normal now!
This is one of those, "Do as I say, not as I do" moments.  People keep saying I should go get an MRI, and I should, but I do not currently have health insurance.  I'm actually in between plans and will get it back in 11 days.  Ah, the joys of being self-employed.  Not having insurance was one of the major reason why I didn't want to run the race, in case I acutely hurt myself and ended up in the hospital.
My health insurance is expensive (and I don't even have dental or maternity!) and I have a hefty deductible, so my current plan is to take a month off of running (at least), and see what happens with my leg.  If I have a Grade 1 tear, all the doctor will do is tell me to rest and ice anyway. 
So – that's the update.  Expect lots of awesome yoga and push-ups in my future! ;)  It sucks to be out of commission from running, but it is not the end of the (fitness) world!
Do you have health insurance?  Do you buy it yourself or get it through your company?
PS – Check out Blogging for a Change, a Japan relief effort fundraiser.  Over 40 companies donated 60 prizes and everyone is automatically entered, even if you don't make a donation (but, of course, you should!).