The other night, the Husband had an awesome suggestion.  He said, "Babe, instead of shelling out $8 for pre-made frozen pizza to eat on busy weeknights, why don't we make our own in batches and freeze it?" 
I declared him a genius.  Best idea ever.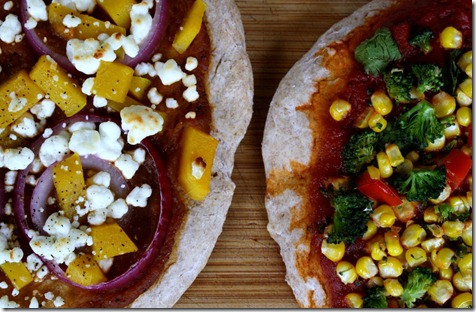 I like to make smaller pizzas so one pie is equal to one serving.  This makes it easy for the Husband and I to mix and match our topping preferences.  He doesn't generally eat cheese, and I do. 🙂
So, I spent the afternoon perfecting the 1/2 and 1/2 Pizza Dough recipe, which yields six personal pizzas.  The dough is 1/2 white flour and 1/2 whole wheat flour or spelt flour (I tried batches with whole wheat and spelt, and they were equally good).  We ate a pizza each for dinner tonight and froze the rest by individually sealing them in freezer-safe plastic wrap.
We tried a ton of topping combos, but this was my favorite.  Behold:  Butternut BBQ Personal Pizza.   Instead of tomato sauce, this pizza's sauce is a delicious combo of BBQ sauce and pureed butternut squash.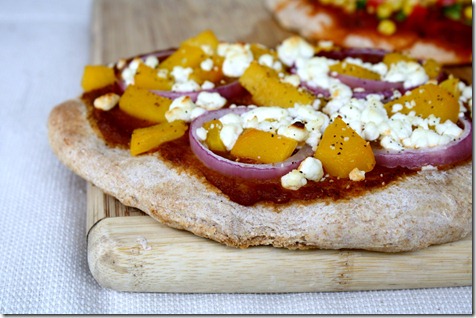 Ingredients:
1.25 cups chopped raw butternut squash
1/6 of pizza dough recipe
1/4 cup BBQ sauce
1/4 cup goat cheese
Several sliced red onion
Pepper
Directions:
Pre-heat oven to 400.
Place chopped butternut squash into small pot, add 1/4 cup water, and cover.  Steam on high until the squash begins to soften.
Meanwhile, grease a cookie sheet and spread out dough.   Let rise for 10 more minutes.
Set aside 1/4 cup butternut squash, add remainder to food processor.  Combine BBQ sauce and butternut squash until smooth.
Spread sauce on pizza dough.  Top with onions, goat cheese, and remaining butternut squash.
Bake at 400 degrees for 17 minutes if eating right away.  If freezing, cook for 15 minutes, let cool, wrap tightly in saran wrap, and freeze.  To reheat, cook at 350 until warmed throughout.
Not only tastier than Amy's frozen pizzas, these are also much, much cheaper – only $2 or so per serving (we get two servings out of a $8 Amy's pie).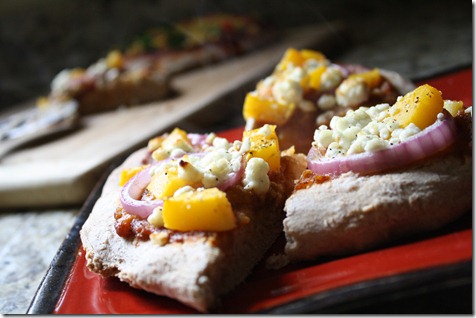 Other versions included:
Tomato sauce with broccoli, corn, red pepper, and broccoli
Tomato sauce with asparagus, mushrooms, and spinach
We made 6 other pizzas, all vegan so either the Husband or I can eat them (I can always add cheese in the re-heating process).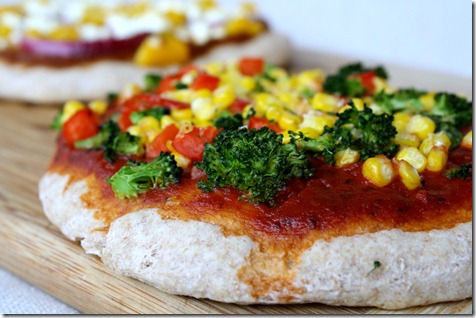 In other news…
We're under severe thunderstorm watch.  Check out these crazy clouds!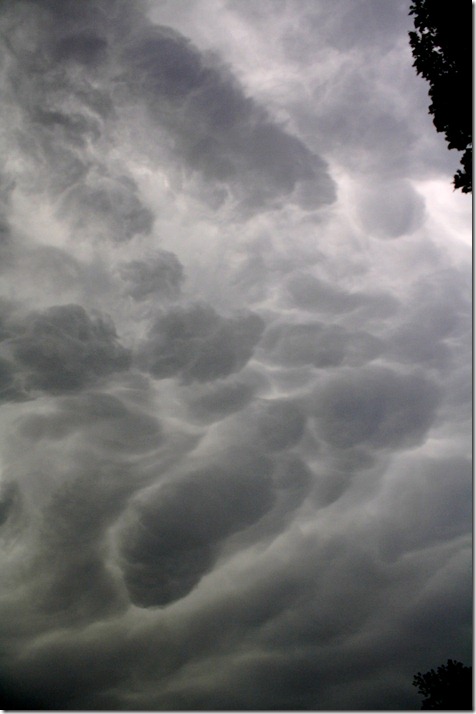 Spooky.  Is anyone else reminded of the Dementors in Harry Potter?
At least we have enough pizza to feed us for another week!