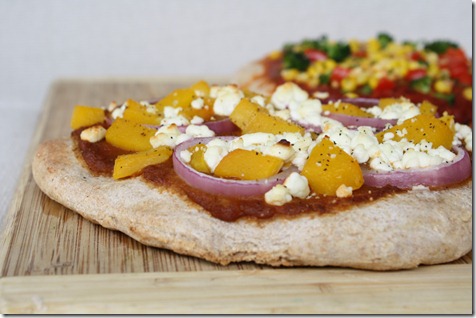 Ingredients
Package of active dry yeast
1/4 cup warm (not hot) water
1 tablespoon honey
1.5 cups warm water
1 tablespoon vegetable oil
1/2 tablespoon kosher salt
2 cups organic all-purpose white flour
2 cups whole wheat flour or spelt flour
Directions
In a small bowl, combine packet of dry yeast with 1/4 cup warm water and honey.  Give it a good stir and let stand for 10 minutes – very important!  Set a timer.
Attach the hook attachment to your mixer.  Combine remaining ingredients in the bowl when the yeast is nearly ready.  It is a good stir with the hook (if you're doing the dough by hand, use a wooden spoon to mix in an upwards thrusting motion (TWSS).
Add the yeast and stir for a few minutes, until a sticky and stiff dough forms.
Separate into six balls and place in glass casserole dish.  Cover with clean towel and place outside or another warm spot (on top of the dryer, heater, etc).  Let rise for an hour.
Spread out dough on a greased cookie sheet or pizza stone.  Top with sauce and cheese or other toppings.  Bake at 400 degrees for 15 minutes if you plan to freeze or 17 minutes if you're going to eat right away.