Good morning!  I was hoping for a sunshine-y morning, but it's pretty gross out.  Here's to hoping the clouds pass by soon!
This breakfast was exactly what I was craving. Exactly!
My sister-in-law Sophie turned me onto collard greens the last time she was here (which is ironic considering that I'm from the South and she's from London).  All the collard greens I've tried in the past were mushy and meaty.  I loved the way she prepared them – light, fresh, and bright green.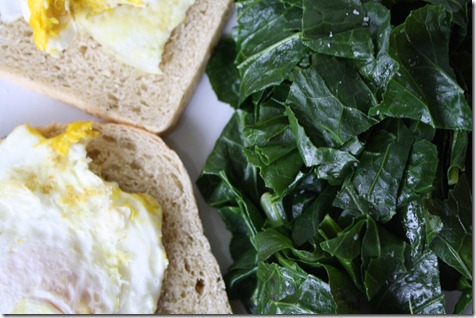 Here's how I prepare them:
Wash thoroughly and cut into thin strips.  Remove any big stems.
In a non-stick wok, heat up 1/2 a cup water and a dash of oil olive.
Add collard greens and stir.  Place top on wok (important, use a pot top if you don't have a wok top) and turn up on high.  Steam for 5 – 7 minutes.
Drain excess liquid and then put back in wok with top for another few minutes. 
Salt and serve.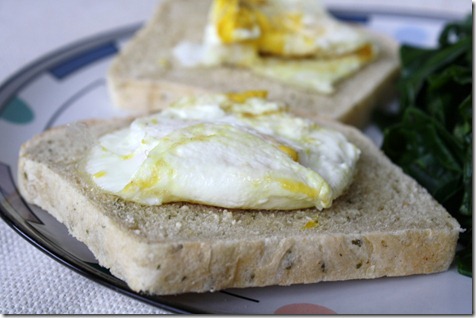 With two pieces of rosemary bread and two over-easy eggs. Mmm.
I always think Breakfast = Fruit, but it can equal greens, too!  Why not?  :)  I could always use more vegetables in my life.
Do you ever eat vegetables with breakfast?  Or do you prefer to stick with sweet breakfasts?