Morning, friends!  I am currently slamming coffee and praying the magical Book Writing Fairy comes to my house and does all my work for me.  You?
Amazing breakfast!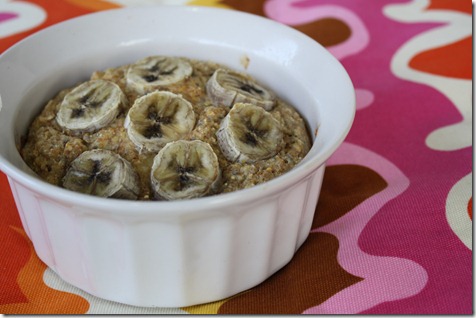 This Breakfast Banana Bake is one of my favorite breakfast recipes (and that's saying a lot since I'm definitely a breakfast girl).  The recipe is here.  I love how simple it is.   I subbed out the cornbread mix for extra pancake mix since it was all I had on hand.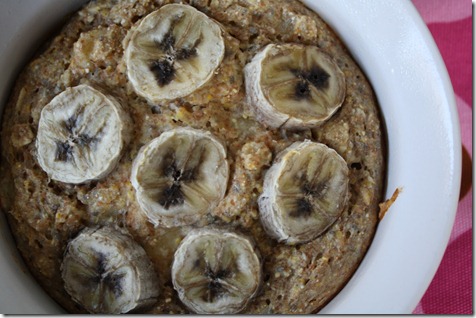 The Emotional Side of Injury
While I'll mostly be discussing injuries in this post, I think a lot of this advice applies to other reasons you may be 'out of commission' from exercise, like being busy at work, getting sick, family obligations, or pregnancy.  Even when you consciously choose to prioritize exercise, life occasionally gets in the way.  Since reaching my own Healthy Tipping Point five years ago, I've watched my exercise habits ebb and flow due to a variety of issues.  Unfortunately, I've also suffered a slew of (mostly minor) injuries during my running career. 
While every person and injury is physically different, I think we all go through pretty much the same emotional upheavals when confronted with an injury.  Feeling like you're out of commission is a horrible feeling, especially when you are used to regular exercise.  During my injuries, I have grappled with a wide range of negative emotions, including jealousy of healthy runners, sadness, fear that I'll lose strength or endurance, anger ("Why me?!?!"), and even happiness ("Yay! I have so much free time!"). 
Here's what I've learned about dealing with the emotional side of injury:
Don't Fall Into the "All or Nothing Trap":  Actually, I think this is the biggest takeaway lesson about healthy living, period.  You do not have to be all or nothing.  If you cannot exercise, you can still eat well and do all the other things necessary for health.  It is really easy to throw up your hands and say, "Oh, screw it!" and completely fall off the bandwagon for two months.  And honestly, I personally believe that healthy eating is way more important for your general health than exercise (it's very difficult to "outwork" bad eating habits, as Miranda said on Twitter this morning), so if you can't exercise for three months, you're not going to be become a lump.  Look at your injury as an new opportunity to really focus on fueling your body with nutritionally-dense, whole foods, like lots of veggies, fruits, whole grains, etc.   Remember your body needs healthy foods so it can heal your injury quickly.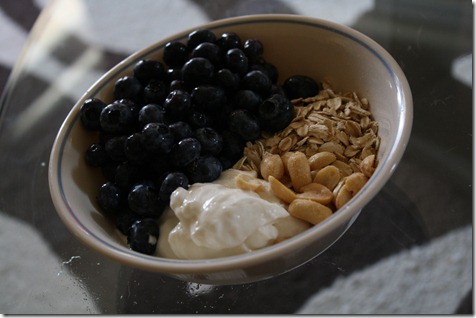 Find Alternative Exercises, If Possible:   If you cannot run, for example, you may be able to safely bike, swim, elliptical, or do yoga.  Make sure you talk to a medical professional before doing alternative exercises!  When I was on my first running hiatus, I could still safely bike and swim and used the opportunity as a chance to prep myself for a bike race and triathlon.  If your doctor says you can't do any lower-body stuff, ask if he or she can clear you for upper body work. If so, you can focus on building awesome guns and abs by doing the 100 Push-Up Challenge, striving for a two-minute plank, or the Modified Boot Camp.  You might also be able to safely do the rowing machine at the gym.  Again, just check with your doctor.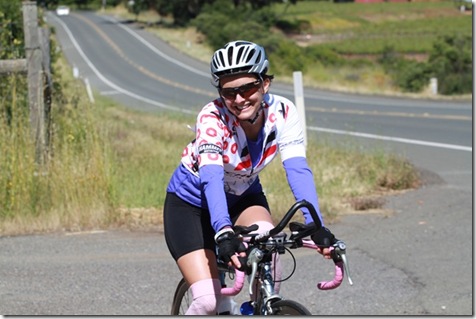 Yay, Free Time!:  If you're totally out of commission from exercise or have to cut back on your exercise time, lucky you – you suddenly have tons of free time!  Look at your injury as a chance to discover other hobbies.  Challenge yourself to read a book a week, catch up with old friends, or do volunteering.  Do something you've always wanted to do but never had the time for before – don't just sit on your couch bemoaning your injury!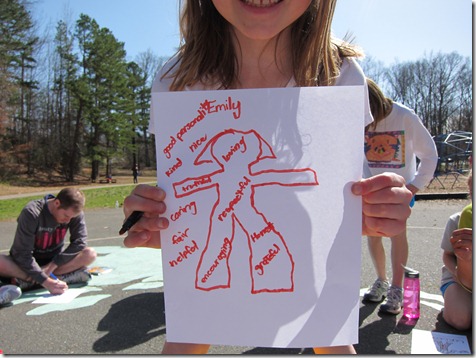 Don't Freak Out About Endurance or Weight:  During my first two-month running hiatus, I'll admit that I was initially stressed out about losing endurance and/or gaining weight.  I was VERY surprised to discover at the end of the two-month period that I hadn't completely reverted back to fitness ground zero, and I had actually lost a few pounds.  In regards to weight, I think the key is to REALLY listen to your hunger cues and focus on filling your plate and belly with nutritionally-dense but lower calorie healthy options (like bulking up a serving of pasta with a ton of raw spinach instead of eating two servings of pasta).  When you're training for a marathon, for example, you become used to shoveling food in your throat just to get enough calories because you are ALWAYS hungry.  I've found it takes my body one to two weeks to 'adjust' my hunger levels to the lower level of calorie burn, but once it does, your hunger cues will naturally taper off in accordance with your needs.   And honestly, if you have to take off a few weeks due to injury, focus on healthy eating, and still gain a few pounds, what's the big deal?  It will come back off when you revert back to your normal levels of exercise.  You're beautiful regardless. 
Focus on Other Healthy Habits:  Beyond healthy eating, you can refocus your energy on keeping up with other healthy habits during your injury.  I love to make a Gold Star checklist of things like "floss teeth" or "sleep 8 hours."  Making the effort to do OTHER things you know you should be doing for optimal health will make you feel better about being injured.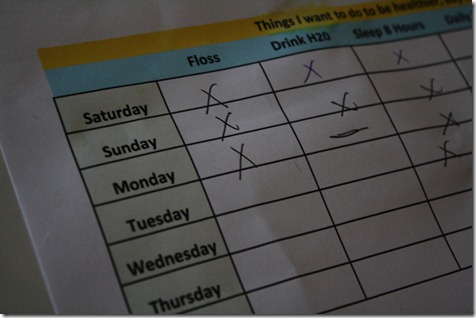 Keep it in Perspective:  Whenever I find myself wanting to chuck a water bottle out my car window at a runner on the sidewalk, I take a deep breath and try to keep it in perspective.  No matter what your injury, it could always be worse.  Stress fracture in your leg?  Well, at least you still have your leg!  I try to focus on being grateful for all the things I have – health and otherwise – to keep myself from getting upset over not being able to run.   In the grand scheme of life, a month off of running won't kill me. 
Don't Sacrifice the Long-Term for the Short-Term:  Would you rather take two months off or a year off?  It can be very, very hard to admit you have an injury and need to take time off, especially if that means missing a race.  But the reality is that you cannot run your way to a healed injury.  You have to rest.  Or it's going to get worst.  Do NOT ignore pain.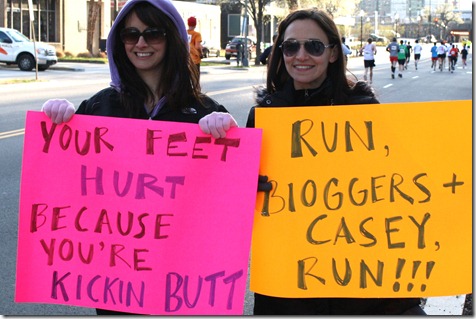 Get Help:  And lastly, if you are really struggling with the emotional side of injury and feel yourself becoming obsessive about your inability to exercise the way you want to, get professional help.  Injuries blow, but they shouldn't feel like the end of the world, and if they do, a therapist can help you work through that (side note: if you're in college, you have access to free counseling!).  
Here are some of my top posts on injuries:
Common Running Injuries and How to Prevent Them
The Story of My Knees and the Treatment Plan that Finally Worked
The First Knee Doctor Appointment (Left Hysterically Sobbing!)
The Second Knee Doctor Appointment (Left Smiling!)
Knee Sleeves vs. Athletic Tape
Recap of my first Running Hiatus
What is your experience with the emotional side of injuries?  What tips do you have?