I slammed through a TON of work at FABO Cafe this morning.  I am so much more productive in coffee shops.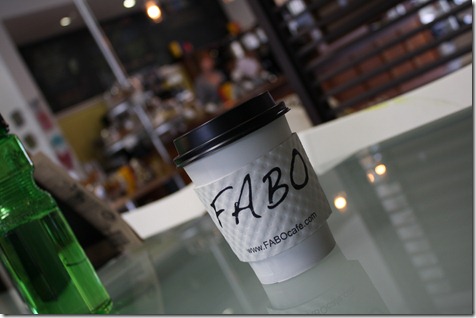 Guess who came with me?  My Spotted Intern.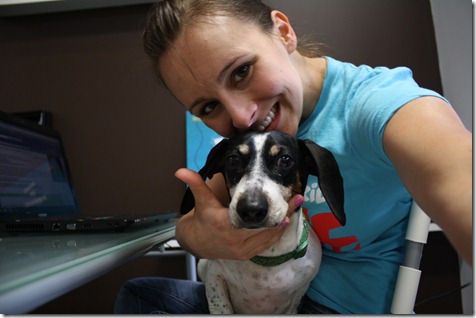 Maggie was such a big girl at FABO!  Normally, I never take Maggie out to public places because she has really, really bad anxiety and freaks out about EVERYTHING.  Once, I took her to an outdoor cafe and a motorcycle drove by… she jumped out of my lap onto the table and knocked over four wine glasses and my dinner. 
But I thought she might like FABO because it's quiet and well-lit.  Once she stopped wheezing out of stress (I need to make a video of her one day; basically, she goes "eee! eee! eee!" over and over again), she settled down and decided she liked the place.  🙂
She also enjoyed the spotted dachshund chair.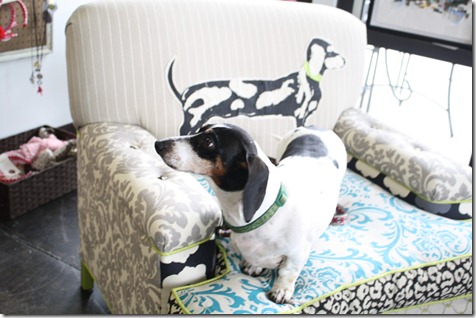 While writing (Operation Beautiful II edits are halfway done!), I enjoyed a biscotti: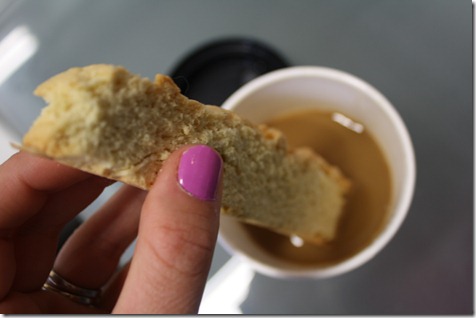 Which was delicious but didn't hold back the hunger that started to rage at noon.  So I took a peak inside FABO's fridge and discovered this awesome dish: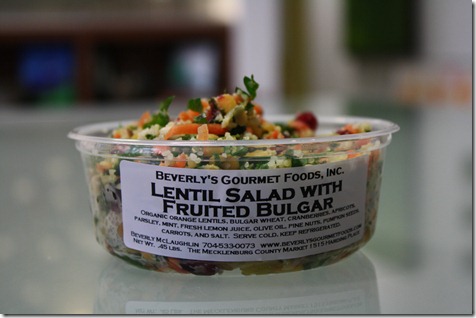 Beverly's Gourmet Foods is a food preparation business that does pre-made meals and is sold at local farmers' markets and in some small health food stores in the Charlotte area.  I've never tried them before but MAN – this lentil salad was awesome.  Super fruity and refreshing.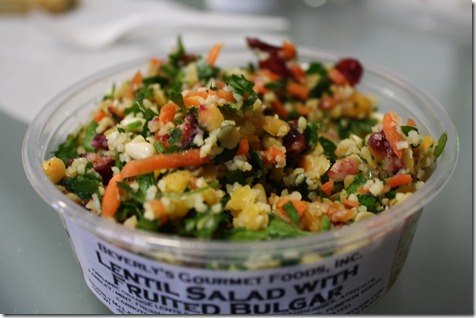 And if you'll believe it, guess who I stumbled into at FABO?  Beverly herself!  We talked for a little bit and she told me how her family owns one of the largest farms within the city limits.  She started her business when she was in her 20's because she loved to cook and needed a way to use up the veggies they didn't sell at the farmers' market.  Now she's a single mom to three children and supports the family with her pre-made foods biz.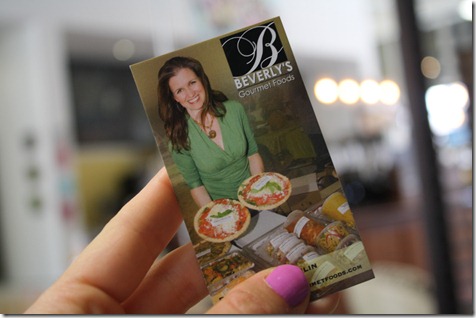 Pretty cool, huh?  I love small businesses.
Another friend that I found at FABO: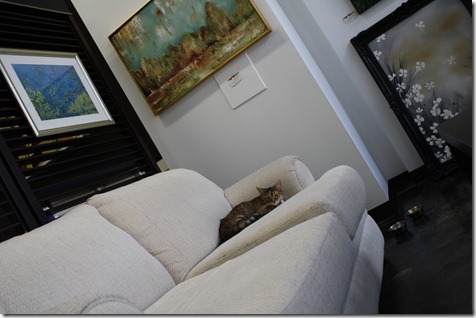 Cue: awww!
Run for Japan
Like most people, I have been glued to the news ever since Japan's earthquake and tsunami.  My heart aches for everyone in Japan and everyone impacted by the disaster. 
A reader named Maya wrote me to say, "I've lived and worked in Tokyo for the past 5.5 years. Life in here has been very surreal for the past week… However, our lives are normal and comfortable when compared to those to the north in Tohoku, where the real damage from the earthquake and subsequent tsunamis is concentrated.  Due to the extent of the damage, supplies have been slow to arrive and many shelters are not receiving enough food, water, medicine, etc. The overnight temperatures in Japan have dropped to below freezing for the past few nights, and many of these tsunami victims are braving the cold with no access to heat, blankets, or hot meals. Hygiene is also an issue. It has now been one week since the quake struck and access to shower/bath facilities is minimal. Most victims escaped with only their lives the clothes they were wearing at the time, and do not have access to something as simple as a change of underwear. If they are not helped soon, then many more could lose their lives before this is all over."
Maya wanted me to tell everyone about Run for Japan, a website that allows you to 'dedicate' your run to Japan and make a dollar donation (or more) for every mile you ran.  I think the concept is wonderful and a perfect way for the healthy living blog community to support our friends in Japan.  Spread the word!