It is dreary out there today!
It seems other people hate memos and love fried pickles as much as I do!  :)  A reader named Mary pointed out that you can make Baked Pickles, which I think I'll need to tackle very, very soon.
I woke up with a tummy ache (I'm going to go ahead and blame the fried pickles), so breakfast was pretty light.  Pumpernickel bread, an egg, and a banana.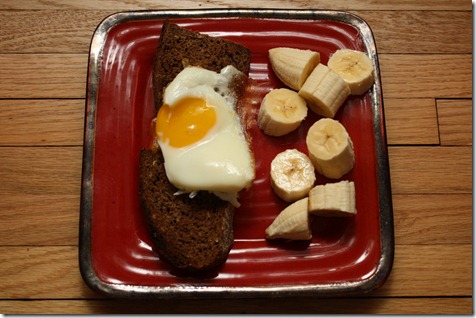 While conference-call hopping and checking patients out at the clinic, I also snacked on one of those bars I whipped up last night.  They are even better today after standing for a bit in the fridge!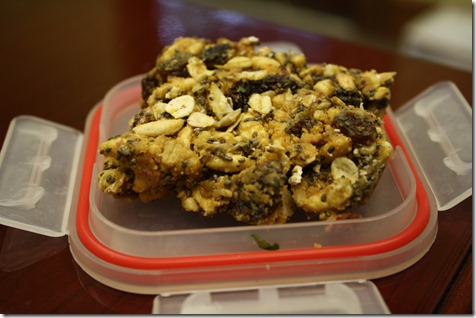 And I dashed home for lunch:  soup, cucumber and hummus, and an apple.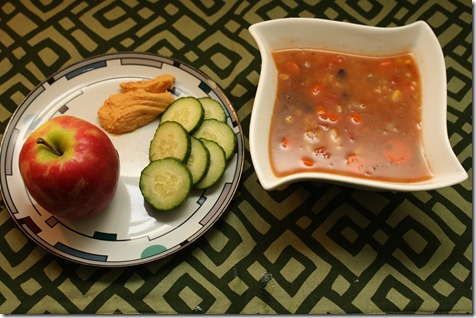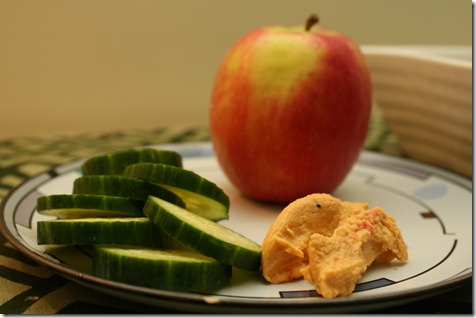 The soup was Wolfgang Puck's vegetable barley, which is delicious but a little light, so I added in about 1/2 cup of drained and rinsed black beans for some fiber and protein.  Perfect.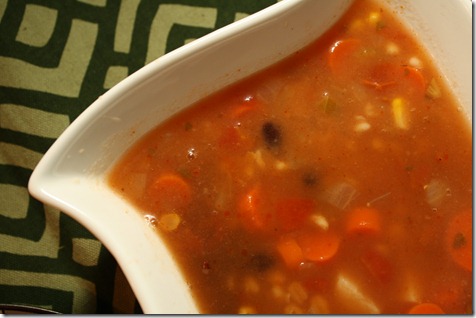 One of the coolest things about having a blog is you can look back into time and see exactly what you did a year, two years, or even longer ago!
Here's what happened on this day in…
2010: I wrote about how terrified I am of alligators, ran 5.65 miles, and went out for Happy Hour with Katy, Megan, and Anne P.
2009:  I took a self-timed photo of myself (FAIL) for my old employer's website, wrote about my training plan for a 15-mile race, and did Jillian Michael's 30 Day Shred and a 5K run.
In 2008, I wasn't blogging yet (I started in June). :(  It will be cool to look back on the blog in ten years or so since I intend to blog fo-ev-er.
What were you doing around this time last year?