I've completed 32 races, including three half marathons. 
My first was way back in October 2008.  I ran the Jacksonville Marine Corps in 2:06:30.  I pushed extremely hard and was very happy with my time.
I ran my second Half Marathon a few months later, in February 2009.  I ran the Gasparilla Half Marathon in 2:03:00
I was satisfied with my new PR, but I knew I could better.  Then, I injured my knees while completing a 15-mile trail race in April and ended up taking 2.5 months off from running entirely.
I feel in LOVE with cycling as my knees healed (I still love cycling; Charlotte is just not really conducive to biking) and went on to do a Metric Century (60 miles).  I ended up doing another Metric and a Century (100 miles).
Through cross training, time off, and physical therapy, I bounced back and ran a sub-2:00 Half Marathon in December of 2009.  I was so proud with my 1:58:45 time.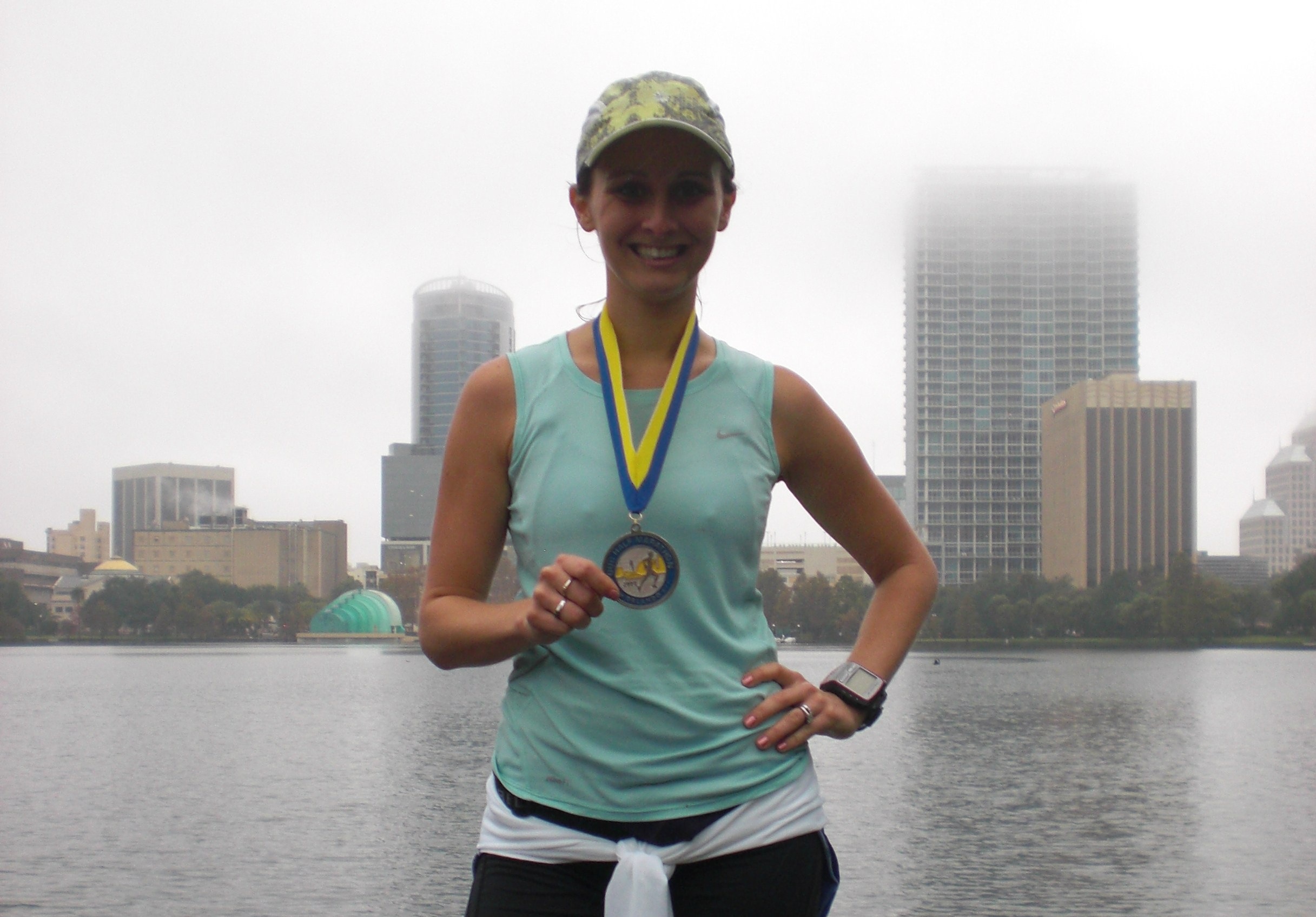 Since December 2009, I haven't done a Half.  It was a combination of wanting to do two Marathons and not really having any fun Half Marathons to do!
That's why I was so excited to sign up for the DC National Half Marathon (and you guys know how that went down…) and the upcoming NYC Half Marathon.  My plan was to achieve a sub-1:55 finishing time on one (or both?) of these marathons, and I trained as intelligently as I could.  No overtraining, a little yoga, a little strength. 
I still don't know what happened to my knee/leg on my March 10th 12.0-mile run, but whatever it was, it's been bad enough to pretty much sideline me from running for the last three weeks.  This injury dashed all my hopes of running the DC National Half last weekend, and I think it's going to ruin my hopes of running in the NYC Half Marathon this weekend, too.
So, about this Sunday's Half Marathon…
I'm still going to NYC this weekend!  My mom and I are making into a big mother/daughter field trip.  🙂
However… there is zero way I can run a 1:55, let alone a sub-2:00, Half Marathon in NYC.  Even if my knee was back to 100%, I am now super undertrained. 
My knee/leg feels great on an everyday basis.  No pain when I sit, walk, or do yoga.  However, this is how it felt last week, too, and the moment I began to run, it hurt.  I haven't run a step since last Friday.
I'm going to do a test run either today (if weather allows my Girls on the Run troop to run their Practice 5K) or Saturday night in my hotel gym.
Depending on what my test run reveals, I will walk/run the Half Marathon (which would be AWESOME) OR I will entirely walk the race since I know I can walk without pain.  I am NOT missing another race.
So – this is where I need help.  As you can tell from my race history, I am used to running Half Marathons.  I have never walked 13.1 miles in my entire life, and I have a sneaking suspicion that walking a Half Marathon is a totally different animal than running one. 
Part of me is afraid walking a Half Marathon will hurt more (generally, not my specific injury) because the race will last for 3:00 instead of 2:00!  I've never done anything like this and have a million questions: 
I have no clue how to pace myself for a walking race – should I just casually stroll or walk with a purpose?  How fast? 
Is there race etiquette about walking an entire race? Should I try to stick to one side instead of being in the middle of the course? 
Also, should I fuel mid-race as I normally would during a Half Marathon, taking in calories via Gatorade or Gu?  Or do I not need to worry about that as much?
And last, but not least, is there anyone else doing the More/Fitness Half Marathon this weekend that would like to walk or walk/run with me?! I'm going to be so lonely. 🙁
Walkers – I need your help!