As you may know, the Husband and I coach the Girls on the Run non-profit organization twice a week.  We help 15 third to fifth graders build confidence, self-esteem, and important healthy emotional skills while they train to run a 5K.
Although GOTR has a really well-planned curriculum that each coach follows to the letter, you have the freedom to do certain things in the way that works best with your group. 
We've been having some very minor issues with teasing/cliques so today I paired each girl up with a running buddy that they don't normally hang out with.  Every time they ran a lap, they drew a new card with a question on it to discuss.  When they got back to the coach handing out the lap counters and questions, the girl had to tell the coach the other girl's answer!  It really got the girls talking and a few pairs of girls told me they didn't know they had so much in common before today.
Wanna play along with me?  I know we're not running laps, but we can still exchange info!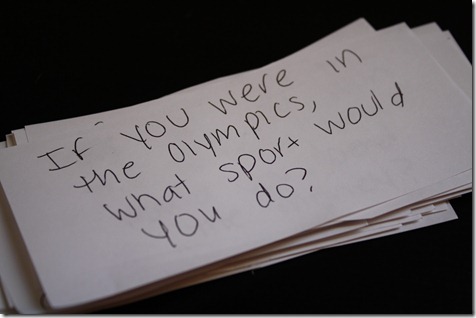 I would definitely be on the women's soccer team.  They seem tough but fun.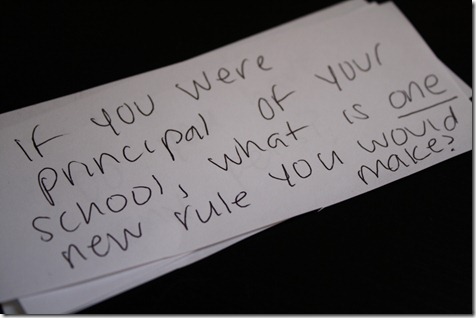 Well, if I was principal of adult world, I would make the work-week 2 days long and the weekends 5 days long.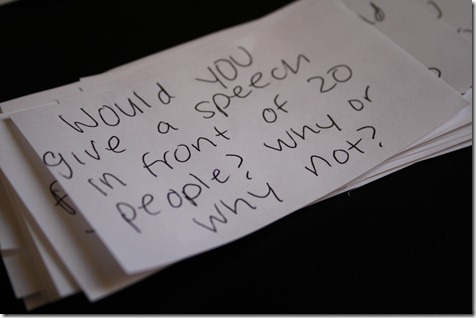 Sure!  Once I gave a speech in front of 6 MILLION people. 🙂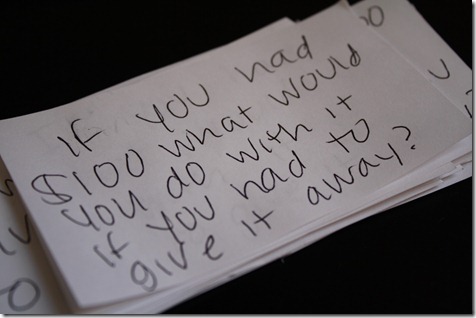 I would leave a nice waitress a $100 tip.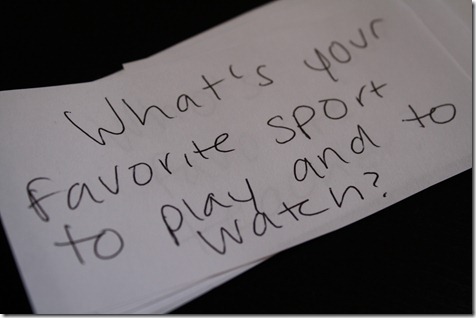 Play = running.  Watch = Uhhhh. I could go without sports on TV, to be honest.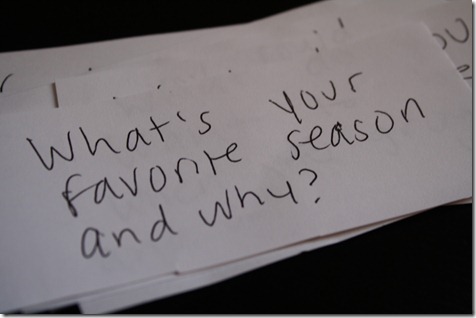 My favorite season is spring because of all the flowers and sunshine.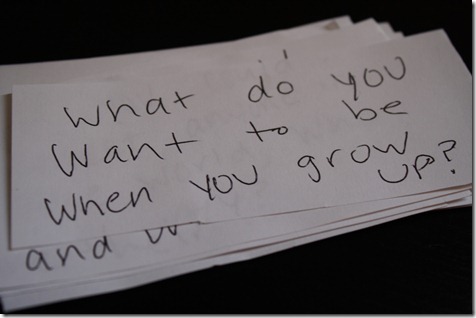 When I grow up, I want to be responsible with my money. 🙂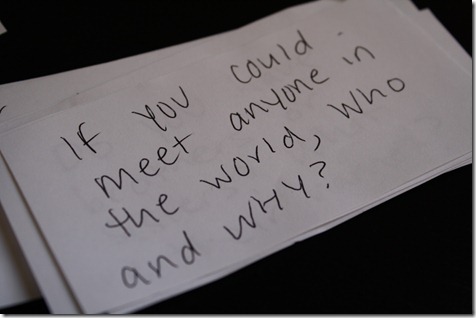 I would love to meet… Perez Hilton!  Sounds weird but I admire him as a blogger for changing his blog's tune to be less bullying, and he's an awesomely successful blogger.  I'm sure he has some sweet tips!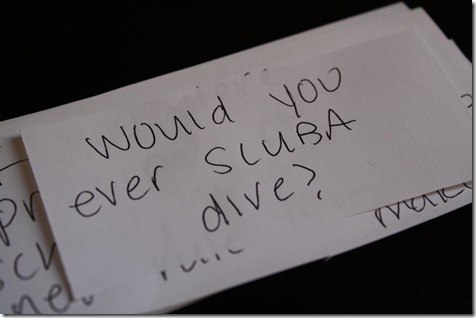 I am certified and have dove loads of times, but not recently! I would NEVER skydive though.
What about you?  Answers the cards in the comments section!  Let's see how much we all have in common.  🙂
Question refresher:
1) Olympic sports?
2) New school rule?
3) Public speaking?
4) $100 to give away?
5) Favorite sport to play and watch
6) Favorite season?
7) What do you want to be when you grow up?
8)  Meet anyone in the world?
9) Would you scuba dive?