Thanks for all your sweet comments about my new haircut.  :)  You all made me feel so nice.   But I was a little confounded by my bangs when it came time to coach for Girls on the Run.  I ended up using a hair clip to pin them up and back.  I think I need to get myself to Target and pick up a bunch of new hair fubbies and thingies!
Pre-GOTR snack was a homemade granola bar: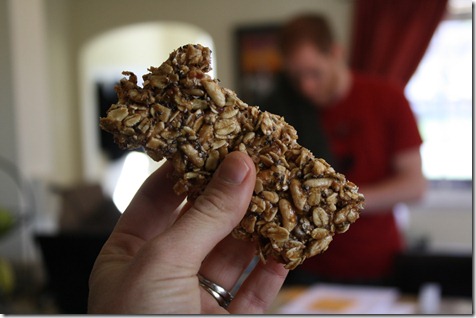 And after the lesson, I came home, dropped off all my gear, filled my water bottle up with Gatorade, and immediately left for my long run.  I was afraid if I hung out too long at home, I would never leave again!
It's strange for me to do my long runs alone because I'm used to having a training buddy.  So I put some new music on my playlist and tried to zone out.  I also ran a new out-and-back route that kept my interest up.
I say that today's run was a "long eleven" because the last 2.5 miles felt so, so, so drawn out.  I had to remind myself around Mile 9.0 that I've run the distance (and more) before, I was not going to die (contrary to how my legs felt), and it would be over in approximately 20 minutes. 
It's so helpful to think back on all of your other runs – even if you're doing a new distance – and think about how you've felt better and maybe even felt worse in comparison.  Draw on those experiences!  I really get a lot of strength from remembering all my past racing.
Here's my stats:
Distance: 11.0 miles
Duration: 1:46:02
Average: 9:38
Mile 1: 9:38
Mile 2: 9:20
Mile 3: 9:28
Mile 4: 9:34
Mile 5: 9:35
Mile 6: 9:44
Mile 7: 9:44
Mile 8: 9:33
Mile 9: 10:00 <—getting angst-y
Mile 10: 9:58
Mile 11: 9:22
Post-run protein smoothie that was PACKED with good stuff: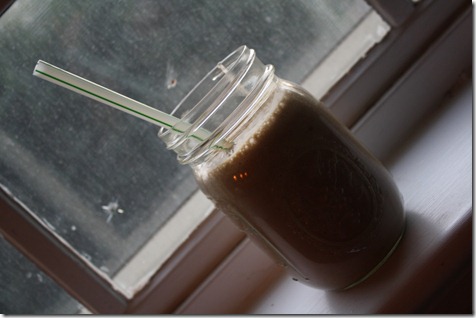 In the blender:
Almond milk
2 scoops protein powder
2 heaping tablespoons sunflower butter
Flax
Banana
I had to go to a meeting for Girls on the Run (tons of GOTR stuff today!), and by the time I left, I was practically shaking with run-induced hunger.  Such a terrible feeling!  I should've eaten more before I left for the meeting but I didn't have time.  Major rookie running mistake. 
Dashed back into the house and threw a sweet potato in the microwave: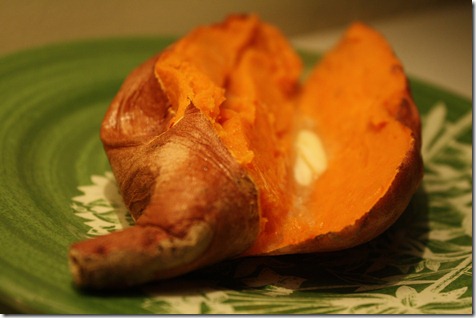 By the time I was done eating the potato, pizza was ready!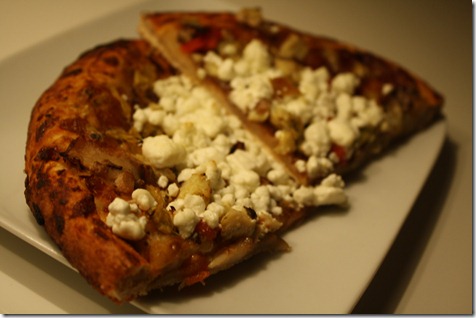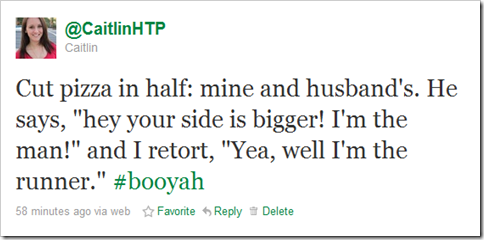 I ate half (or maybe a little more… Hehe) of an Amy's roasted veggie pizza with added goat cheese.  Adding cheese to Amy's cheeseless pizza is a great way to satisfy both the Husband and I since he doesn't do cheese.   Plus, melted goat cheese? Mmm yeah!
And just as I was eating the last of the crust, the doorbell rang!  My mother-in-law, father-in-law, and their two dogs are staying with us until Sunday so they can see patients at the clinic.  We have a very full 1,000 square foot apartment right now – four people and four dogs.
My mother-in-law saw that I went to Ben and Jerry's last week and said she wanted ice cream, too!  So we hopped in the car and went on an ice cream errand.  I got Bonaroo Buzz and a sprinkle cone.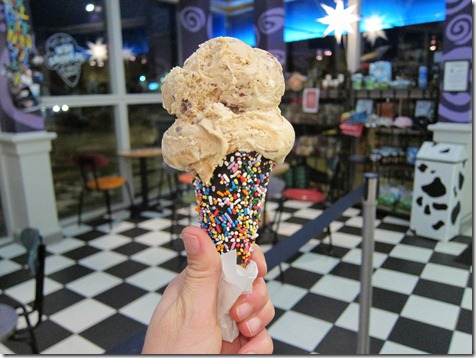 Now that my belly is full, I am going to collapse in bed and get some rest!  Sleep is just as important as mileage.  🙂