Check out this awesome Operation Beautiful photo I received today.  The notes posted in a high school bathroom after an assembly on bullying. 🙂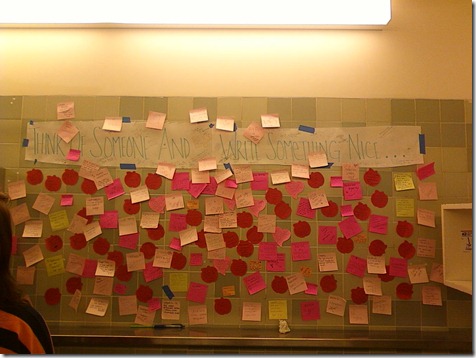 Speaking of girls…
While doing research for the second Operation Beautiful book, I stumbled upon a startling fact. Most pre-teen and teen magazines' content breaks down as follows:  1/3 fashion; 1/3 dating advice; and 1/3 beauty tips. 
672 ways to look pretty for spring? Flat abs and a great butt? The best guy advice EVER?  Amazing hair EVERYDAY?! My intellectual horizons are being expanded by just looking at the cover. 😉
Career or college advice; self-esteem boosting tips; advice for dealing with emotional situations like frenemies, dating abuse, or bullying; world news; and other important intellectual subjects make up a very small percentage of the articles.  Fortunately, I think this percentage is increasing, but slowly.
That's why I was SO excited to discover Kiki magazine – "a magazine for girls with style and substance."
Look! REAL girls on the cover!  How cool is that?! I wish women's magazines would follow suit.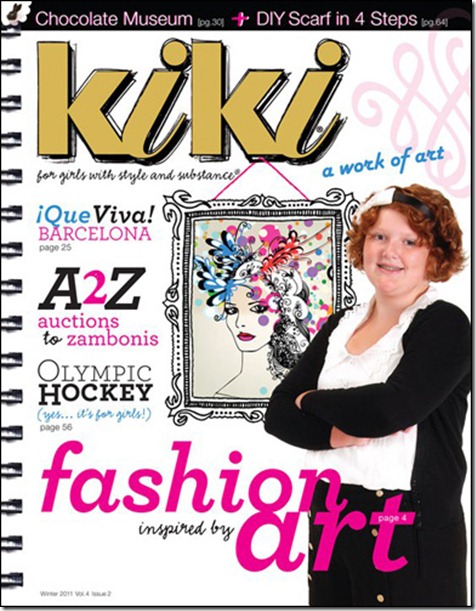 I got a free issue of Kiki during an Operation Beautiful event, and I loved it so much!  Kiki "is a magazine for girls who love life, appreciate creativity, and recognize good ideas. A Kiki reader thinks for herself, has her own look, and is on her way to being a confident, strong, and smart young woman. She's a girl with style and substance!"  I like Kiki because it still talks about fashion and beauty (which, of course, pre-teen girls are interested in) but in a smart, fun way – not a demeaning, Thin Ideal kind of way.
Here's some of the articles in the issue that I picked up (it was a movie-themed issue):
A piece about Angels, a store in London that produces all the costumes and accessories for major motion pictures like Harry Potter, Braveheart, and Star Wars.
A photo history of iconic movie fashion
Step-by-step guide to knitting your own hat
How to make a flip book
How to process film
A look into the city of Brussels, Belgium and why the city is important socially and politically
A piece about Olympic sports, including a coloring page in which you can design a speedskater's outfit (COOL!!)
Recipes with a section that requires the girls do conversion math to figure out the ingredient portions
Tips on how to organize your underwear drawer so you can actually find stuff (I actually did this after reading the article)
Fun word-based games
Pretty cool, huh? Most of all, I enjoyed the fact that the models were all clearly 'real girls.'  No photoshopping.  No gobs of make-up.  Just beautifully unique girls.  What an awesome message to send out.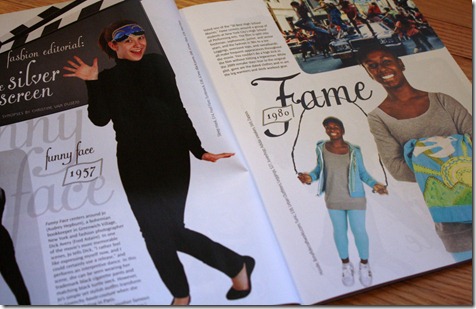 Edited to add:  A lot of people are commenting that this magazine can't replace Seventeen for older teens.  The truth is that the average reader of Seventeen magazine is more like 11 – 13 than 17.  By the time a girl is 17, she is reading Cosmo ("100 ways to make your man moan in bed").  Kiki is intended for 8 – 12 year olds.  Another magazine, New Moon, is also a good alternative for younger teens.
I recently noticed Kiki in Earthfare, but you can also subscribe just like any other magazine.
What magazines or books positively influenced you as a girl (or boy)?  I really, really loved Sassy magazine.  Anyone else remember Sassy?! 
Oh, the 1990s.  I miss you so much.