After being told by my Girls on the Run troop that I looked 18 and "couldn't possibly" be old enough to be married to the Husband (ummm… I'm about to turn 27), I decided it was time for a new haircut.  What do you think?
Do I look older and wiser?  I didn't change the color; it's just the lighting.
I've never had bangs like this before but so far, I like it!  I think it's going to be really annoying during workouts (guess I'll pin my bangs back), but I can suffer through for a cute new look.  :)  I lost about four inches, too.  It seems so short to me now.
I have another fun RUNNING announcement for you, too!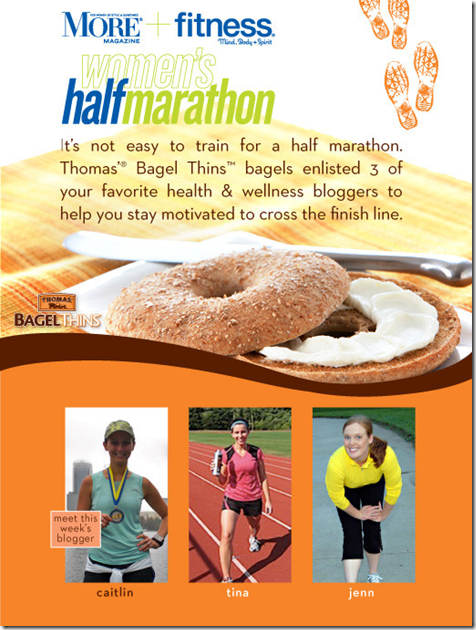 I'm partnering up with Thomas Bagel Thins to run the More Magazine/Fitness Magazine Women's Half Marathon in New York City on April 3!  I'm super excited because 1) I love Thomas Bagel Thins – not only are they yummy, but they were a sponsor of the Healthy Living Summit!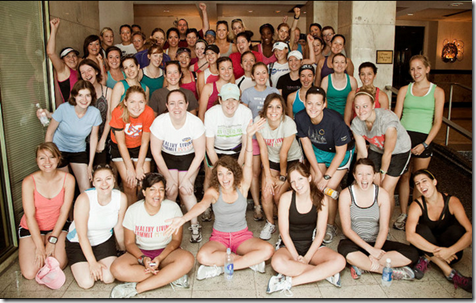 (More info on HLS 2011 is forthcoming, I promise!)
And 2) I love women's races! I am super excited to do a women's only half marathon. 
Plus, bagels + running are a match made in heaven, right?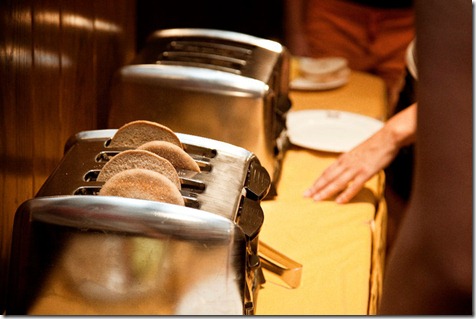 As part of my sponsorship, I'll be blogging on the Thomas Bagel Thins Facebook page and my Facebook page.  As a matter of fact, my first post is already up – it includes my basic tips for getting started with running.
I'm really excited to do this Half Marathon because it's only a few weeks after the National Half Marathon, and if I don't set a new personal record (PR) in D.C., I plan to do it in New York City!  Plus – and this is the really awesome part – my mom is coming to New York City with me!  She's NEVER been to NYC, and I'm excited to take a mother/daughter trip together.  🙂
Full Disclosure per FCC guidelines:  As part of my sponsorship, Thomas Bagel Thins is giving me airfare, hotel, race entry, and a travel stipend.  I'll be blogging on their Facebook page and my Facebook page. 
Fun, huh?  Tina is running the race, too!  I can't wait – I'm going to try to organize a big NYC meet-up, too!
Lunch: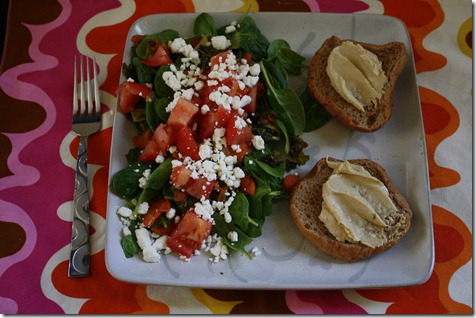 Whole wheat bun with hummus: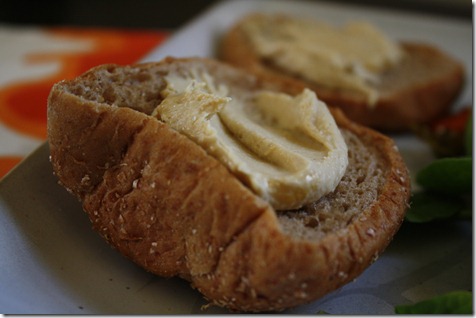 And a huge salad with spinach, goat cheese, leftover Roasted Carrots and Kale, and tomatoes.  Mmmm.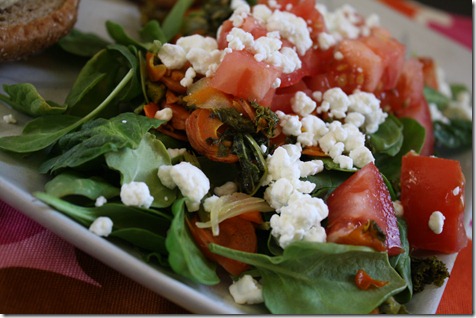 Annnnd – I'm off!
Have you had the same haircut for years or are you fearless and always mixin' it up?